A new native nursery for the Daintree
If we are going to help mitigate climate change and restore more rainforest, then we need to plant more trees.
To plant more trees… we must produce more trees. Together, with your help, we will increase tree production in the Daintree for restoration by over 1000%, breathing life into new restoration projects that will see the size of the Daintree increase and its resilience grow.
It's time to grow
You know that rainforests are under threat through development, agriculture, and the increasing pressures of human activities and settlement.
You also know that rainforest habitats around the world are rapidly shrinking. As we witness these changes, we see significant impacts and the decline of many species globally. Climate change is upon us and we need to do whatever we can to mitigate the challenges it brings.
One way to make a real difference is to plant trees. Many, many more trees. To do this, Rainforest Rescue is planning to build the largest nursery in the Daintree region. You can help restore ultimately thousands of acres of Daintree rainforest by being part of this unique project.
Currently, Rainforest Rescue's existing Nursery provides around 12,000 trees a year for planting through our Plant a Rainforest projects. All these trees are going towards our restoration efforts at 'NightWings' to reconnect what was once cane fields back to the Rainforest along the Katharine Range and the Daintree. And it's working. Such efforts are truly transformational.
There are three other nurseries in the Daintree region that produce around 35,000 trees annually together. Combined with Rainforest Rescue that's about 47,000 trees in the Daintree per year. At a stretch, perhaps 50,000. This is not enough. Dramatically, climate change and habitat loss are happening faster than anyone predicted, and we need to move faster as a result.
If we are going to help mitigate climate change by drawing down more carbon, then we need to plant more trees—it really is as simple as that—#TreesAreTheAnswer. With your help, we will build the Daintree's largest nursery that will ultimately produce 150,000 trees per year—that will provide for the replanting of almost 25 hectares of rainforest habitat every year!
"Our partnership with Rainforest Rescue will help implement the investment in the Daintree and deliver huge returns for biodiversity and the community. With the creation of a high-capacity rainforest nursery, Rainforest Rescue will be able to drive the revegetation strategy that will see the wold's oldest rainforest expand and deliver significant benefits for the community, Queensland and the natural environment."

– Steve Lacey, CEO, Queensland Trust for Nature
New Rainforest Nursery Specifications
The nursery footprint to be 0.8Ha and will comprise:
One large shade house
One large propagation house
And about 4,000 m2 of growing area
A nutrient extracting reed bed and a settling pond/bio-retention basin for water recirculation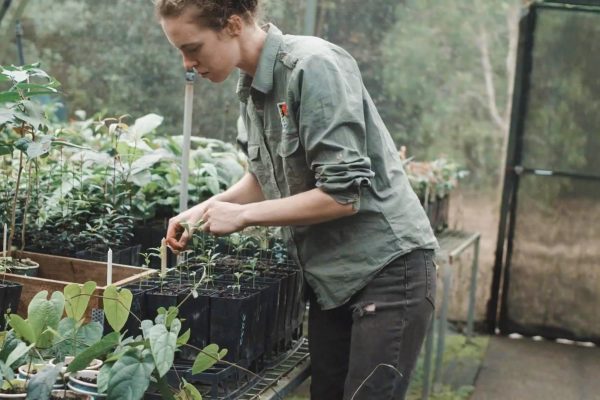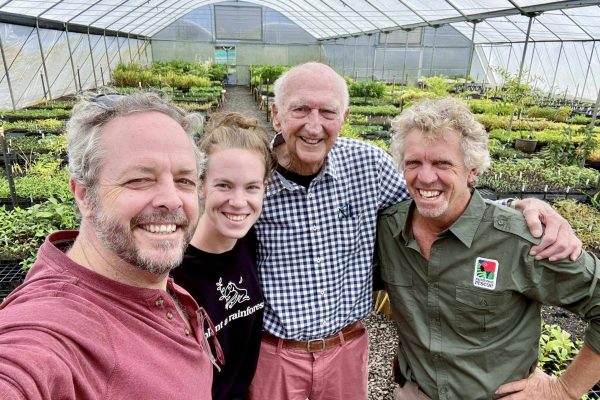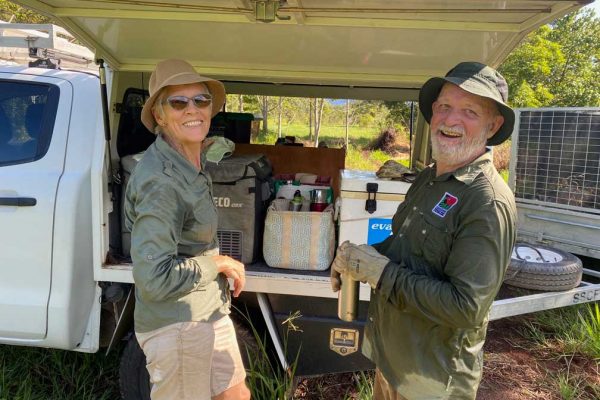 Significant Nursery Milestones to Date
October 2020 – The dream was born and planning began! Read more here.
Council on-side & Project management support from QTFN
Rainforest Rescue Nursery Manager, Marine Deliens, will spend 25% of her time on the new nursery, working alongside Project Manager, Allen Sheather.
Using Firewheel Rainforest Nursery as a template we can transfer valuable learnings, capacity, and planning
Partnerships with QTFN and Jabalbina Aboriginal Corporation are strong and compelling – giving us greater capacity than ever before and the opportunity to undertake this bold initiative.
April 2021 – Phase One fundraising completed – the nursery will be built! Read more here.
October 2021 – A site change from Lot 83 to the old Cow Bay Airstrip. Read more here.
March 2022 – A strong, long-term lease with partners who fervently believe in our work is in place and a Development Application (DA) with Council. Read more here.
April 2022 – Unanimous approval of the DA at Council meeting.
August 2022 – Thanks to your support we successfully scaled up the equipment and supplies necessary for the New Nursery. Read more here. 
December 2022 – The New Native Nursery is now nearing its initial operational functionality. Read more here.
July 2023 – We're nearing completion and we have grown over 25,000 plants in the new nursery. Read more here.
Where it's at
Working in Far North Queensland always comes with its own unique challenges, and we've surmounted most of the ones that have been standing in our path. We've got the budget and the timeline and the planner and the earthworks specialists and the irrigation designers and implementers and the shed and the office and the equipment chosen – most of it. In fact, many of the things necessary to begin building are in place and ready to go.
Originally we'd landed on Lot 83 as the site for the new nursery, which we'd helped Queensland Trust for Nature (QTFN) secure. With almost 300 hectares rescued and as many as 300 acres set for restoration, it came with lots of positives. It also came with one significant negative for the project but positive for Nature – an unforeseen remnant and rare ecological restoration opportunity was found upon assessment by our ecologist partners. Good for Nature, tough for us.
Then a miracle of sorts – the old defunct Cow Bay Airstrip property was on the market and in danger of becoming an active airstrip again, directly increasing traffic and development pressure in this World Heritage Area. Thanks to the committed conservationists who purchased it, this 126 Ha site will be protected. And more! It will also house the new nursery on part of the already-cleared area.
There are 16 hectares that will also be restored through our Plant a Rainforest work once the nursery is up to production and we have a plan in place. We couldn't be happier! It's also such an amazing site ecologically that we're looking forward to sharing its wonders with you in the future.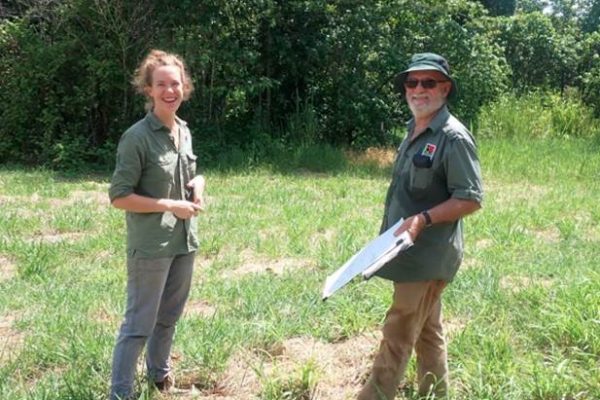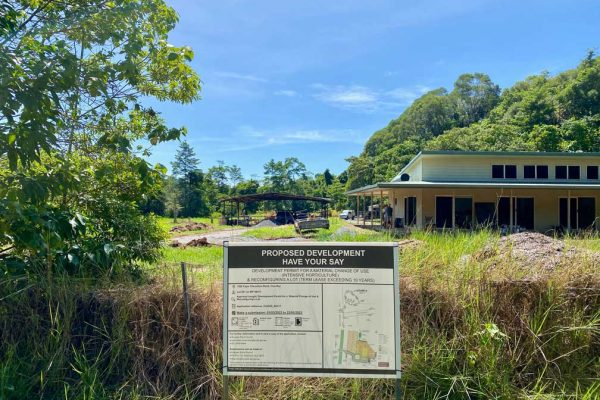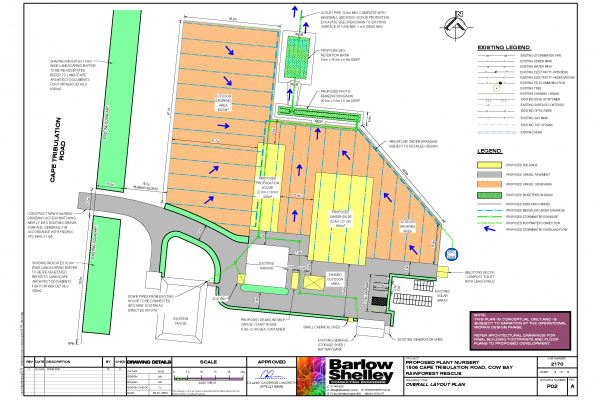 What to expect
With the planning stages now complete and as we look forward to beginning works in May, we are now focusing on the fit-out of the nursery including the consumables needed for the first year from secateurs to uniforms to shovels to potting mix to pots and propagation trays…we're halfway to paying for a tractor as well.
We have gotten this far with the support of many and look forward to sharing more news soon.
Thanks to everyone who's making this new facility – and millions of trees! – possible.
We wouldn't be able to do this without you.
Heroes like you are Protecting Rainforests Forever
Of the 41 properties rescued through Rainforest Rescue Australia-wide – 40 in the Daintree and one BIG ONE in Tasmania's rainforest – 31 are further protected with Nature Refuge status – protected forever. One other has been gifted to the National Park and we're working with the Department of Environment and Science to protect the remaining properties forever. 5 Wildlife Corridors have been established to ensure greater connectivity and protection. Protected rainforest is increasing.
This is how WE are Protecting Rainforests Forever, together.
Stay in the loop
Head over to Rainforest Rescue's News page for the latest updates on our work preserving a vast biodiversity of plants and wildlife in our rainforests. Make sure you're subscribed to our quarterly eNews to receive updates direct to your inbox!