UPDATE New Native Nursery – March 2022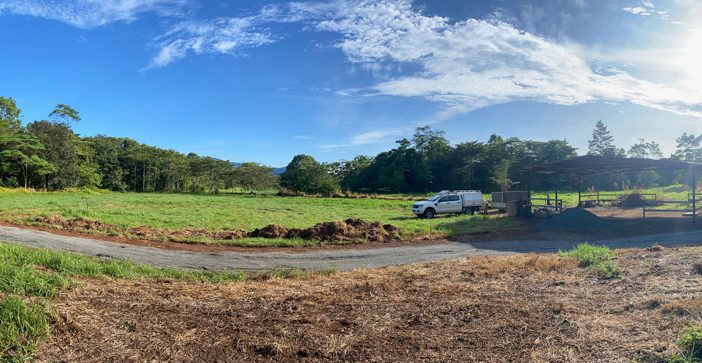 Lease secured on the former Cow Bay Airstrip and Development Application Submitted!
In great news for our new nursery and for rainforest protection, we have formally secured a lease on the old Cow Bay Airstrip.
Hooray! It is such good news.
This 126-hectare site is the perfect location for our native nursery which will sit on a formerly cleared section of land – leaving 16 hectares to be restored through our Plant a Rainforest work once the nursery is up to production and we have a plan in place.
Ecologically the Cow Bay Airstrip is an amazing site and we look forward to learning more about it as we manage the new nursery.
Building a nursery requires a strong lease. Our board of directors were very involved in what was a longer-than-anticipated process and we have been able to secure a strong lease that will guarantee operations into the future.
The new owners are VERY supportive and have worked with us to create a long-term agreement that protects everyone's interest and guarantees long-term operations for the nursery. And they are as committed as we are to forever protection.
We now have a development proposal in with Douglas Shire Council, a process that can take up to 12 weeks but will hopefully not. There's much to do!
While we wait for the outcome, we are continuing to plan the work that is needed to get our new Native Nursery off the ground. Service providers, materiel, designs, and permits are all coming together now.
Some of the systems that will be shared with the house on-site – to be refurbished – we're able to help with now, prior to the development approval – solar system, bore, water tanks, general clean up…in fact, I was up there last week with Allen Sheather and Barbara Maslen, as well as our friends David and Roisin, removing the old barb wire fences and cleaning out the old shed.
Whenever I am doing physical work up there in the summer I wonder at the ability of our staff to work outside on the land, in the nursery…it's hot! So – stay hydrated, wear a hat and know your shade.
Expertise on the ground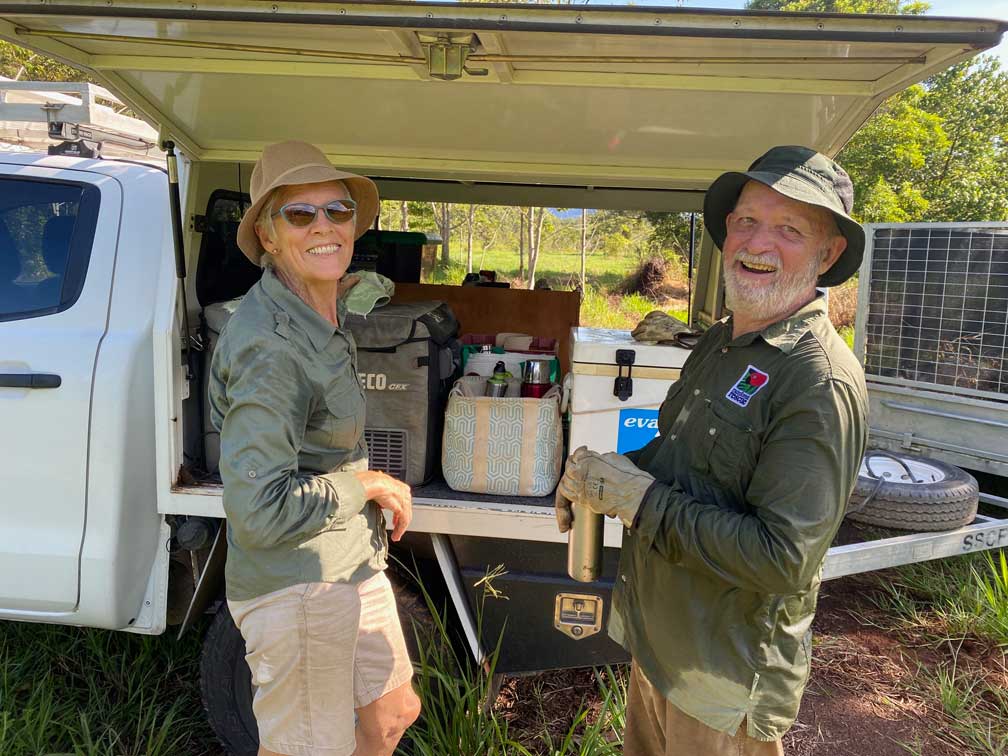 When we first considered building the Daintree's most productive nursery, we were concerned that it might be overly ambitious. After all, it would be the largest single undertaking by Rainforest Rescue.
It's one thing to run a small nursery that's been producing roughly 12,000 trees a year for over a decade—it's another to start from scratch including identifying and securing the location, raising the funds, planning and designing the facility, and submitting a successful development application. All before we break ground and the real work begins.
As we undertake such a complex project, we have really valued the support of our partner organisations, our board, and our volunteers. 
In particular, the guiding hand of Allen and Barbara on the ground has been vital. 
These long-time volunteers give so much of their time and energy and share their local knowledge and ecological wisdom to help the Rainforest Rescue and the Daintree. As key advisors to Rainforest Rescue's work since the late 90s, Allen and Barb's knowledge is vital to our new nursery project. With experience establishing 2 other native nurseries, we are grateful to have them on board helping to manage this project.
Here Allen explains why this nursery matters and the impact it will have:
"The increase in rainforest seedling production is key to being able to demonstrate that we can restore large properties at scale. If we are going to have a  meaningful impact towards reversing past mistakes we are going to have to ramp up our output. The nursery is also critical in furthering our partnership with local Traditional Owners as well as our other conservation partners. It will be the core of those partnerships." 
The next steps towards our nursery
With the planning stages now complete and as we look forward to beginning works in May, we are now focusing on the fit-out of the nursery including the consumables needed for the first year from secateurs to uniforms to shovels to potting mix to pots and propagation trays…we're halfway to paying for a tractor as well.
We have gotten this far with the support of many and look forward to sharing more news soon.
Thanks to everyone who's making this new facility – and millions of trees! – possible.
We wouldn't be able to do this without you. (Click here if you'd like to help us fit the new nursery out.)
Here are some photos of last week's working bee:
---
Want more good Rainforest news in your life?
Subscribe to our eNews  | Follow us on Instagram  |  Like us on Facebook  | Subscribe to our YouTube channel
Help Protect Rainforests Forever
Donate to Protect Rainforests Forever  |  Become a Rainforest Guardian for as little as $2 a month  |  Partnership Options