Kurranji Bubu
Lot 46 Cape Tribulation Rd
A restoration success story
Lot 46 Cape Tribulation Road is just under 28 hectares and it was purchased by Rainforest Rescue in August 2010 and restored through great effort and commitment by hundreds of supporters and volunteers and staff. It's a world-class example of how effective restoration can recreate a natural ecosystem.
Location
Lot 46 Cape Tribulation Road is located north of the Alexandra Range in what is referred to as the Cooper Creek Precinct. The property is bordered by the Daintree National Park/World Heritage Area on its western boundary and other conservation blocks to the north, east, and south. It lies at the base of Thornton Peak, the third-highest peak in Queensland.
Conservation Value
Under the Qld Government's Regional Mapping Scheme the property is located within biodiversity precinct 3B Coopers Creek, one of the three highest priority precincts in the Daintree Lowlands. The property exhibits Regional Ecosystem 7.3.10 which is described as being 'complex mesophyll vine forest' which is listed as 'endangered' under the Qld Vegetation Management Act 1999.
Rainforest Restoration
As a result of a long history of abuse from a combination of clearing, grazing, and oil palm cultivation, the property required extensive restoration. When we bought the property vegetation was in varying states of disturbance and succession, including remnant vegetation, secondary regrowth, and continually cleared/disrupted land.
Between 2010 and 2014, Rainforest Rescue restored the property through our Daintree Plant a Rainforest Project. Over 40,000 trees were planted and as weeds were removed, another 50,000 or so naturally regenerated.
Our Restoration efforts have achieved significant conservation outcomes consistent with the objectives outlined in the Australian Government's Biodiversity Conservation Strategy 2010 – 2030 along with other state and regional strategies.
Conservation Outcomes
An increase in biodiversity levels through expanding native habitat
Protecting and enhancing native vegetation through assisted natural regeneration
Restoring habitat connectivity in an area that has 122 threatened, rare, and endangered species including the cassowary
Linking protected areas (the property backs onto the Daintree National Park/World Heritage Area)
Managing threats to biodiversity including invasive weed species
An increase in knowledge of local species diversity through seed collection and plant propagation at our Daintree Plant Nursery
Documenting best practice in rainforest rehabilitation, restoration, and revegetation techniques to be shared with the community, government, and industry
Contributing to ongoing research in the areas of cassowary recovery, and dynamics of succession and biodiversity in rainforest plantings
Nature Refuge Status achieved in March 2021 and the property was granted the traditional name of Kurranji Bubu (Cassowary Land) by the Yalanji language committee
Nature Refuge Certification achieved in March 2021
On Saturday, May 1, 2021, following a decade of painstaking restoration and management, Lot 46 Cape Tribulation Road, Diwan – connected to the famed Daintree Rainforest – has been granted nature refuge status, and will now be known, forevermore, as Kurranji Bubu.
Kurranji Bubu is an ecologically significant parcel of restored rainforest land, home to 14 rare species, and provides critical habitat for the endangered Southern Cassowary, the Pygmy possum, and Bennett's tree kangaroo. This important conservation status is being celebrated today on site, with the traditional name of Kurranji Bubu (Cassowary Land), granted by the local Yalanji language committee.
Rainforest Rescue CEO Branden Barber said this landmark accomplishment is a tribute to the many people who invested time, money, and hard work into this special land. "When Rainforest Rescue purchased this lot in 2010, it was a polluted and rubbish-strewn junkyard, neglected and scarred by exotic oil palm production and teeming with weeds," Mr. Barber said. "Thanks to the hard work and investment by many, many dedicated volunteers – responsible for removing 180 tonnes of rubbish and planting over 37,000 trees across 146 species – and many, many supporters who contributed their financial energy – 10 years later we are now the proud guardians of a pristine nature refuge. Having the support of the Traditional Owners who've granted the land this beautiful name is a perfect capstone for this achievement."
The legally binding nature refuge conservation status ensures Kurranji Bubu will be protected in perpetuity by Rainforest Rescue and the Queensland State Government. "Getting this important parcel in the heart of the Daintree well on its way to being restored to its former glory is an incredibly important moment and really speaks to the core purpose of Rainforest Rescue's work".
Rainforest Rescue works successfully to protect the unprotected lowland Daintree Rainforest through buying back at-risk rainforest to prevent future development and propagating thousands of trees annually to support our restoration projects, increasing the footprint of the Daintree and its unique, at-risk habitat. "We're extremely fortunate and grateful to share this responsibility and success story of Kurranji Bubu with all our supporters," Mr. Barber said.
More information on the Naming Ceremony is available in our blog post, this special event was also covered by Sean Davey of The Guardian and we've included some images from the day below.
Restoration Works! 
'This project provides one of the best global examples, of full property restoration in a critically important area with very high biodiversity values, that I have ever seen. It is a stand-out in terms of taking degraded land back toward rainforest, and through time will continue to accumulate structure, diversity, and habitat features that will contribute to local and regional conservation outcomes.'
– Dr Robert Kooyman,
Rainforest Rescue's Scientific Advisor and one of Australia's most foremost rainforest experts
We invite you to learn more about the restoration of Kurranji Bubu (Lot 46):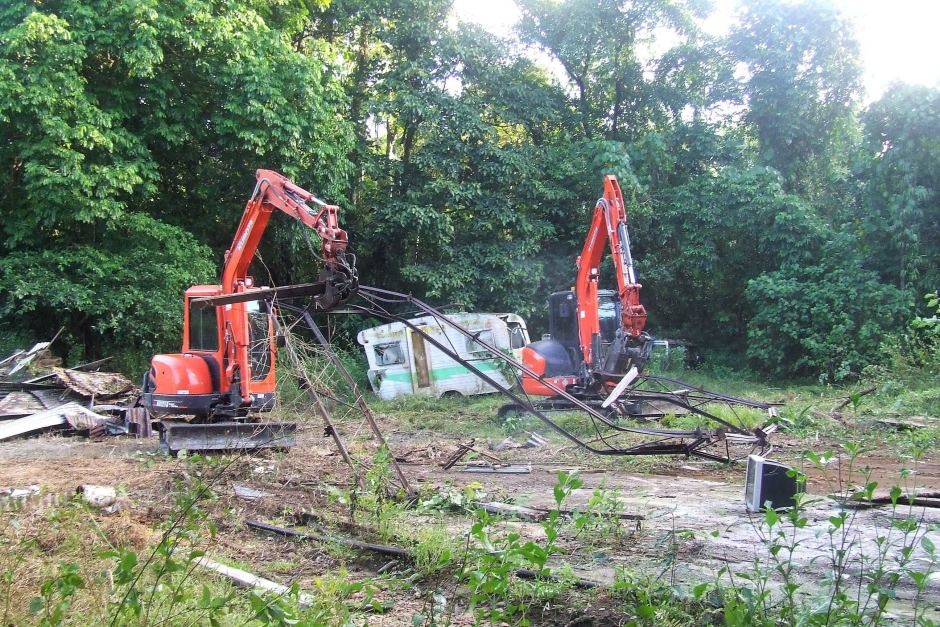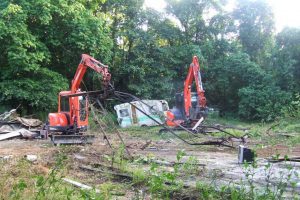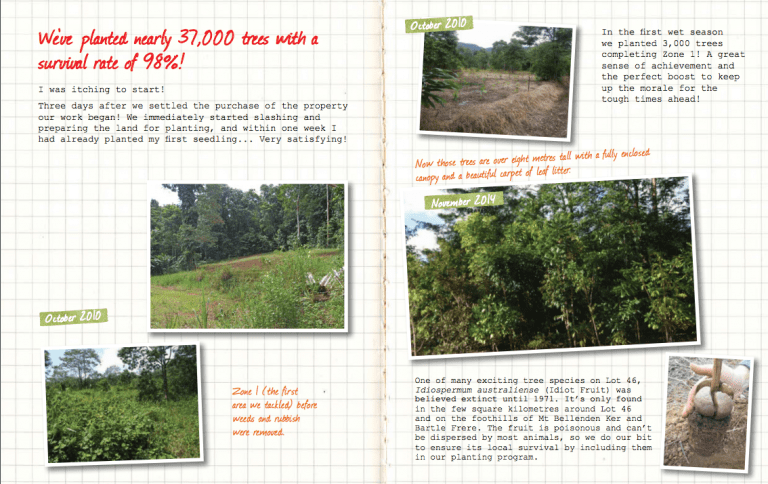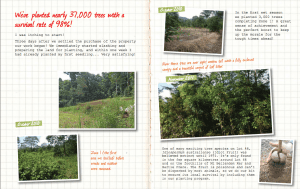 Some contents or functionalities here are not available due to your cookie preferences!
This happens because the functionality/content marked as "Google Youtube" uses cookies that you choosed to keep disabled. In order to view this content or use this functionality, please enable cookies: click here to open your cookie preferences.
MAKE A DONATION
When you donate to Rainforest Rescue, you become part of a group of individuals who collectively are helping to preserve some of the most biodiverse habitats and the species that live within them. Become a Rainforest Rescuer today, or pledge to donate monthly and join our Rainforest Guardian community.