Meet the Rainforest Rescue Team
Rainforest Rescue headquarters (RR HQ) is in Byron Bay, NSW on Arakwal Country within the Bundjalung Nation. RR HQ relocated from Mullumbimby, NSW, where the organisation was founded, in 2022.
Our on-the-ground conservation and restoration work takes place in Daintree, Qld (Julay Madja) on Eastern Kuku Yalanji Bubu. This is where our Land Management team, Nursery team, and Ecological Advisors are based.
Our Partnerships Director works from Meanjin (Brisbane).
To contact any of our team members, please send us an email or call RR HQ on 02 6684 4360.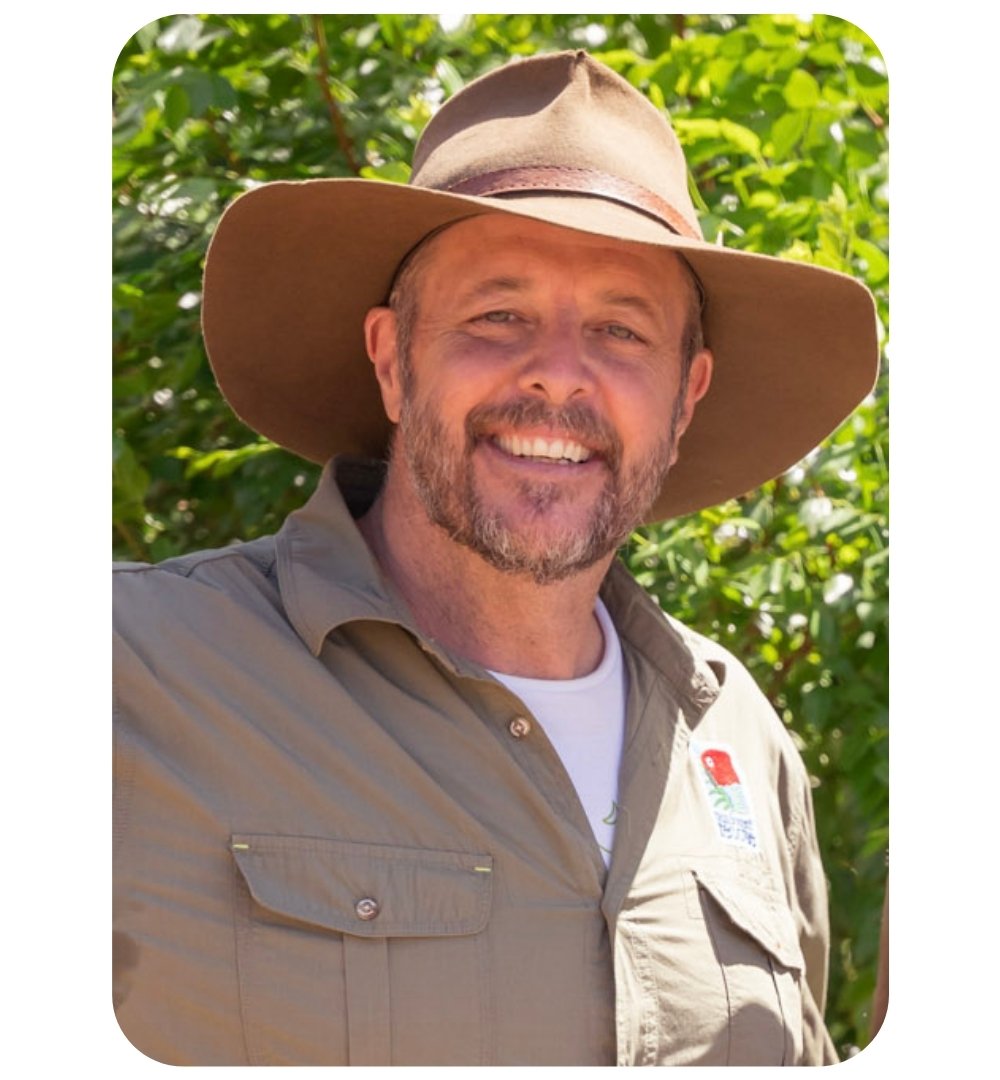 Branden Barber | CEO
Branden Barber is a lifelong environmentalist. Starting with a degree in Environmental Studies from UC Santa Cruz, he cut his teeth with Greenpeace International on the Rainbow Warrior and then ran the Victorian State Office for Greenpeace Australia. Over the last 25 years, he's worked in both the social profit and for-profit sectors, from start-ups to S&P 500 companies to NGO's, large and small. In the last decade, Branden has been involved with various environmental organizations as staff or as a consultant, served on the Leadership Teams at both Rainforest Action Network and Amazon Watch, and has sat on several boards – always with a focus on the environment. Branden joined the Rainforest Rescue team in 2018. He is passionate about rainforests, ardently committed to the natural world, and brings a wealth and breadth of experience to Rainforest Rescue as our CEO.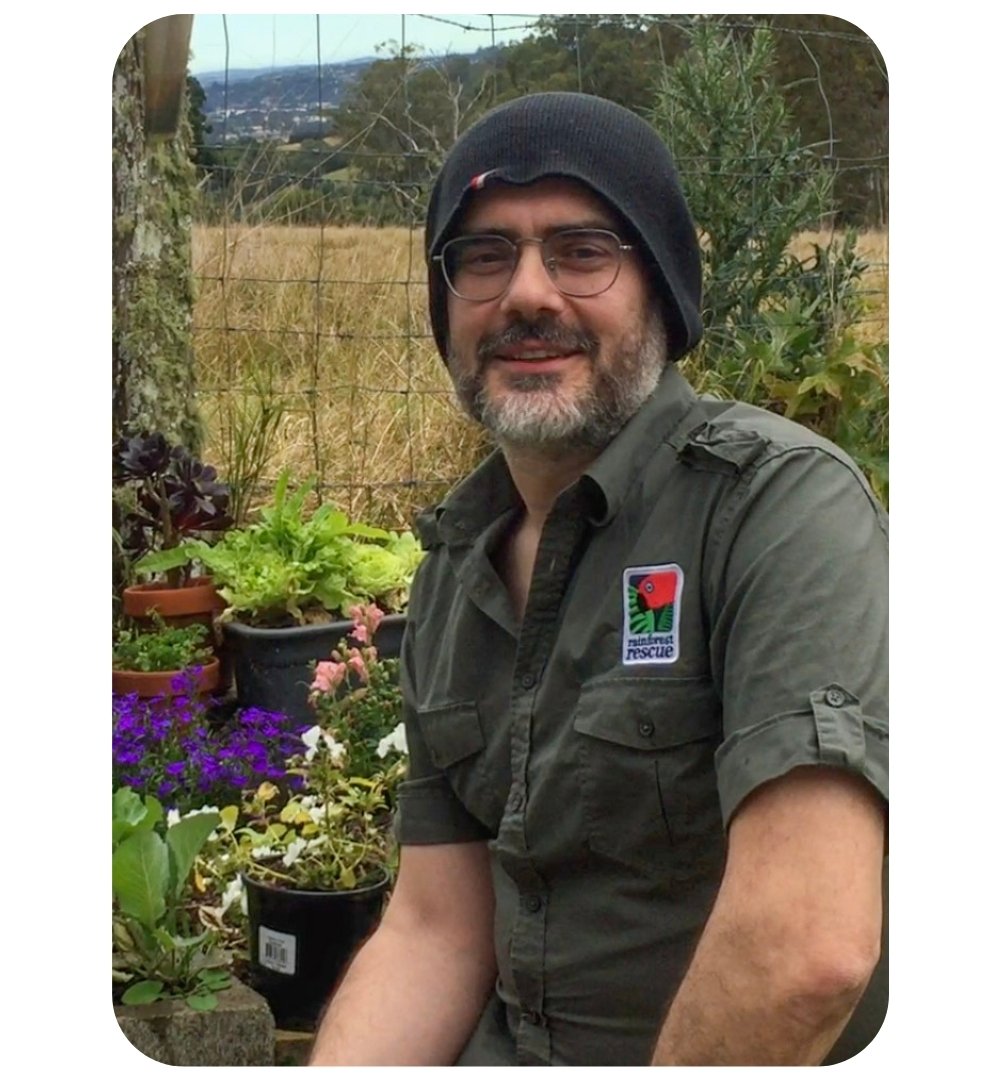 César Barbosa-García | Fundraising Coordinator
César joined the Rainforest Rescue team in 2020 bringing with him a wealth of experience having served as Teaching Services Director for a national Buddhist charity, where he also led meditation and self-development classes. He has a passion for Japanese Taiko drumming, having built custom-made taiko drums and taught taiko throughout the UK in schools and team-building workshops. As a deeply committed advocate for the preservation and restoration of the environment, he has a love for the rainforests and peat-swamps of Australia, and the preservation of the threatened South East Asian Parosphromenus freshwater fish.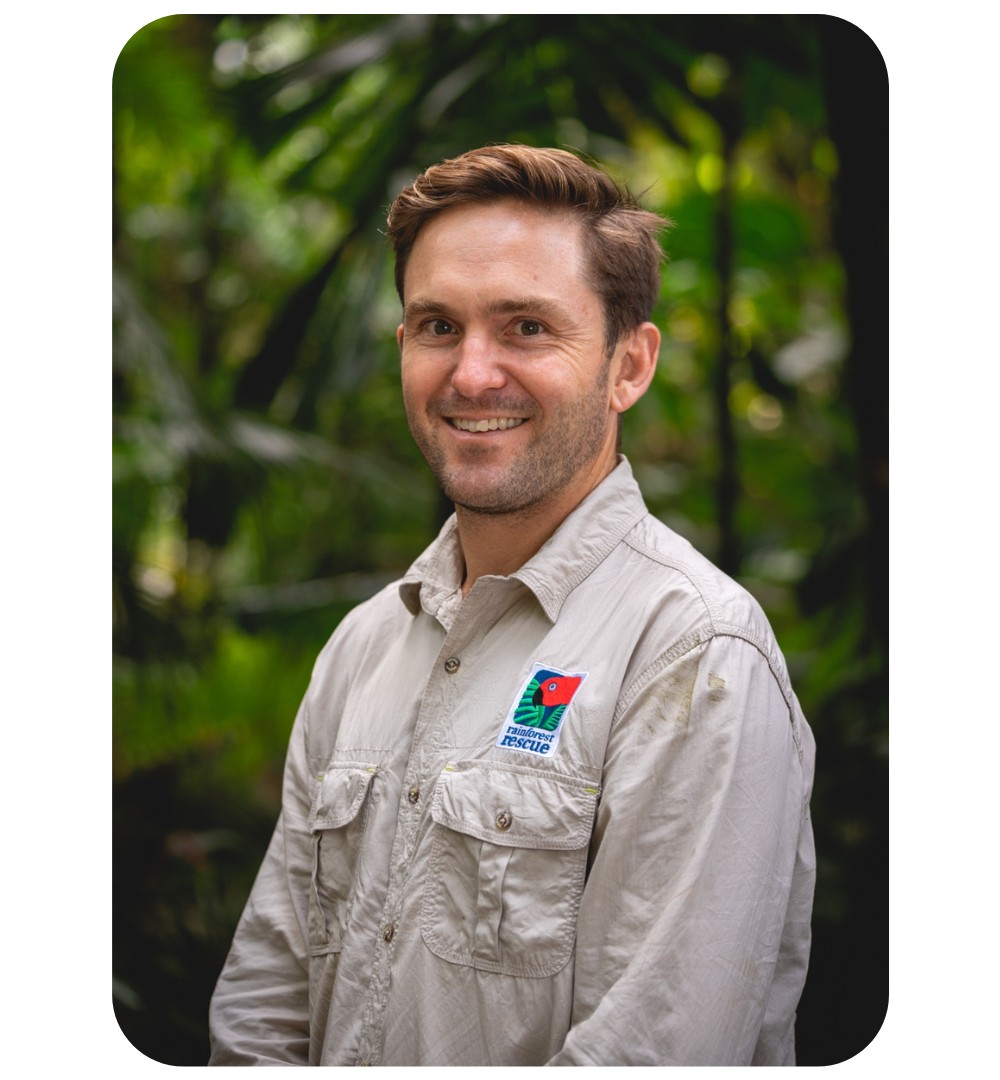 Tate Brammer |
General Manager Finance & Operations
Tate is a passionate, inquisitive and driven leader who cares deeply about nature and the environment. Prior to working with Rainforest Rescue Tate was Head of Operations in the food security, health and education sectors in Australia. Tate also worked in the water, wastewater and waste to energy sectors for 15 years managing the delivery and operation of complex infrastructure projects. He is determined to succeed in all situations and is extremely adaptable.
With the world's growing population and the heavy impacts of consumption and industrialisation on our environment Tate's goal is to be an integral part of solutions to protect and enhance the environment for all future generations. He is passionate about the optimisation and transformation of businesses to eliminate waste, increase efficiencies and reduce resource inputs. Environmental, financial and societal sustainability are his drivers. Tate is a qualified engineer and holds a Master of Business Administration from The University of Sydney. Tate joined the team in 2023.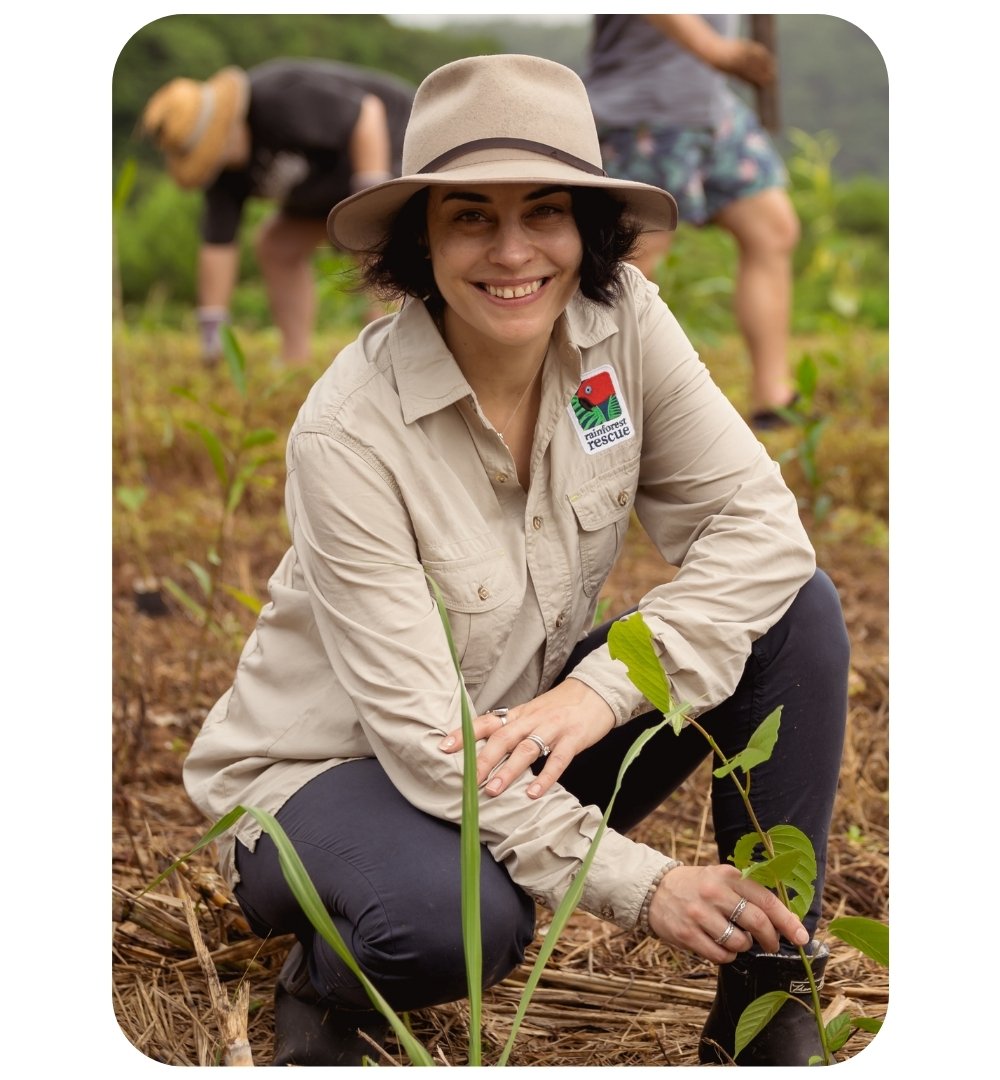 Kristin Canning | Partnerships Director
Kristin has worked in social change marketing, advertising and as a relationship manager for over 15 years. Kristin's passion for environmental and humanitarian causes was fueled after holding her end-of-year university lecture and thesis on the need to introduce environmental impacts on product labeling in Australia. Once starting work with Australia's first 'ethically minded' advertising agency, Kristin worked with Amnesty International, Greenpeace Australia, Red Cross and launched Australia's first Green Power energy product. In New York City Kristin was then involved in executing Johnson and Johnson's historic global carbon emissions reduction campaign, Healthy Planet 2010, and worked with many US-based nonprofits including City Harvest and Conservation International (CI). Kristin also ran the Sydney office of the Make-A-Wish Foundation and was the Corporate Relations Manager for Pathways Foundation. Kristin joined the Rainforest Rescue team in 2013.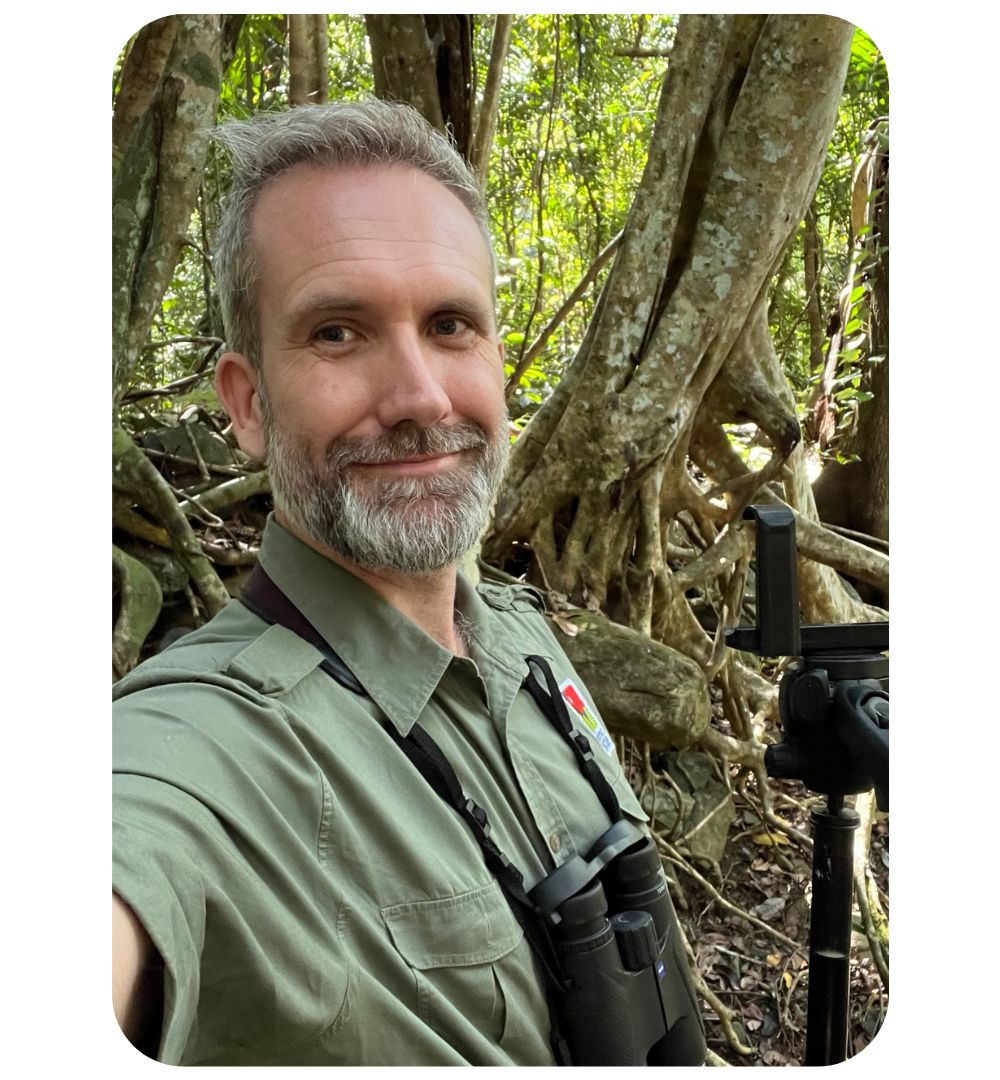 Mark Cox | Communications Manager
For over 20 years Mark has been adventuring in communications, brand, digital and marketing. Beginning his career as a campaign and brand designer for World Wildlife Fund UK, Mark was instrumental in traffic-stopping activism and raising awareness of human impact on the environment. Since then he's become one of the pioneers of digital strategy in Australia and is a staunch advocate of integrated communications to help people understand and empathise with the world around them. When he's not poring over data in Google Analytics we can usually find him out in the rainforest looking for birds. Mark began his journey with Rainforest Rescue as a Rainforest Guardian, then joined us in volunteering roles in the nursery, tree planting and community engagement events. Now, after joining the team officially in 2023, he's eager to share our stories and grow support for everything we do to Protect Rainforests Forever.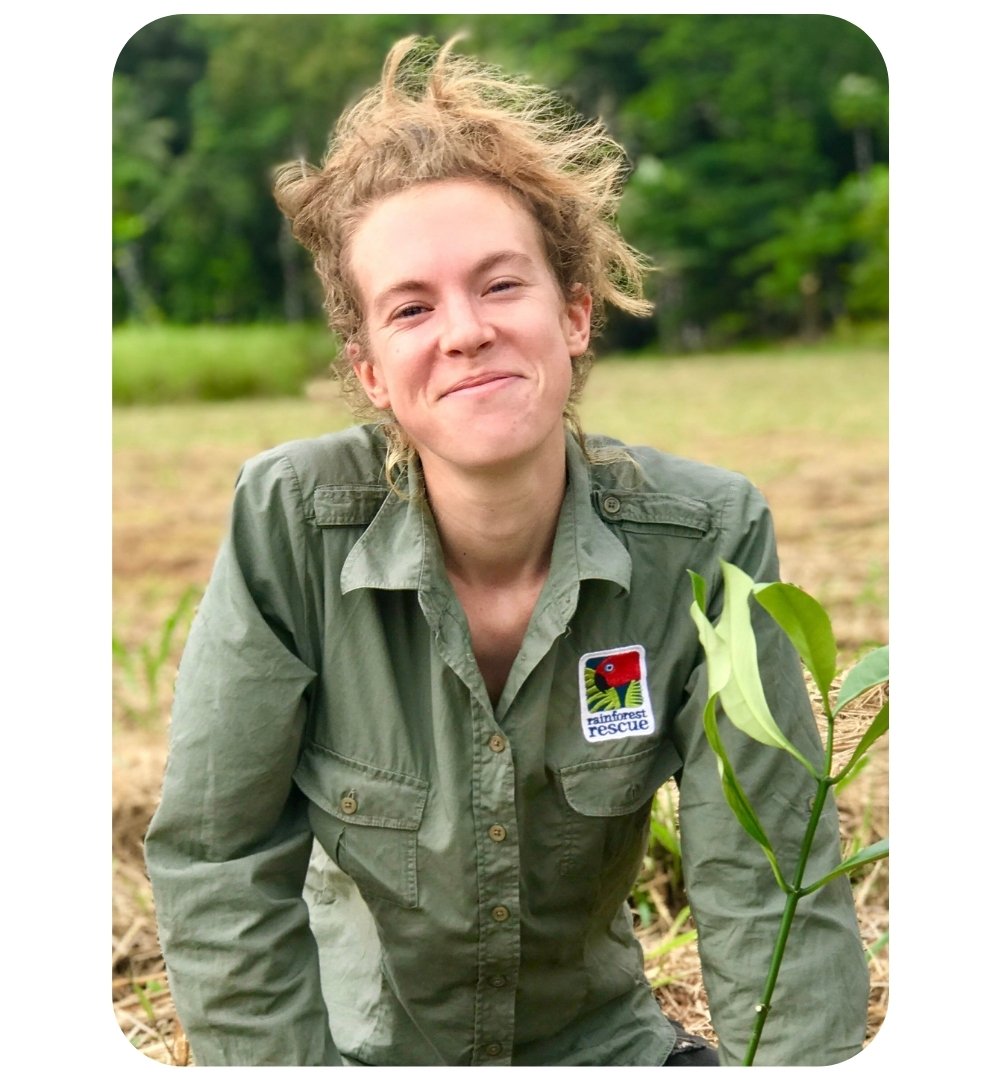 Marine Deliens | Daintree Nursery Manager
Marine is our horticulturist and a true rainforest enthusiast. Her role at Rainforest Rescue includes management of the Native Plant Nursery in the heart of the Daintree Rainforest – seed collection, species selection, propagation, and growing of trees required for our restoration projects, with a special focus on nurturing beneficial food sources for wildlife. Marine joined the Rainforest Rescue team in 2019. With a Permaculture background in Europe, she arrived in Australia to study Permaculture and is dedicated to sustainable practices. Marine also coordinates volunteers at the nursery and loves engaging the local community in rainforest restoration. Marine also loves giving plant propagation workshops in the Daintree/Cairns region to increase the population of specific butterflies species.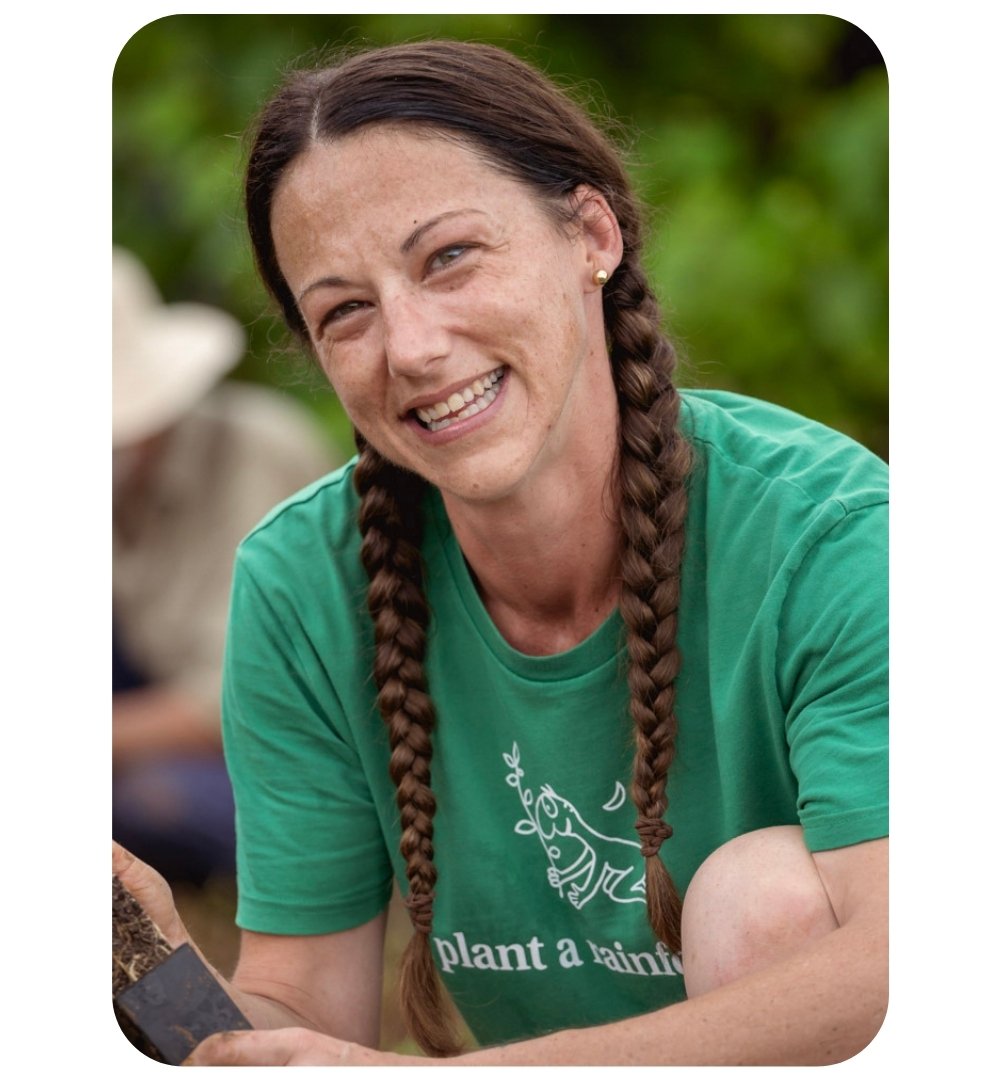 MaryBeth Harrison | HQ & Social Media Manager
Over the years, MaryBeth has worked in a variety of roles including customer service, office management, administration, promotions, recruitment, web consultancy, records management, and customer service. Her experience crosses an array of industries including not-for-profits (environmental and disability services), local and state government, IT, employment and education, retail, and hospitality. Wanting to work for a cause she believed in, MaryBeth became part of the team in 2018 as a contractor and became a full-time member of the team not long after. Her role includes Office Management and administration making sure the day-to-day tasks at RR HQ run smoothly, as well as Social Media & Website Management keeping you all updated on what's happening at Rainforest Rescue.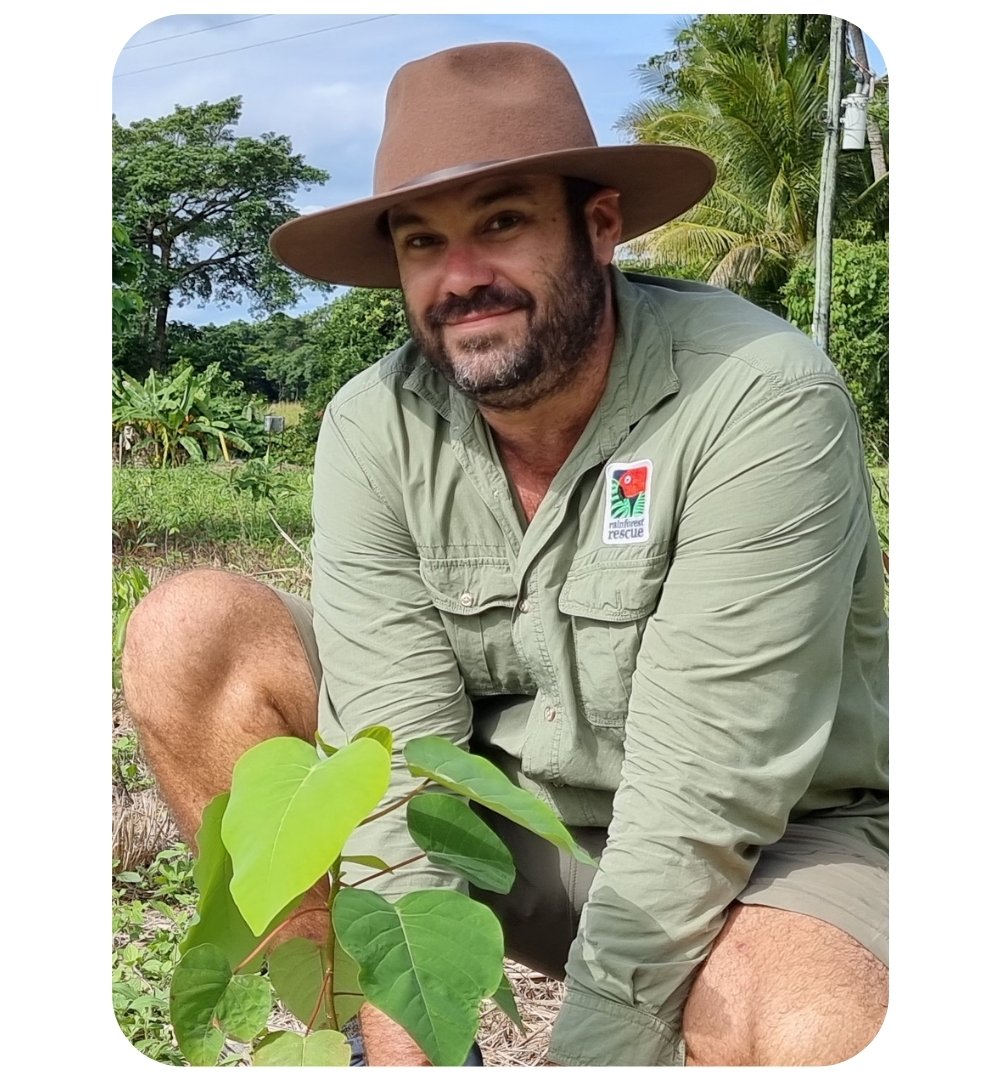 Justin McMahon | Daintree Land Manager
Justin joined the team as our Daintree Land Manager in 2020. As a result of living from the Northern Territory to central, south-east, and far northern Queensland, Justin always knew he wanted to incorporate the unique Aussie landscape and its ecology into his day-to-day life. Justin has worn many hats in his professional life – tour guide (both on and off the water), zookeeper (specialising in Lumholtz Tree Kangaroos), operations manager, teacher's aide, and youth liaison worker – but his true passion is our natural world, particularly protection and restoration of threatened flora and fauna.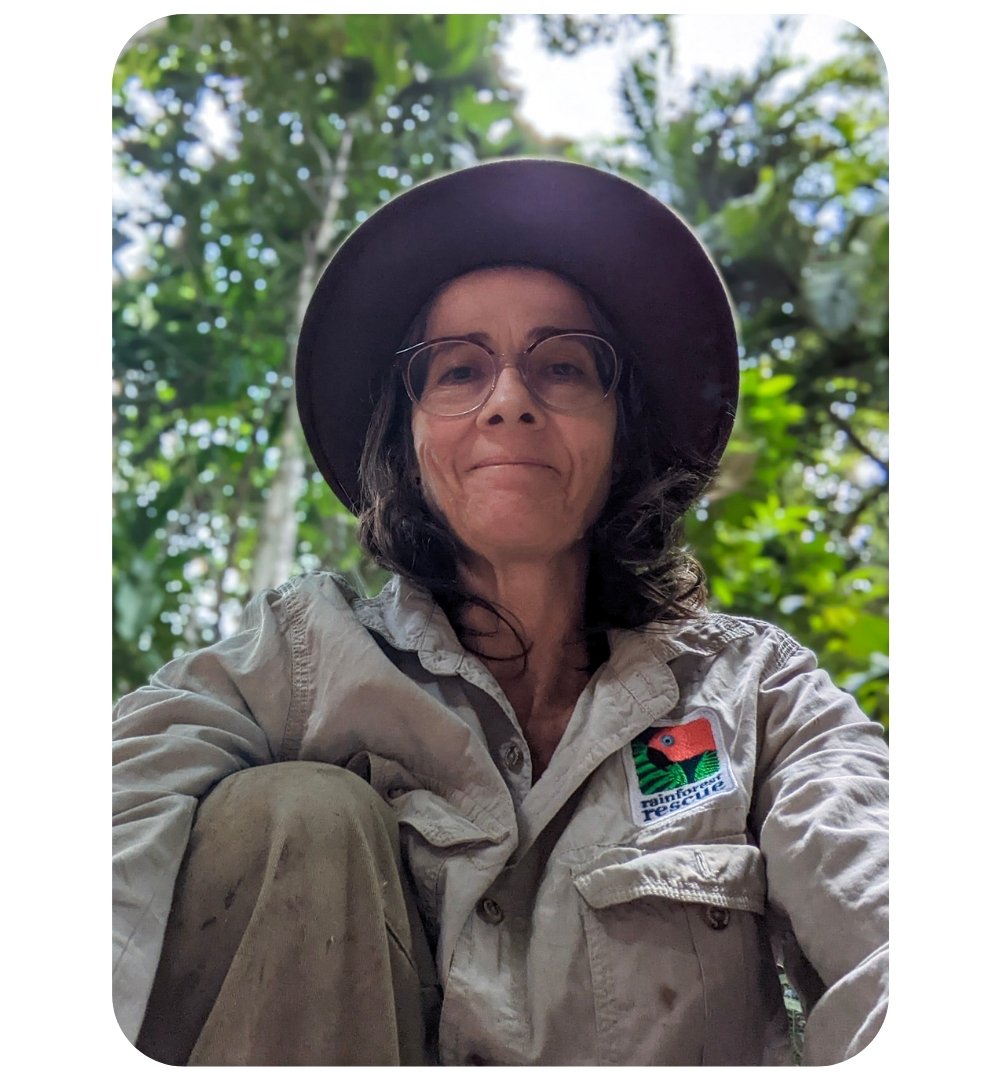 Angela Mateo | Daintree Seed Collector
Originally from Barcelona, Spain, Angela spent 6 months traveling in Australia and fell in love – within 2 years she made the big move down under. Angela attended a Rainforest Rescue tree planting in 2021 and after the event, she spoke with our Nursery Manager, Marine, about volunteer opportunities. Fast forward 9 months and Angela was offered the Seed Collector role. Angela is a trained Horticulturist having studied at Royal Botanic Gardens in Sydney where she worked mainly with exotic (non-native) plants. At Rainforest Rescue, Angela is responsible for our ethical seed collection, and she oversees seed propagation at our Daintree Native Plant Nursery. Angela's favourite aspects of her role include the opportunity to increase her knowledge of tropical plant species, learning about the different ecosystems and interactions between living and nonliving things, and knowing that her work will contribute to the conservation of our environment.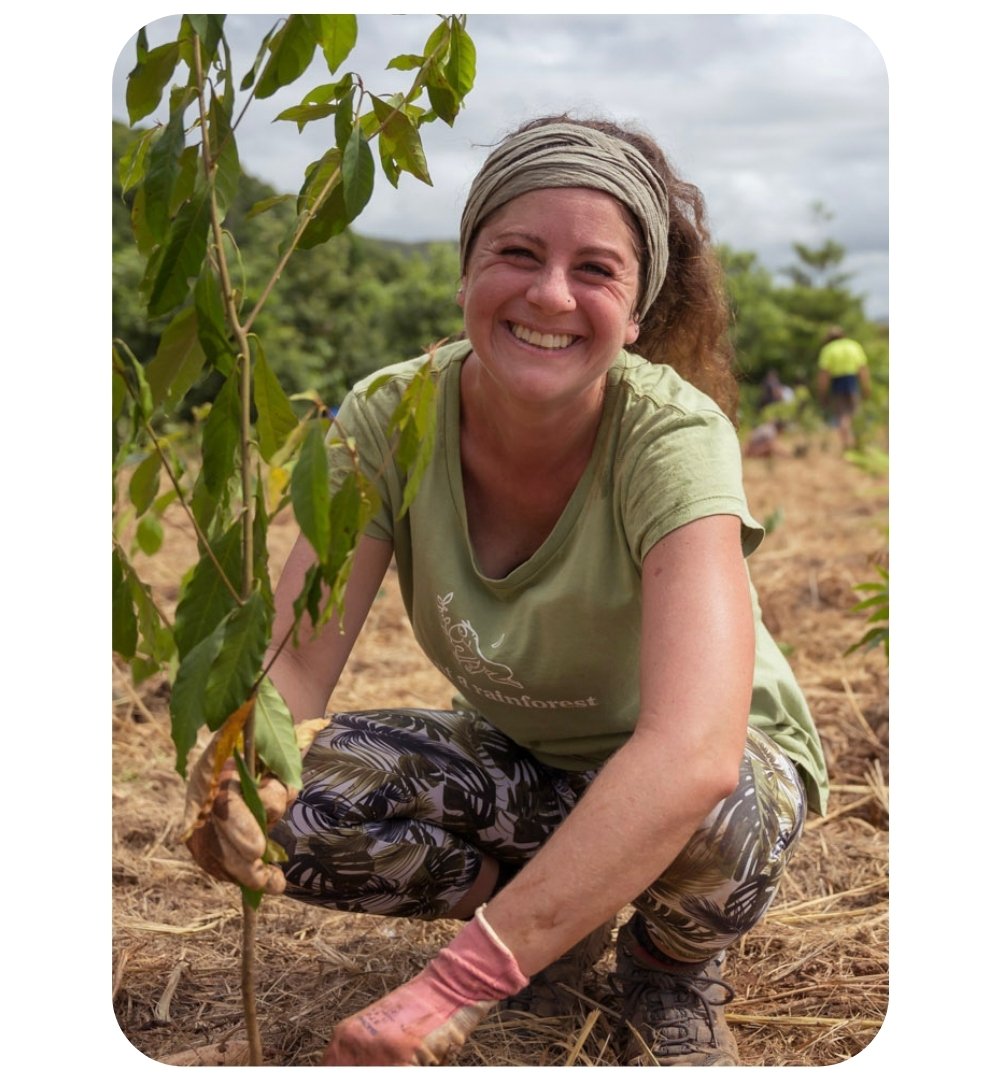 Emily Silverstone | Daintree Supporters Coordinator
Emily is our first point of contact with visitors to the Daintree and local businesses and has been since she started with us in 2017. A qualified tour guide, when she's not out on tour with her other job, Emily promotes Rainforest Rescue's work at local events and markets. She also works with local businesses to develop partnerships to help protect the local rainforest which in turn supports their business.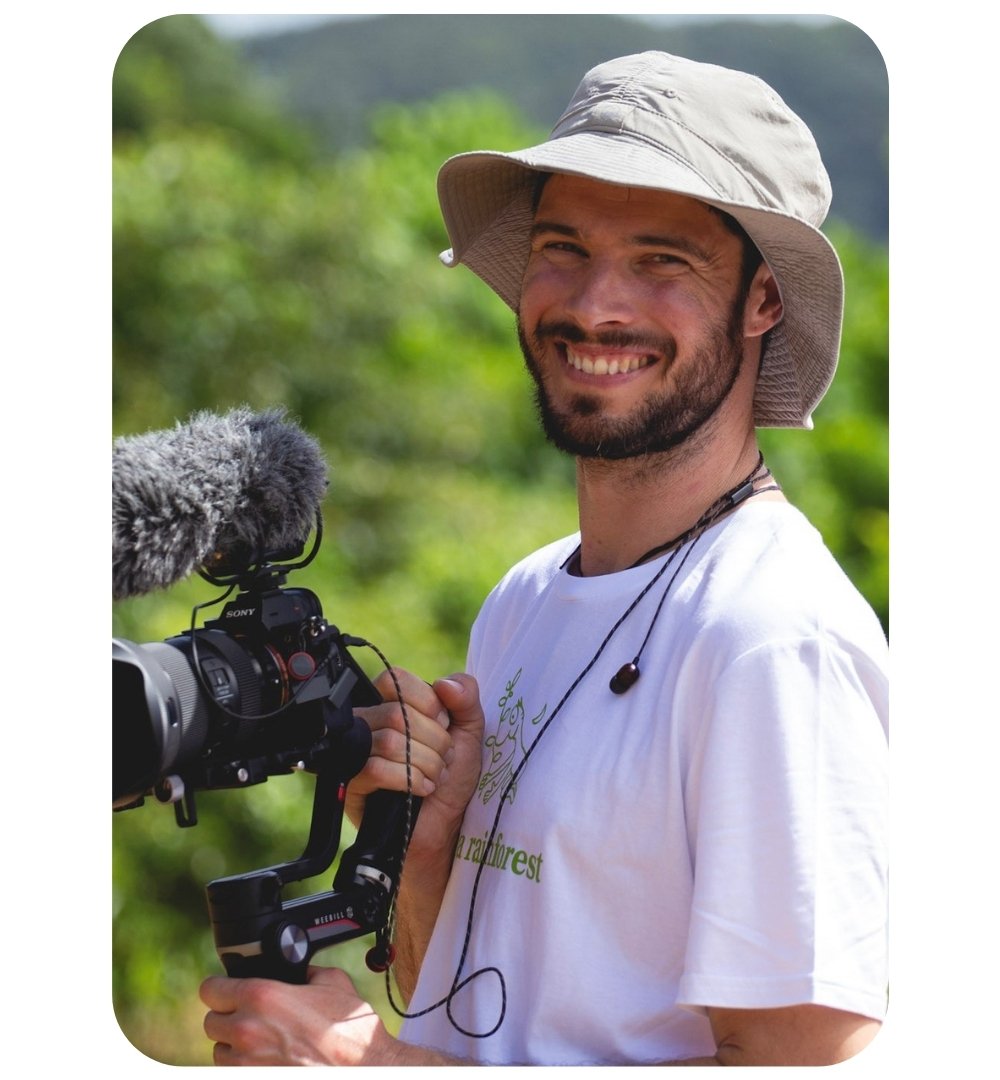 Martin Stringer | Media Producer
Martin is a passionate photographer and filmmaker and creates our media content to showcase to the world how Rainforest Rescue Protects Rainforests Forever. His imagery features across our website, social media, fundraising events, and newsletters, and there are many fast fact videos where you can learn about rainforests and unique plant species. Since 2014, Martin has photographed and documented the amazing rainforest regeneration from our tree planting projects. He has captured the spirit of our Community Tree Planting Events which is more than just planting a rainforest, it is about reconnecting through culture, nature, and each other. In addition to his work with Rainforest Rescue, Martin has also created videos for organisations that are working to help protect nature such as The Wilderness Society, The Great Australian Bight Alliance, and the Great Forest National Park Campaign. Recently Martin was chosen as one of three recipients of the CameraPro Explorer's Grant to create a short film about the work that we do! Stay tuned and check out more of his work at https://www.martinstringer.com/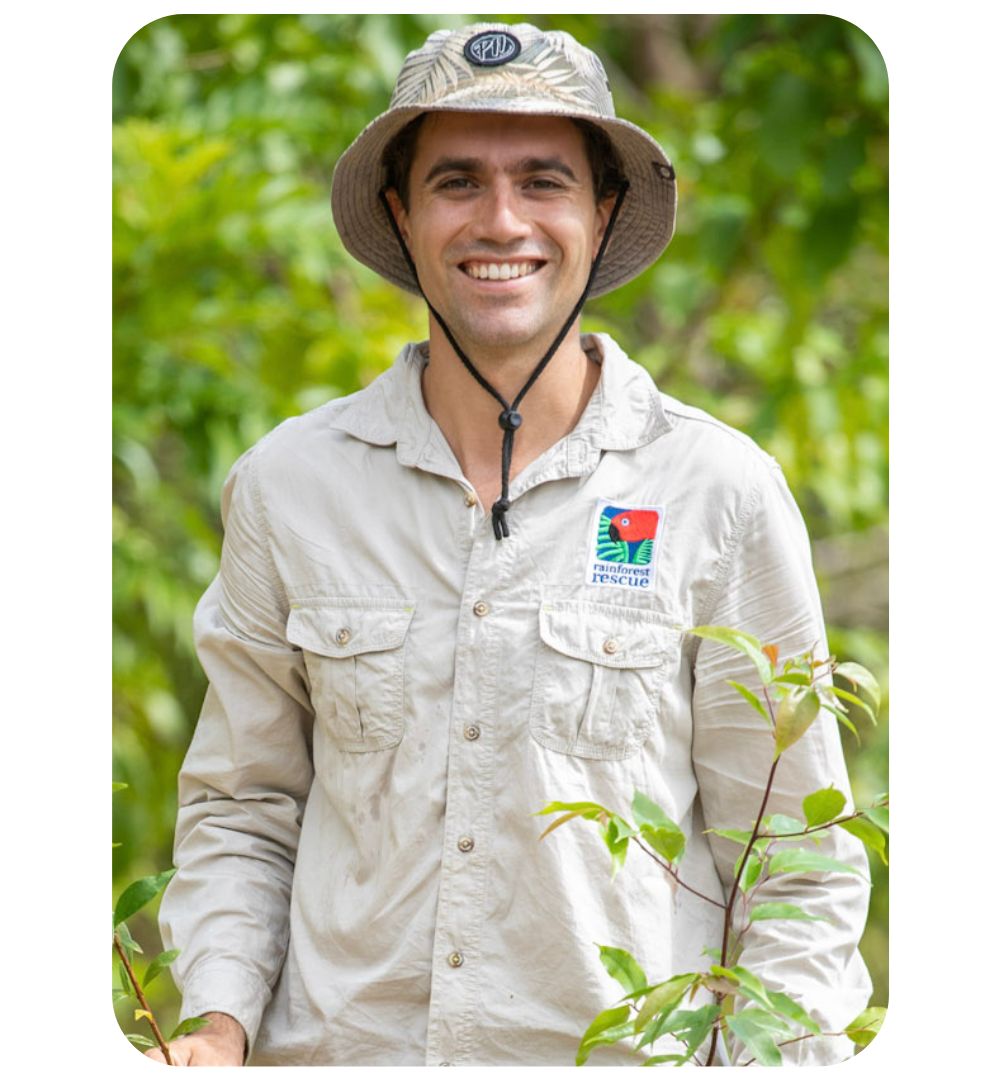 Nicolas Walker Gonzalez | Daintree Seed Collector
Nico always had the desire to get involved in the environmental industry, and after finishing his WHS degree in Chile, he decided to migrate to Australia in order to fulfill his passion. He developed an interest in plants and conservation after completing a Conservation and Land Management diploma in Sydney, where he was given the opportunity of working in the field with Waratah Eco Works to develop his knowledge and skills. Over the years, Nico grew a genuine appreciation for Aboriginal Australian culture, which inspired him to move to Nhulunbuy (Arnhem Land, NT). Nico then relocated to Far North Queensland, where he found his place in an organisation that values the land, conservation, and Traditional Custodians – Nico joined Rainforest Rescue in 2022 as a Seed Collector and is also helping build the new Nursery. Nico believes that through interest and education, big things can be achieved, no matter who you are or where you come from.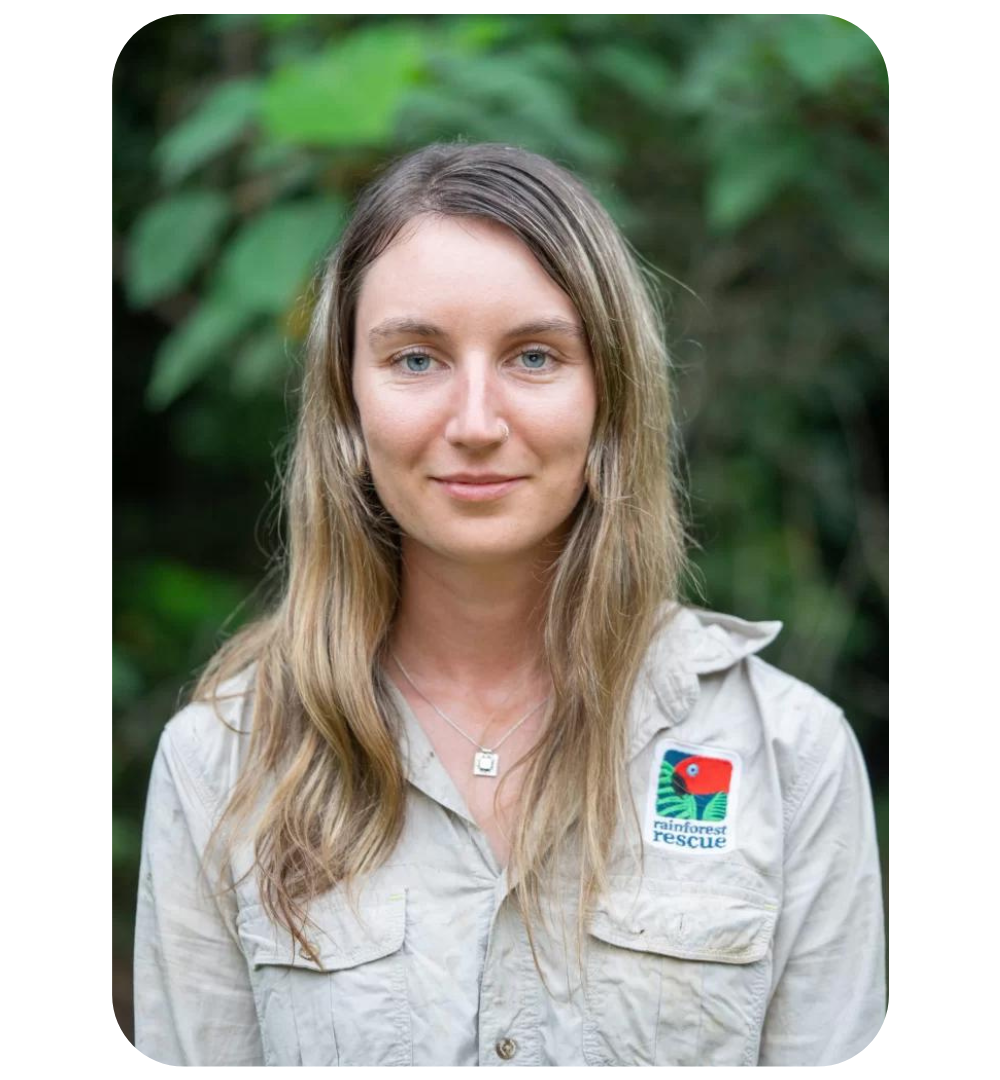 Sigrid Wilkens | Conservation Land Labourer & Partnerships Support
With a background in Applied Sciences and a major research project in Ecotoxicology, studying the impact of ZnO nanoparticles on the marine environment, Sigrid brings an ongoing passion for the natural world to the Rainforest Rescue team. Her two roles at Rainforest Rescue see her working with Justin McMahon on the land, as well as supporting Kristin Canning with Partnerships. Over the past 5 years, Sigrid has worked as an Electron Microscopist at RMIT University, an AI Consultant at Deloitte, and a tradeswoman in the construction industry. Sigrid joined the Rainforest Rescue team in 2022.
Stay in the loop
Head over to Rainforest Rescue's News page for the latest updates on our work preserving a vast biodiversity of plants and wildlife in our rainforests. Make sure you're subscribed to our quarterly eNews to receive updates direct to your inbox!