Voices for the Rainforest – Meet the Changemakers
#VoicesForTheRainforest: Meet the changemakers
Rainforests are integral to fighting climate change. They store 30% of the earth's CO2 emissions, provide a habitat for diverse wildlife, and supply clean water and fresh oxygen for the planet. Rainforest Rescue has partnered with BioPak to bring you Voices For The Rainforest –  a campaign for raising awareness around the urgent need to protect our rainforests. 18 global influencers have shared their stories and artworks on BioPak's compostable Art Series coffee cups. Below, you can meet the changemakers who are sharing their inspiring stories.
Meet the Voices for the Rainforest
Read about the influencers and artists who have lent their hands and raised their voices to support the rainforests, and take a look at their Artist Series cup designs.
Camilla Franks (Fashion Designer)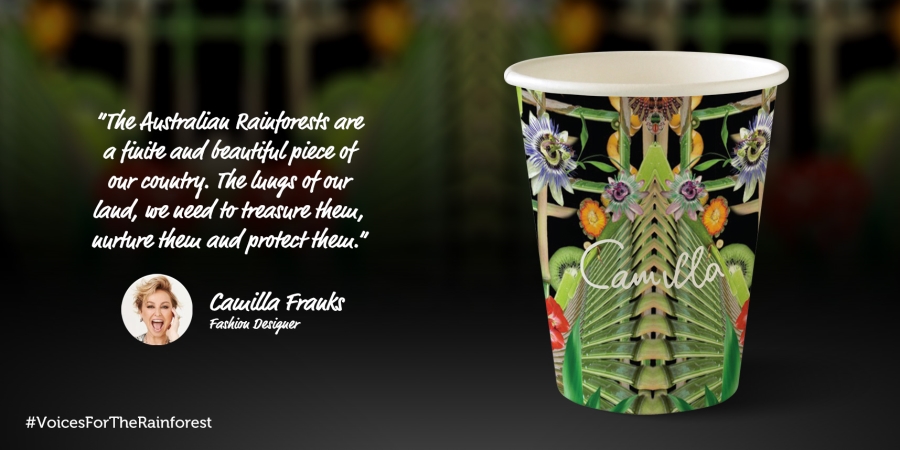 Camilla Franks is the founder of Camilla, one of Australia's leading bohemian luxury fashion labels that uses responsible and ethical sourcing. In order to raise awareness of the devastating effects that climate change and coral bleaching have caused upon the reef, Camilla launched The Reef Capsule Collection in 2019. Camilla Franks also announced Camilla's $20,000 donation to Citizens of the Great Barrier Reef, an organisation that combines research, tourism, industry, and conservation, to create awareness and educate Australians about the threat to our reefs.
Liana Cornell (Actress & Rainforest Rescue Ambassador)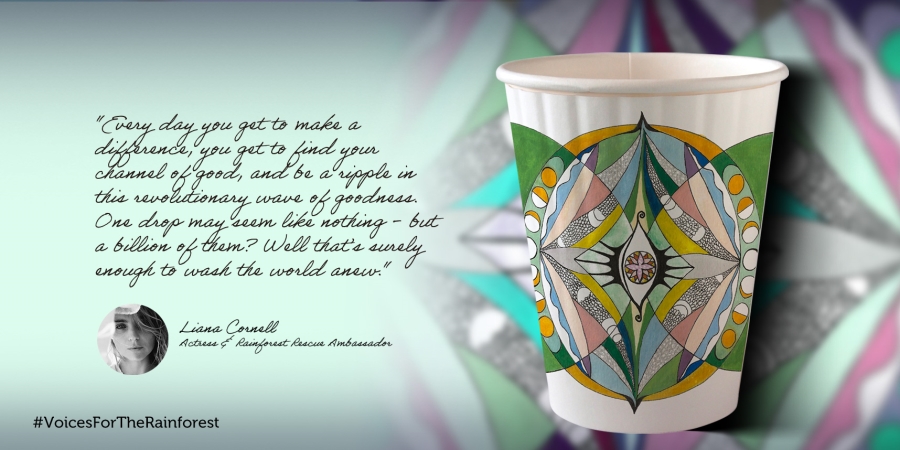 Liana Cornell is an Australian actress who was born in Mullumbimby and grew up in Byron Bay. Liana is a passionate environmentalist/activist who has supported many Australian environmental organisations, such as WIRES, WWF, Rainforest Rescue, Australian Seabird Rescue, Youth 4 Climate March, and many, many more. She is a Rainforest Rescue Ambassador and has also contributed to promoting environmental awareness through her various social platforms. She ran an environmental company called Save Our Skins for 5 years, which focused on ecological news, philanthropic work, and the continuation of research to help endangered animals and ecosystems. Visit @lianacornell
Arnhem Bickley (Founder of Arnhem Clothing) with Tahnee Kelland (Artist) 

Arnhem Bickley is the founder of Arnhem Clothing, a sustainable clothing brand that is consciously crafted. The range of clothing is characterised by distinctive, signature prints of vintage-inspired floral, tribal, and earthy designs collected along the way from Arnhem's extensive travels. Arnhem has always been passionate about the natural environment and its inhabitants, as a result, sustainability has been the core of everything she does in her personal life and workplaces. As a result, Arnhem Clothing donates 1% of swim sales to not-for-profit organisations dedicated to protecting the environment (Greenfleet, Rainforest Rescue and Take 3 for the Sea). Visit @arnhem_arnhem_
Tahnee Kelland is a painter and muralist, currently based in her hometown of Mandurah, Western Australia. Rounded in the subject of spiritual and inward growth, Tahnee's ever-evolving painting style sways between symbolism and folk art. She has used her striking art to raise profits for wildlife rescue centers across Australia (She raised $5000 in 24 hours for The Rescue Collective earlier this year), which have been in desperate need of funds after the devastating Australian bushfires. Visit @tahnee_kelland
Eliza Goldsmith (4-Year-Old Artist – Daughter of Ben & Jemima)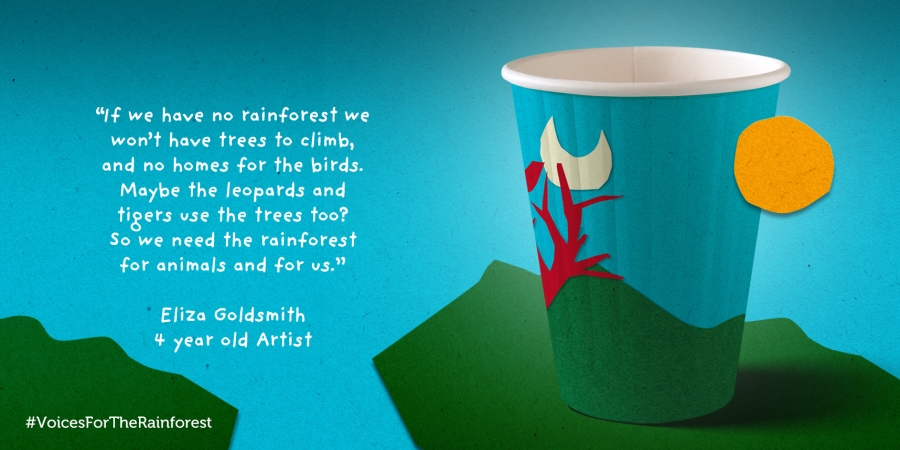 At only four years old, much like her guardian angel big sister Iris before her, Eliza Goldsmith is already voicing her concerns for the future of rainforest animals if their habitats remain unprotected. Eliza is Voices for the Rainforest's youngest Artist and at such a young age, already truly a voice for her whole generation in standing up for the health of the world's rainforests.
Darren Jew (Photographer & Rainforest Rescue Ambassador)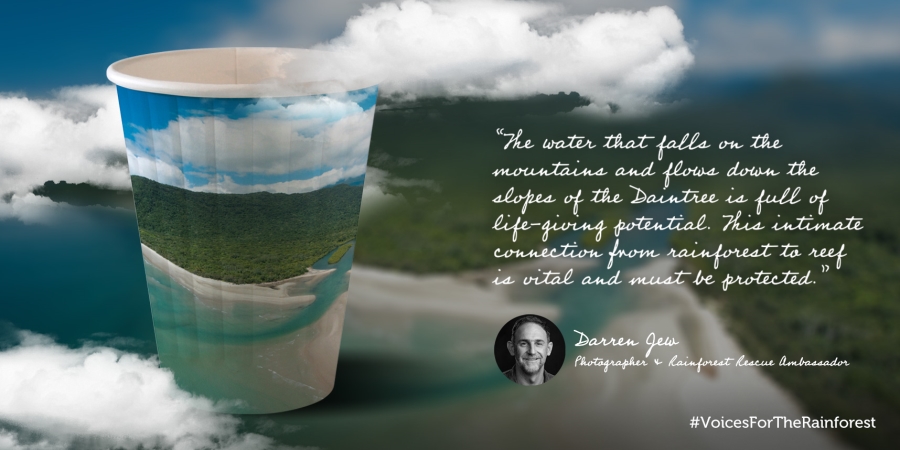 Darren Jew is an award-winning Australian underwater, wildlife, and nature photographer with a passion for capturing and sharing the wonder of the natural world. He is a five-time winner of the Canon/AIPP Australian Science, Environment, and Nature Photographer of the Year. Darren is the author of three books: Australia – Reef, Rainforest, Red Heart; Far & Wild South, and; Underwater Australia. His images are regularly published, exhibited, and used by conservation organisations worldwide. As a passionate environmentalist, Darren has worked closely alongside Rainforest Rescue as an Ambassador to deliver real conservation outcomes for the rainforests and the reef.  Visit @darrenjew
Jasmine Carey (Photographer & Rainforest Rescue Ambassador)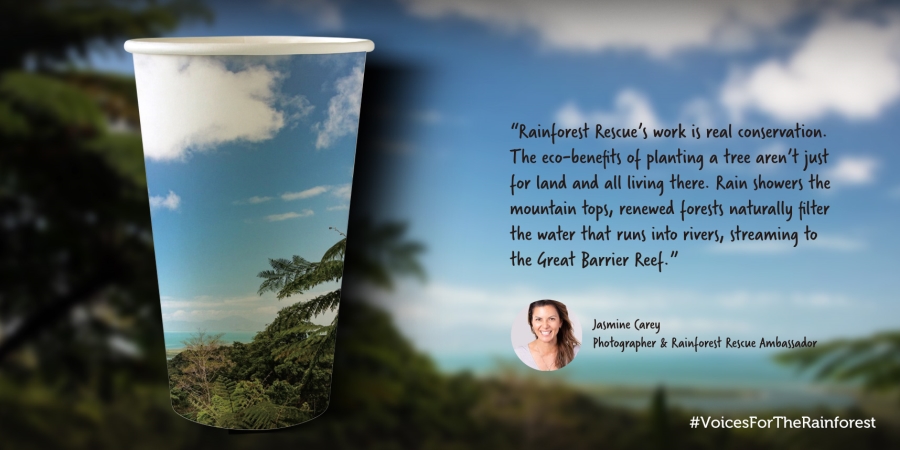 Jasmine Carey is an underwater photographer with a strong passion for the ocean. Her beautiful, intimate photographs of the marine life she encounters confirm her deep connection with the sea. Jasmine has been diving since 2005 and in that time she's dived across the Indo–Pacific, searching out encounters and interactions with the full gamut of marine life. Jasmine's work has been featured in many commercial publications, one of which was in fotoAID, an exhibition raising much-needed funds to aid community and wildlife recovery after the tragic 2019/20 Australian Summer of Fires. She is passionate about conservation, which is evident in her work as an Ambassador with Rainforest Rescue. Visit @pxlexplorer
Martin Stringer (Photographer)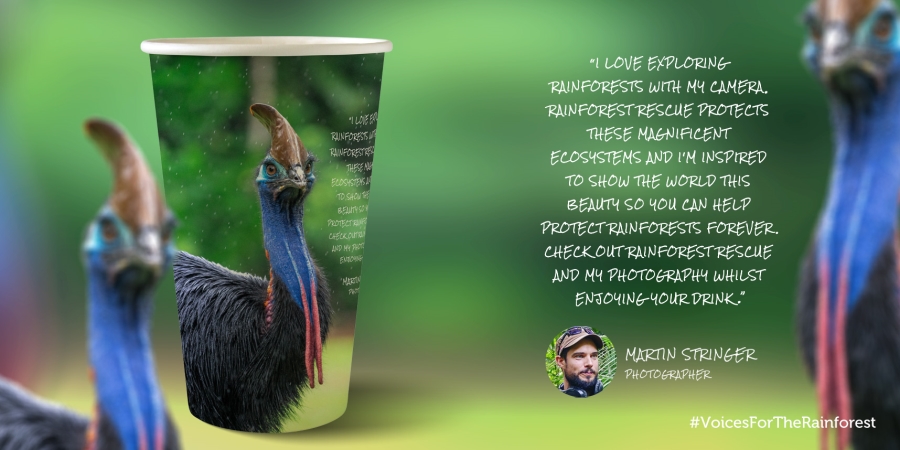 Martin Stringer is a nature photographer and filmmaker. His aim is to showcase the beauty of nature and to inspire others to help be the guardians of our mother earth. Since 2014, Martin has photographed and documented the amazing rainforest regeneration from tree planting projects. In addition to his work with Rainforest Rescue, Martin has also created videos for organisations that are working to help protect nature such as The Wilderness Society, The Great Australian Bight Alliance, and Victoria's Great Forest National Park Campaign. Visit @martinstringerphotography
Candy Marx (Vegan Wellness Entrepreneur)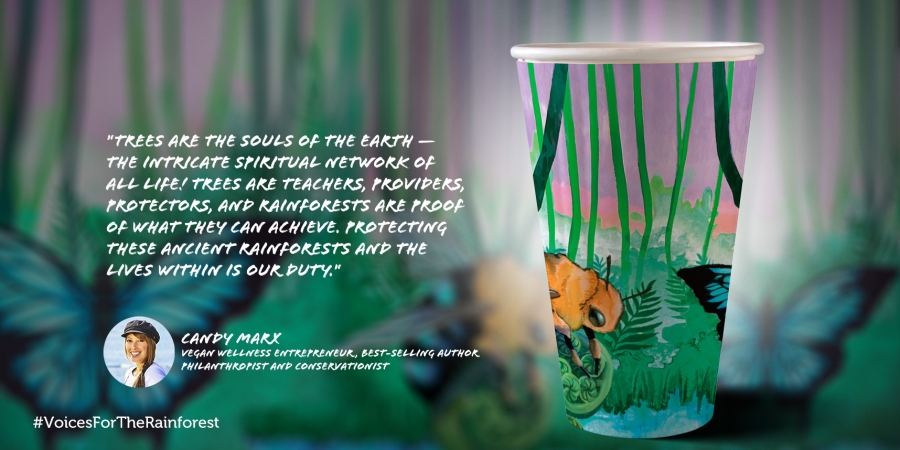 Candy Marx is a New-Zealand born vegan wellness entrepreneur, holistic health practitioner, best-selling author, and philanthropist. As a Marine Science and Shark Conservation graduate (2016), Candy is a conservationist with strong interests in sustainability, environment, wellness, spirituality, humanitarianism, and animal welfare. She is the founder of Plantfed Mama, Plantfed Mana, and Mana Holistic Development. Her brands support animal welfare, conservation, and humanitarian causes. Visit @plantfedmama
Roxanne Cambridge (Blogger & Social Media Influencer) with Tamara Fogarty (Artist)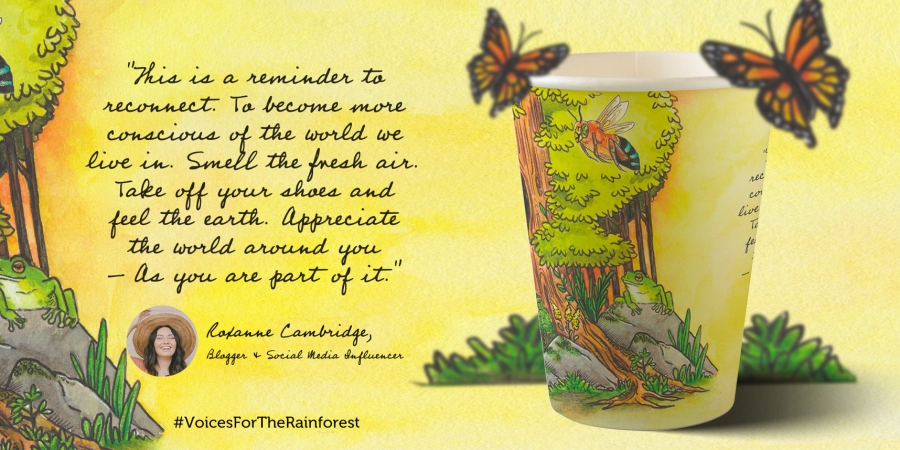 Roxanne Cambridge is an Australian blogger and media influencer. She is deeply passionate about conscious living and uses her platforms and large social media following to educate the general public on plant-based, minimal waste, low-impact living. Visit @roxannecambridge
Tamara Fogarty is an Australian artist currently living on the Gold Coast. Australian native wildlife is a huge inspiration for her art. She believes that promoting the preservation of our environments and their biodiversity is crucial for their longevity and sustainability. Visit @tambles_
Ally Langdon (Today Show Host) with Sophie Duncan (Artist & Founder of Deer Daisy)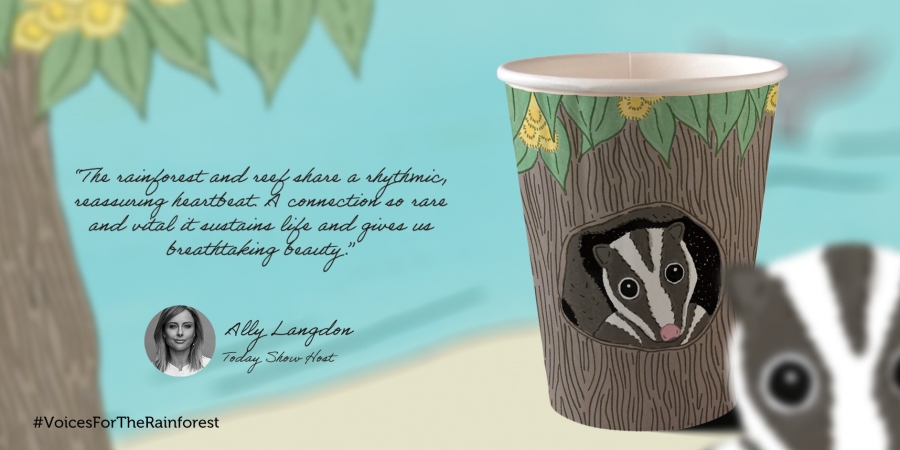 Allison Langdon is an Australian reporter, news presenter, and author. She is currently a co-host of the Nine Network's breakfast program Today and was previously a reporter on 60 Minutes and co-host of Weekend Today. Allison is an Ambassador for Aussie Ark, a not-for-profit organisation that has a vision of creating a long-term future for threatened Australian species. Visit @allisonlangdon
Sophie Duncan is an Australian artist and the founder of Deer Daisy, based in the Northern Rivers and specialising in environmentally conscious wholesale greeting cards. Sophie takes a 'less is more' approach to design, drawing inspiration from nature and the simple things in life. This flows through into the simplistic and earthy nature of Deer Daisy designs. The driving behind Deer Daisy is to create beautiful stationery that will not cost the planet. With billions of trees being destroyed globally every year and the common use of petroleum-based inks in the printing world, it's sad to see our planet's health being compromised. To help counteract some of this devastation and offer the consumer a tree-friendly alternative, all Deer Daisy stationery is printed on 100% recycled and Australian-made materials, using vegetable-based inks and green electricity. Visit @deerdaisystationery
Naurita Briscoe (Indigenous Artist)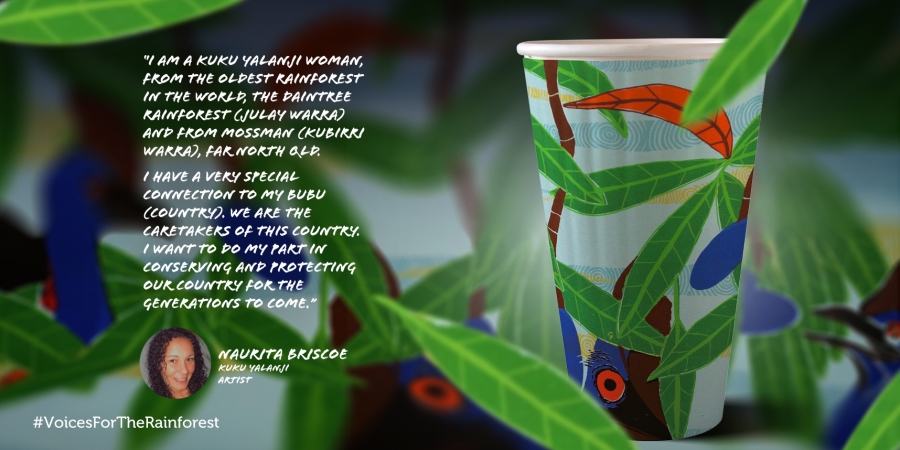 Naurita Briscoe is an Australian contemporary artist. Her family are the traditional owners of the Mossman and Daintree area, Kuku Yalanji tribe, Far North Queensland. Her artwork reflects her own personal life experiences while capturing the beauty of her cultural heritage, sea, and rainforest surroundings. At the heart of her artworks, she hopes to encourage others to Never Give Up. Visit @nauritabriscoe or www.walbulwalbulart.com
Caspar Brace (Artist)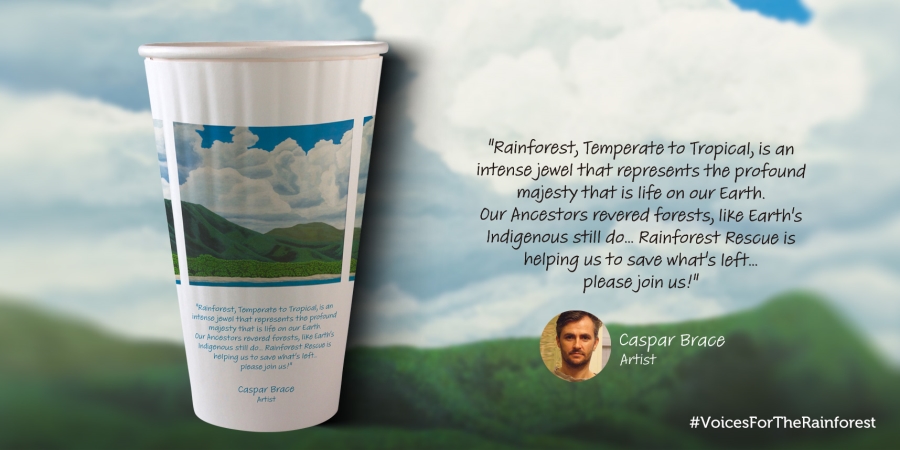 Caspar Brace is a British artist who now lives in Mullumbimby. All of his works are sold with 10% of the proceeds going directly to buy and protect rainforests (Rainforest Rescue). His new exhibition, "Daintree: Our History, Our Future" is opening in February in St Kilda, Melbourne and 50% of all sales will be going directly to fund Rainforest Rescue projects. Visit @casparbrace_photos
Elliott Routledge (Artist)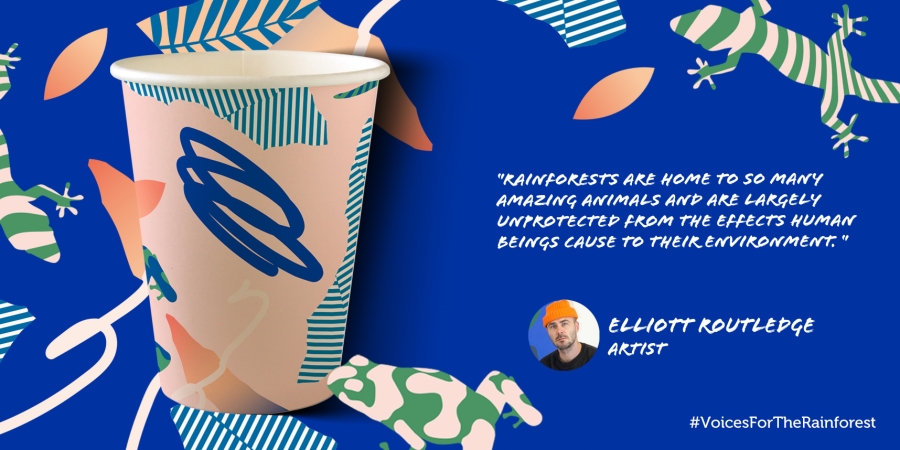 Elliott Routledge is an Australian-based contemporary artist, working out of Sydney in a variety of fields and mediums. He is known for his public art installations, paintings, and sculptures and has exhibited in galleries and installed murals throughout the world. teamed up with Converse to paint a mural in Woolloomooloo, Sydney, that not only cleans the air but also helps plant trees in Australia's Daintree Rainforest. The design for the mural was created in collaboration with Rainforest Rescue and draws inspiration from the fauna and flora of the Daintree, promoting the message that 'Trees are the Answer'. As part of the campaign, a series of colourful patches were also designed by Elliott, with all proceeds being donated to Rainforest Rescue to help protect and restore the magnificent Daintree Rainforest. Visit @funskull
Jean Danker (Singapore Radio & TV Presenter) with Ali Mandalis (Artist)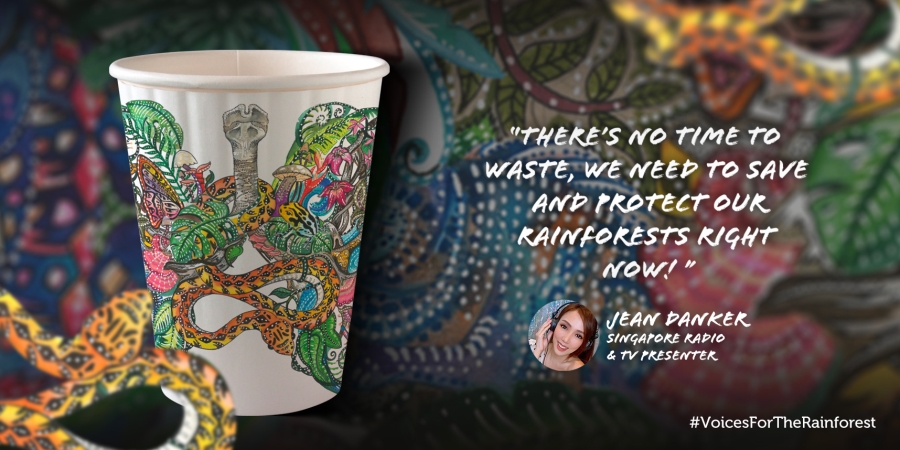 Jean Danker is a Singaporean Radio Presenter at MediaCorp's Class 95, the country's number 1 English radio station. As a supporter of Singapore's Animal Concerns Research and Education Society (Acres) and Animal Lover's League (Singapore's largest and longest-running no-kill shelter), she is passionate about animal welfare and strives to do as much as she can to use her voice and large following to give back to the world around her. Visit @jeandanker
Ali Mandalis is an artist/designer from Kangaroo Valley who currently resides in Crescent Head on the Australian East Coast. During her 20 year career in art, fashion, and surf she has amassed an incredible body of work that includes multi-medium compositions such as illustration and painting, photography, clothing design, sculpture, curation, and cooking. Her creativity typically explodes with colour and whimsy, taking those who experience it on a vibrant journey of tantalising sensations. Combining her sentimental nature with a sharp instinct for the cutting edge Ali has drawn inspiration from a wide variety of artists (everyone from Salvador Dali and Yoshi Tomonara to Mark Ryden and Jim Henson) yet she retains a style that is all of her own. A passionate surfer and lover of all nature, Ali was thrilled to lend her brilliant imagination to a collaboration with Jean Danker and Rainforest Rescue to create a spellbinding visual world unaffected by the pressures of modern civilisation. It is titled "Breathe". Visit @resin_obsidian
Anna Jones (Chef) with Jess Lea-Wilson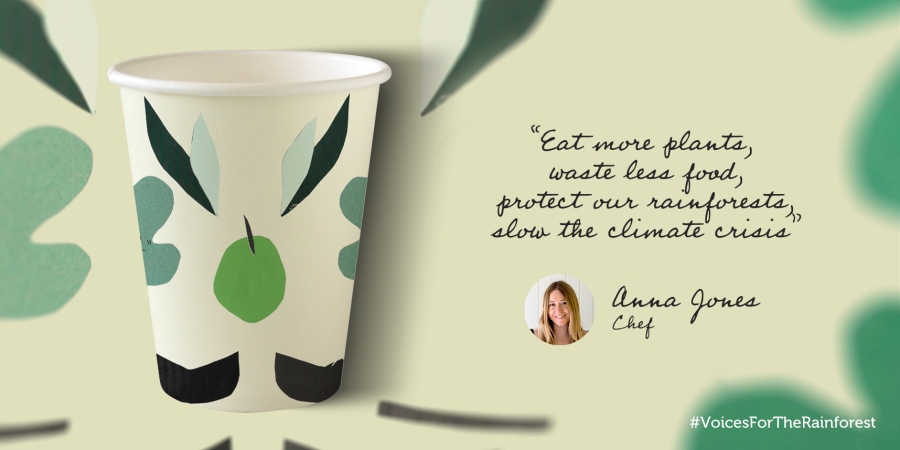 Anna Jones is a vegetarian chef, stylist, and food writer based in Hackney, East London. Anna is the voice of modern vegetarian cooking and the author of the bestselling A Modern Way to Eat, A Modern Way to Cook, and The Modern Cook's Year. Anna believes that vegetables should be put at the center of every table, and is led by the joy of food. She is passionate about sustainable eating, great produce, eating well, and helping others do the same. Visit @we_are_food
Jess Lea-Wilson is a freelance designer working in North Wales and London. She loves food and art in equal measure, so her work encompasses both. Simplicity, bold colour, and good ingredients are what make her happy. Visit @smallislandbigcity
Kera Wong (Food Photographer)

Kera Wong is a Food, Product, Restaurant & Venue Photographer based in Sydney, Australia. Kera graduated from The University of Auckland (New Zealand) with an arts degree and has had various roles in her career including marketing & communications. Visit @kerabeareats
Patty Mills (Four-Time Olympian & NBA Champion) with the Briscoe Sisters (Indigenous Artists)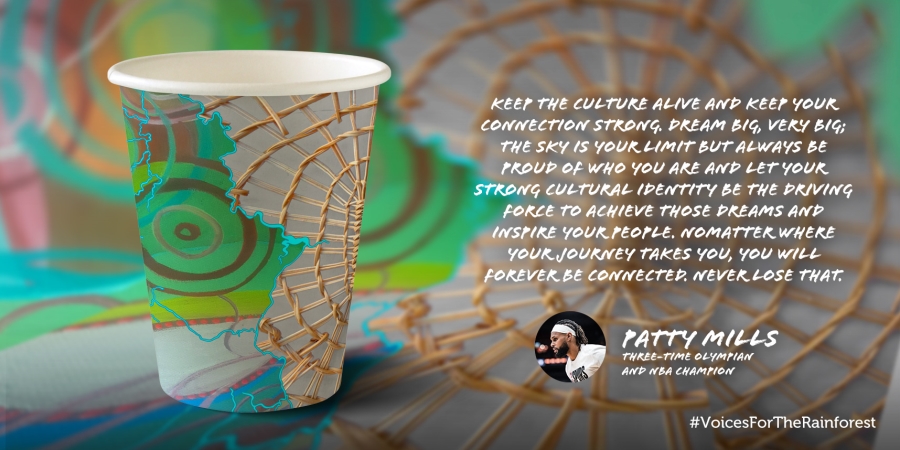 Patty Mills is an Australian Professional NBA Champion and 4 time Olympian. Patty was born in Canberra, Australia into a family that was surrounded by basketball. Patty plays with the San Antonio Spurs in the NBA and is the only Indigenous Australian to win an NBA Championship (2013/14 season). He is also a four-time Olympian (Beijing '08, London '12, Rio de Janeiro '16, and Tokyo '21) and currently represents the Australian Boomers. Patty made history at the Games in Tokyo as the first Indigenous Australian to carry the flag into an Olympic Games opening ceremony, alongside Cate Campbell (who was the first female swimmer to carry the flag for Australia at an opening ceremony). Patty founded the Team Mills Foundation in 2020, an organisation built on taking courageous and ongoing action to bring long-lasting improvement to people's lives. The foundation will be built on six key principles: family, environment, culture, pathways and opportunities, empowering women, and multicultural and diversity. Visit @balapat
Briscoe Sisters perform their original songs with a blend of their language from the Kuku Yalanji Nation, Kubirri (Mossman), and Julay (Daintree). Merindi and Naurita toured the East Coast of Australia performing at many local and national events and festivals. Their releases include E.P, Check it Out and Album Live @ the Tanks. As well as singing and performing, Merindi weaves Balji (baskets) in the traditional style handed down from her Nanna. Naurita creates art pieces, canvas paintings, prints, and hand-painted jewelry. Both have worked extensively in their community, nationally and internationally covering various roles within the Arts and Culture landscape. The Briscoe Sisters have collaborated with Patty Mills to create a stunning art piece for the Rainforest Rescue Biopak project. The Art piece is entitled 'OUR CONNECTION TO OUR BUBU'. Visit @nauritabriscoe or www.walbulwalbulart.com
Ziggy Alberts (Musician) with Samuel Hall (Freelance Graphic Artist)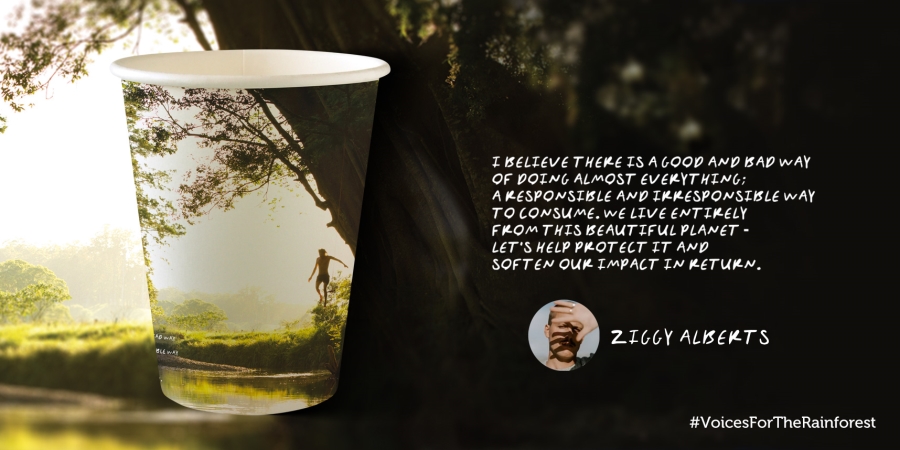 Ziggy Alberts is an Australian singer-songwriter, whose genuine grassroots story and captivating live performances have built his career as one of Australia's leading independent artists. Ziggy is a change agent in the industry and an early adopter of green touring and sustainable living. Visit @ziggyalberts
Samuel D Hall is a Freelance Graphic Artist from Kiama, South Coast of NSW. Growing up near the ocean and having a close connection to Australian nature also has significantly influenced his artworks. Visit @samueldhall
Take action and be a Voice for the Rainforest
You can help protect the rainforest and be in the draw to win a limited edition print. Share a photo of your Voices For The Rainforest BioCup on social media with the hashtag #VoicesForTheRainforest and telling us what the rainforests mean to you.
You can also donate here to help support Rainforest Rescue's ongoing efforts to protect the Earth's rainforests.
Based in the US or UK? Click here to visit Rainforest Rescue on GlobalGiving
Donations made via GlobalGiving are tax-deductible in the US, or UK taxpayers can give in GBP and claim an extra 25% if Gift Aid eligible.
---
Want more good Rainforest news in your life?
Subscribe to our eNews  | Follow us on Instagram  |  Like us on Facebook  | Subscribe to our YouTube channel
Help Protect Rainforests Forever
Donate to Protect Rainforests Forever  |  Become a Rainforest Guardian for as little as $2 a month  |  Partnership Options