Environmentally-Friendly Artist Jack Johnson collaborates with Rainforest Rescue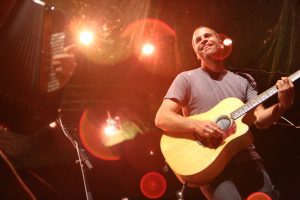 Ever since Joni Mitchell sang Big Yellow Taxi, the deep connection between artists and the environment has always been a powerful force for social and environmental change. From Paul McCartney and Lorde, to groups like the Foals, Green Day, and Dave Matthews Band – there are a growing number of high-profile artists using their celebrity to shine a light on deforestation, plastics, local food systems, and climate change.
One of the leading voices in this work is musician, surfer, environmentalist, and United Nations Goodwill Ambassador Jack Johnson, and his All At Once social action network. From Earth Day concerts and beach clean-up days to supporting not-for-profit groups at his concerts and events, Jack Johnson has spent the last two decades promoting environmental issues, educating concertgoers and fans, and supporting groups on the ground.
Rainforest Rescue was thrilled to have been selected as one of the not-for-profit collaborators for his 2022 tour, as part of the All At Once environmental action plan.
At the concert on the Gold Coast on Dec 2nd, 2022, Jack Johnson's fans connected and hung out with the Rainforest Rescue team to learn more about how they can help protect our environment. The team also had the chance to watch Ziggy Alberts perform, which was quite the treat! You may remember that Ziggy was one of the changemakers involved with our 2021 Voices for the Rainforest campaign, in partnership with our Diamond Level partner, BioPak. Emily Wurramara, an up-and-coming Indigenous Artist from the NT, also shared her music with the crowd.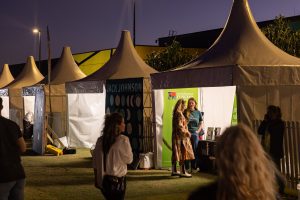 Two lucky Rainforest Rescuers got to attend the concert as a result of winning our Instagram ticket giveaway too – congratulations again to Lisa & Claire – we hope you enjoyed the event.
As a result of our involvement, The Johnson Ohana Foundation, founded in 2008 by Jack and his wife Kim, will be matching donations to Rainforest Rescue between 15th October and 31st December 2022, up to a total of $2500 (USD). This is music to our ears!
Collectively, individual actions create global change. Your actions, your voice, and your choices – all have a huge impact.  Take a moment to make a difference, double your donation and Protect Rainforests Forever 
After all, as the song goes, we're Better Together.
Some contents or functionalities here are not available due to your cookie preferences!
This happens because the functionality/content marked as "Google Youtube" uses cookies that you choosed to keep disabled. In order to view this content or use this functionality, please enable cookies: click here to open your cookie preferences.
---
Want more good Rainforest news in your life?
Subscribe to our eNews  | Follow us on Instagram  |  Like us on Facebook  | Subscribe to our YouTube channel
Help Protect Rainforests Forever
Donate to Protect Rainforests Forever  |  Become a Rainforest Guardian for as little as $2 a month  |  Partnership Options