Cassowary Art Trail Launch
Spring has arrived on Saturday the 8th of October in Far North Queensland with the launch of the Cassowary Art Trail in Kuranda. Rainforest Rescue provided a well-attended booth with information about the cassowary, examples of it's diet, free trees and riveting cassowary stories from our team on the ground, Sigrid, Marine and William.
It was a fantastic day and it was great that Rainforest Rescue was involved
(Jurg Jutzi, Cassowary Art Trail founder)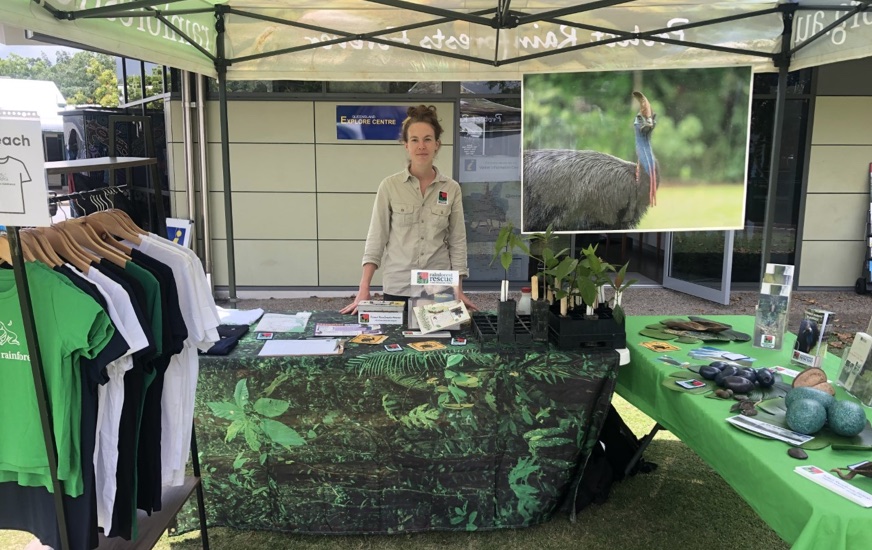 Nursery Manager, Marine, and the Rainforest Rescue Booth
The day was a celebration of everything cassowary and included talks from Mayor Angela Toppin and Craig Crawford the MP for Barron River, kids cassowary crafts, face painting and public unveiling of the first three cassowary statues now on display in Kuranda.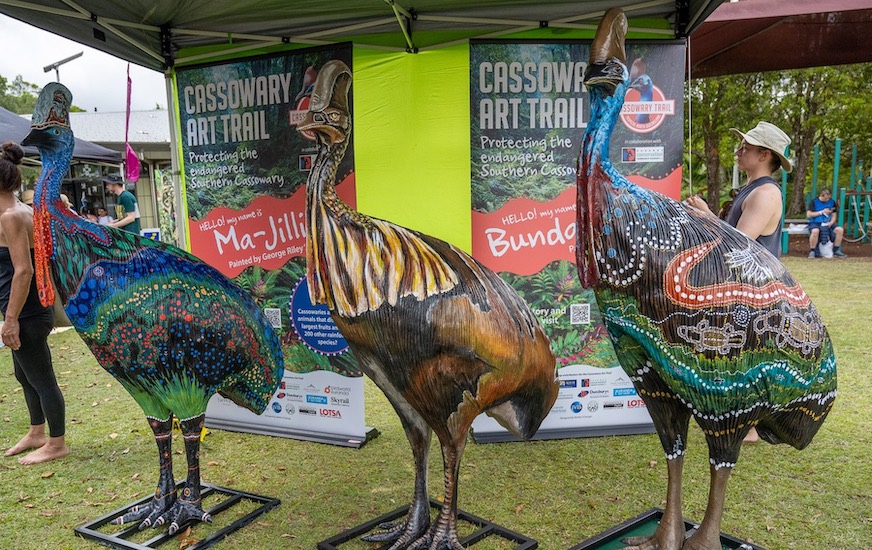 The 3 Cassowary statues on display in Kuranda, image credit Steven Nowakowski
The Cassowary Art Trail is the latest far-north conservation project with the aim to protect the Australian Southern Cassowary (Casuarius casuarius johnsonii) by bringing awareness to the important role the bird plays in the rainforest ecosystem. For over two decades, Rainforest Rescue has worked to protect biodiversity and the natural environment of the cassowary through rainforest restoration, education and habitat protection. Our Daintree nursery provides plants for revegetation and plantings, many of these plants play an important role in the Cassowary's diet. You can support these efforts by making a donation today.
When you come and visit us in the Daintree, make sure you stop into the villiage of Kuranda for a look at all the cassowary artwork and statues—the 3 Cassowary statues are on display at Heritage Market, Terra Nova Gallery and at Skyrail Kuranda terminal.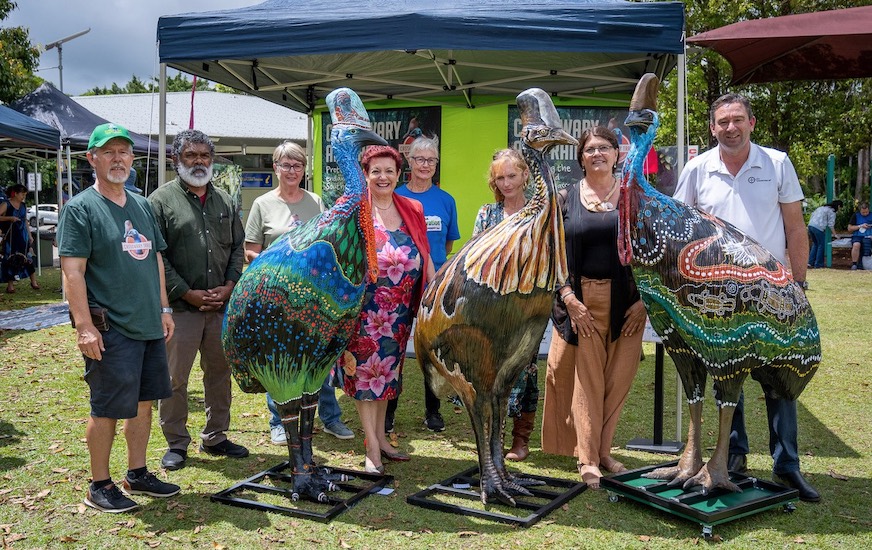 Cassowary Art Trail.
From left, Jurg Jutzi (Cassowary Art Trail founder), George Riley (artist), Dianne Daniels (President KCons), Mayor Angela Toppin, Jax Bergersen (Secretary KCons), Rebecca Koller (artist), Connie Rovina (artist), and MP Craig Crawford
Image credit Steven Nowakowski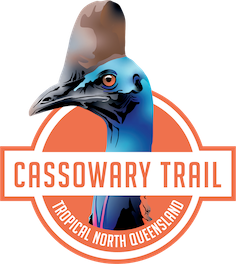 Check out our previous blogs on the Cassowary Art Trail:
The Cassowary Trail
The Cassowary Trail Update
---
Want more good Rainforest news in your life?
Subscribe to our eNews  | Follow us on Instagram  |  Like us on Facebook  | Subscribe to our YouTube channel
Help Protect Rainforests Forever
Donate to Protect Rainforests Forever  |  Become a Rainforest Guardian for as little as $2 a month  |  Partnership Options