Unearthing the Mysteries of Soil Recovery

Soil Scientist Fred Holden using an EM Inductor to test electrical conductivity of the soil.
Image: Martin Stringer
We love to talk about trees and the incredible benefits they provide for our planet Earth, but we often overlook a critical resource right beneath us; The soil. An incredible 95% of life on land resides underground, serving as a habitat for a diverse range of organisms – Earthworms, nematodes, microorganisms, insects and fungi all create a hidden ecosystem beneath our feet. Soil's remarkable diversity also helps in climate regulation, as certain microbes influence the balance of greenhouse gases in the atmosphere. This biodiversity is the cornerstone of healthy soil, as it contributes to the cycling of nutrients and the breakdown of organic matter, fostering a rich and fertile environment.
The agriculturalisation of large portions of the Daintree Rainforest, particularly for sugar cane and cattle farming, has disrupted many of these important cycles, and inflicted significant harm on soil quality and ecosystem health. Many years of land clearing, overgrazing, heavy machinery and harsh chemicals have led to erosion, compaction, loss of biodiversity and the depletion of organic matter and essential nutrients in the soil.
By restoring rainforest in these areas, we hope to bring back some of this biodiversity, and repair the broken cycles we rely on for a healthy planet. We want to grow the best possible rainforests, and to do that we need to foster a healthy foundation underneath. Keeping an eye on what's happening beneath the leaf litter is essential if we want to grow strong, healthy and resilient forests that will stand the test of time, and the ravages of a changing climate.

Restoration site Tranquility in the Upper Daintree Valley, with newly planted native trees.
Image: Sigrid Wilkens
KEEPING AN EAR TO THE GROUND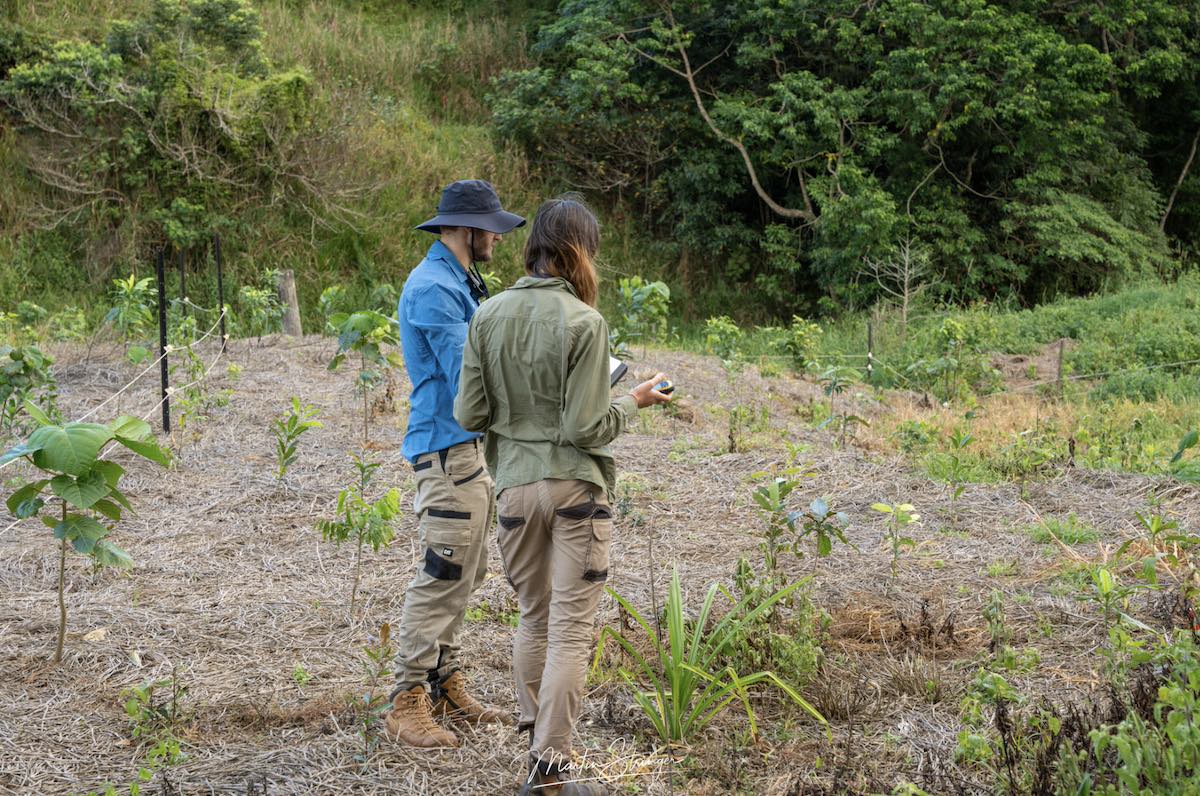 Monitoring is essential for successful restoration. In order to work effectively we must have a good idea of how our trees grow over time, survival rates, the wildlife being attracted, and how quickly we can achieve canopy closure, which is essential for keeping weeds at bay and reducing maintenance costs. Above ground, monitoring is fairly straightforward – Wildlife cameras and visual surveys help us to record and understand what is happening at our sites, and what we can do to improve upon our methods. 
Figuring out what's happening beneath the forest floor is slightly more difficult; Plants and the microorganisms and biological processes below are intricately linked, yet remain vastly misunderstood, especially in terms of recovery after revegetation. To better understand our trees, we need to unearth what is happening in the mysterious world right under our feet. 
With the help of a grant from One Tree Planted, we can now attempt to delve deeper with the initiation of a two year soil monitoring program at our rainforest restoration sites. We were also in need of some expert help, and luckily enough we could engage Fred Holden, a research officer at James Cook University, currently working on investigating carbon dioxide removal through the enhanced weathering of basalt in acidic soils, with experience in soil monitoring and environmental management.

Fred Holden with the soil team at a remnant patch of rainforest near Tranquility.
Image: Sigrid Wilkens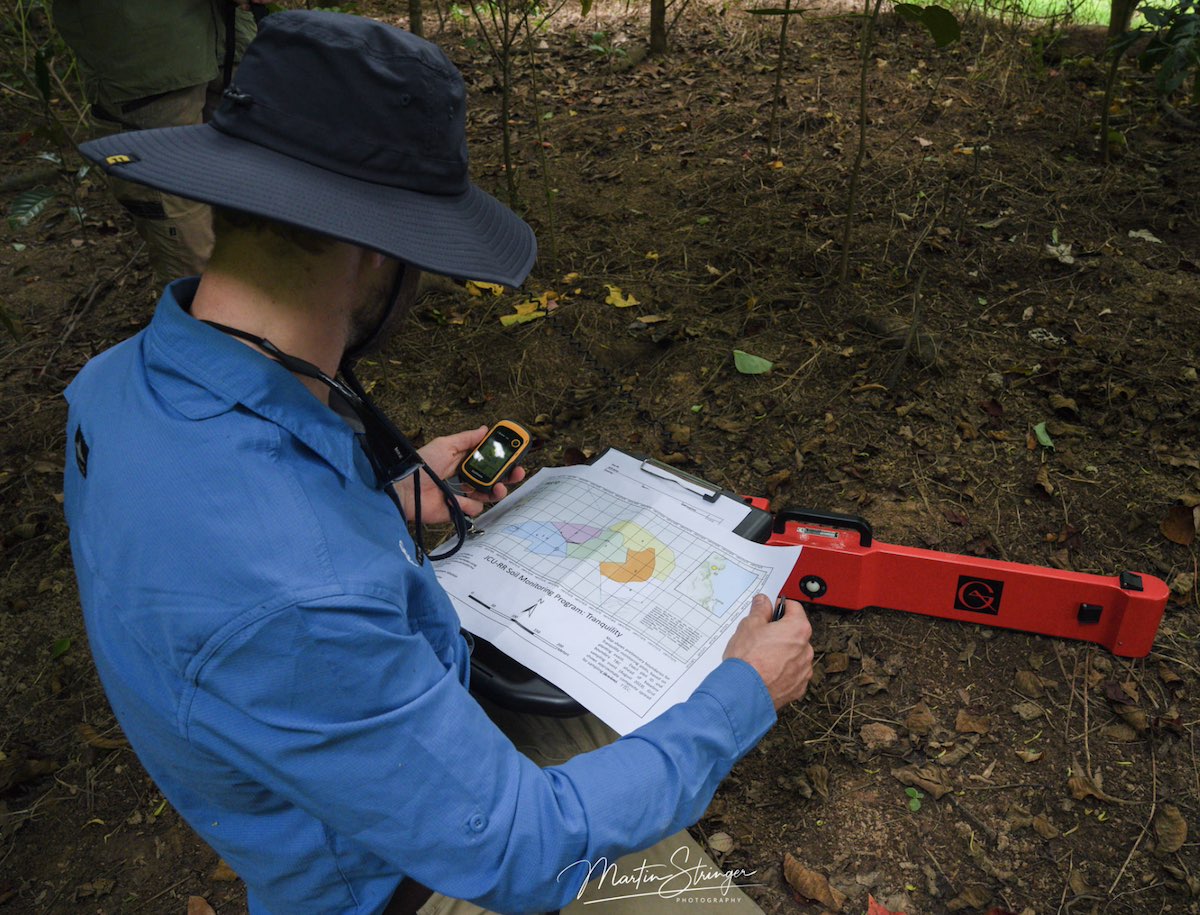 Fred spent a lot of time helping to map out our two restoration sites, NightWings and Tranquility, and determining if they were suitable to perform long-term monitoring. This was done with an Electromagnetic Inductor, a handheld device used to measure electrical conductivity in the soil determined by its water content, and generate a conductivity map. A low variability in readings spread throughout an area shows that the soil is stable and suitable for long-term sampling. 
The next step was to get down and dirty with Fred, using a hand auger to take samples at varying depths and – hopefully – begin to understand properties of the soil, and whether restoring rainforest above is actually helping to bring back the hidden world below. 
NIGHTWINGS AND TRANQUILITY
NightWings was a sugar cane farm for many years until it was purchased by wildlife carer and bat enthusiast Annie Shoenberger to be fully restored back to lush Daintree Lowland rainforest. Restoration on this site has been ongoing since 2016, which gave a range of younger and older planted rainforest plots to sample from. 
Our other site, Tranquility, a cattle farm in the Upper Daintree Valley provides an interesting comparison. It has a creekline running through the property, and restoration on this riparian zone has been ongoing since 2021. Investigating the soil on these two sites should give insight into differences in location, ecology and previous land use.

The soil team from left to right: Glen, Milly, Fred and Hayden at an area of Nightwings planted years ago.
Image: Sigrid Wilkens

Gathering 'control' samples from nearby remnant (untouched) rainforest as well as land that will remain agricultural has the potential to give us a baseline and an 'ideal' to show where our soil sits in between these two extremes, and to see if the properties of our restored soil are beginning to approach that of healthy, untouched rainforest.
My journey into soil science begun with my passion for environmental conservation. It's fantastic to see an organisation like Rainforest Rescue so dedicated to understanding the influence of their revegetation activities on soil health, and I'm very pleased to be able to lend a hand on the project – Fred Holden, JCU
CLOSING THE GAP
There is evidence to suggest that revegetation on previously cleared land can be linked to many positive outcomes on the surrounding soil, including:
Enhanced fertility due to increased nutrient cycling

Increased porosity

Increase in water retention capacity

Carbon sequestration as a result of organic matter accumulation

Recovery of microbial communities and soil food web
However, an abundance of environmental variables will impact how quickly this occurs. Some studies have shown that while the physical structure of the soil can show significant recovery within 2-20 years [1], microbial communities can be a lot slower off the mark [2], indicating a Restoration Gap between restored and remnant rainforest. It is presently unclear if this gap will eventually close itself over time, or whether we should begin to explore ways of speeding this up, and if this can prove feasible for large-scale restoration. 
Long-term monitoring of a large spread of restoration sites is one way to shed light on how effectively soils can recover after agricultural land use, and whether this can be linked to a healthier rainforest. Our first round of samples from Tranquility and NightWings will be analysed for physical and chemical properties including organic carbon, nitrogen, pH, microbial biomass, cation exchange capacity, bulk density and penetration resistance. We can't wait to see what we unearth!



The soil team from left to right: Sigrid, Fred, Hayden and Kate, preparing for a day of taking samples at Tranquility.
A huge thank you to Fred Holden and Paul Nelson from James Cook University for providing their time and expertise in planning, mapping, documenting and sampling to begin our soil journey, and to One Tree Planted for granting us the funds towards two years of monitoring our sites. Thanks also to the Rainforest Rescue staff and volunteers for helping to dig, sort and bag hundreds of kilograms of dirt!
References
[1] Gageler, R. et al. (2014) 'Early response of soil properties and function to riparian rainforest restoration', PLoS ONE, 9(8). 
[2] Bonner, M.T. et al. (2019) 'Tropical rainforest restoration plantations are slow to restore the soil biological and organic carbon characteristics of old growth rainforest', Microbial Ecology, 79(2), pp. 432–442.
---
Want more good Rainforest news in your life?
Subscribe to our eNews  | Follow us on Instagram  |  Like us on Facebook  | Subscribe to our YouTube channel
Help Protect Rainforests Forever
Donate to Protect Rainforests Forever  |  Become a Rainforest Guardian  |  Partnership Options