Saving Australia's Southern Cassowary
Rainforest Rescue is leading a national multi-organisational campaign to save Australia's Southern Cassowary (Casuarius casuarius Johnsonnii) and to raise awareness about the cassowary's plight. The cassowary evolved over 80 million years ago and, at the time of writing, it is estimated fewer than 1,000 of these living 'rainforest dinosaurs ' are left in the Australian wild.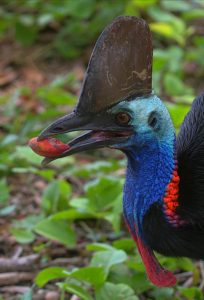 The cassowary's existence is vital to the rainforest's ecological functionality. Many species are entirely dependent on the cassowary dispersing seeds for their survival, yet rapid development in the tropical rainforests of far north Queensland has destroyed 85% of its habitat.
Save the Cassowary is a partnership between government departments, business partners, and 19 partner zoos and wildlife sanctuaries.
When launching the campaign, Rainforest Rescue's Director of Conservation, Jennifer Croes, also announced a new partnership with the Girringun Aboriginal Corporation. She explained "Cassowaries play not only a vital role in rainforest biodiversity, but also a significant cultural role in Indigenous traditions. The partnership will unite traditional owners and Indigenous knowledge and values with our long-term conservation goals".
At the launch, Will Meikle from WILD LIFE Sydney Zoo spoke of the role zoos play in helping to bring endangered species to the public's attention. To support this, signage will be displayed at partner zoos nationwide. A website also has been created for the campaign.
To date, the media coverage of the campaign has reached more than three million Australians with the simple message to Save the Cassowary.
How we can Save the Southern Cassowary
Buy Back and Protect Rainforests Forever. We have already purchased 22 properties critical to create a wildlife corridor, but there are many more high conservation value properties in the Daintree Lowlands on our wish list.
Rescue and rehabilitate sick and injured cassowaries and orphaned chicks at the Garners Beach Cassowary Rehabilitation Centre, Mission Beach. We are in final negotiations to manage this facility under a partnership with the Queensland Department of Environment and Heritage Protection (DEHP) and the Girringun Aboriginal Corporation.
Research – Collaborate with academic institutions and zoos to undertake much-needed research to learn more about this living dinosaur and its contribution to rainforest biodiversity.
Educate – Information about the southern cassowary and the threats it faces is available on our Save The Cassowary page