A Conservation Coalition and an Environmental Bridge to Economic Recovery post-COVID
A Conservation Coalition and an Environmental Bridge to Economic Recovery post-COVID
Earlier in the year, Rainforest Rescue joined a coalition of organisations to voice our support for private land conservation in Queensland. Nature Refuges are essential mechanisms of conservation and truth be told, there isn't enough capacity to support the requests for nature refuge certification and supporting activities. And then the Coronavirus hit, and we joined a broader coalition of conservation groups across Australia in support of an environmental road to recovery from the pandemic.
The Pew Charitable Trusts do a lot of good work in service to nature, all over the world. Their conservation programs are wide ranging and comprehensive. As part of their efforts to promote conservation in Australia, they focused recently in two areas to engage both state and federal support. First, an appeal by nature conservation organisations was put forward to Queensland State Government to invest more in nature refuges and conservation. And then next, Pew engaged a broader coalition of conservation organisations from across Australia to promote conservation and restoration as an economic strategy for post Coronavirus Pandemic recovery. Both efforts were supported by many conservation groups. Rainforest Rescue is proud to be included.
Partnering for Land Conservation in Queensland
Earlier in the year, an unlikely coalition of organisations, organised by the Pew Charitable Trusts,  wrote to Queensland Parliamentarians to voice their support for growing and improving funding for private land conservation in Queensland. Rainforest Rescue joined agricultural, conservation, land management and Aboriginal organisations in writing to and meeting with politicians, including the Environment Minister Leeanne Enoch, Shadow Environment Spokesperson David Crisafulli, and the local Member of Parliament for Far North Queensland, Cynthia Lui.
It was recommended that private land conservation, for example, land protected through the Nature Refuge Program, needs better funding so that nature refuge holders can be better supported to undertake land management work like tackling invasive weeds, feral animals or destructive wildfires. The group also recognised that growing funding would mean growing the size and number of nature refuges in Queensland too – a win for people and nature.
Parliamentarians from across the political spectrum were broadly supportive of private land conservation, but there was mixed support for prioritising a growth in funding. The Minister, in particular, said that investment in protected areas was a priority of hers and pointed to future release and funding of a Protected Area Strategy.
And then the Coronavirus crisis hit.
Our colleagues have continued the conversation with representatives from the Minister's office, who have emphasised that the priority of government will be addressing the health and economic crisis, but that the Minister's office is receptive to ongoing discussions about better funding for protected areas in the lead up to the Queensland election in October.
The impact of the Coronavirus pandemic has been felt quite profoundly — on people, industry and the economy. We are all staying at home to save lives, rapidly adapting our own way of life. However, so many people already have lost their jobs as a result of the pandemic.
It's a difficult time for so many and a situation we all want to see turned around.
An Environmental bridge to Recovery
In response to the economic recovery challenge caused by the coronavirus, another coalition was formed with over 80 land-care, environmental, farming and conservation groups, including Rainforest Rescue. This time, Pew wrote to state and federal governments, presenting a stimulus package that would see the creation of 24,000 jobs in land management and conservation.
The package, worth more than $4 billion over four years, would create secure and socially-beneficial work during this time of economic challenges. The work would also have significant economic multipliers, especially in regional communities, with work generated for local suppliers and hospitality businesses.
Landcare Australia posted this emotive video on their Facebook page.
Practical Conservation Activities
The various conservation-related activities that have been proposed on this 'road to recovery' include:
a surge in weed control efforts, focused on containment and preventing cross-tenure spread;
river and wetland restoration, including fencing, re-vegetation and erosion control;
national park infrastructure, track maintenance and park management (fire, weeds, feral animals);
bushfire recovery and resilience activities, including infrastructure repairs and habitat restoration;
invasive animal control, including deer and pigs which impact on farming and threatened species;
tree planting and habitat restoration in metropolitan, suburban, peri-urban and rural areas;
funding for private land conservation, putting money in the hands of farmers and other land managers;
coastal habitat restoration and monitoring, in partnership with the fishing industry and local communities;
plastics and marine debris clean up, including research to inform future policy decisions;
funding for Indigenous rangers to deliver jobs directly to vulnerable communities using a proven model.
The program would be highly beneficial and would provide  income for machine operators, shooting and trapping contractors, fencers, nursery growers, hardware suppliers, local & Indigenous land managers and bush re-generators. The road to recovery will likely be a long one, which will require each sector of society to contribute in its own way. We stand ready to help in any way we can.
Working with the Government
The letter, addressed to the Prime Minister, state & territory premiers and chief ministers, can be viewed here.
If funding is committed, then the 'lock down' period is an opportunity to develop projects, seek partners and allow people to apply for positions, so that the program can hit the ground running.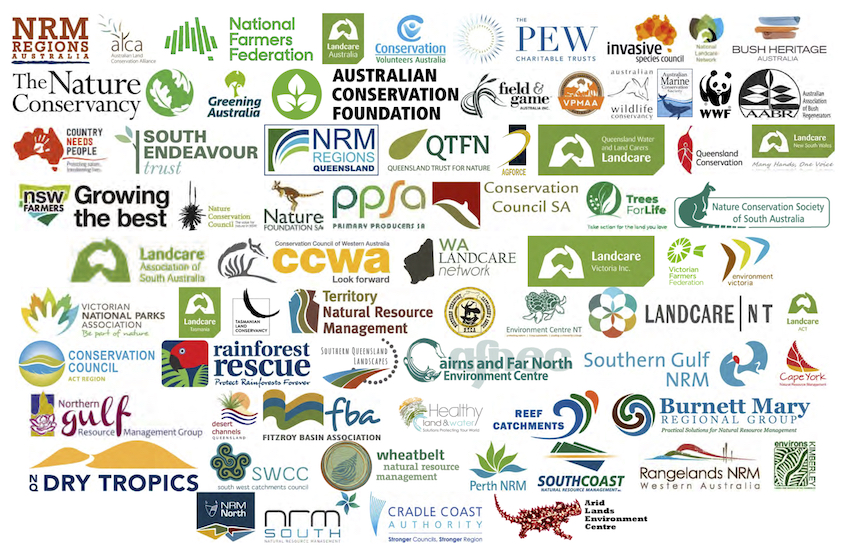 Rainforest Rescue is very proud to be part of such a robust community of land care and management, traditional owners and conservation organisations.
When you look at the spectrum of activity and focus, the hope we feel for the future and for nature is stronger than ever.
---
Want more good Rainforest news in your life?
Subscribe to our eNews  | Follow us on Instagram  |  Like us on Facebook  | Subscribe to our YouTube channel
Help Protect Rainforests Forever
Donate to Protect Rainforests Forever  |  Become a Rainforest Guardian for as little as $2 a month  |  Partnership Options