Over 100 Hummingbird Species Live in the Cloud Forests of Ecuador
The hum of wingbeats is what you hear first. Beating at close to 80 strokes per second, the hummingbird is audible long before you see it.
These fast moving aerial acrobats boast an incredible variety of names like sylphs, emeralds, brilliants, violetears, and hermits.
With their hovering capacity and specialised beaks, they can easily harvest nectar from a wide range of the unique flowering plant species in the Cloud forests.
They also have the unique distinction of being the only birds on the planet that can fly backwards!
With nearly 20% of the world's bird diversity living in the Ecuador Cloud forest, we have partnered with Rainforest Concern to create a biodiversity corridor between the Cloud forests and the lowland forests of the Awa Ethnic Reserve.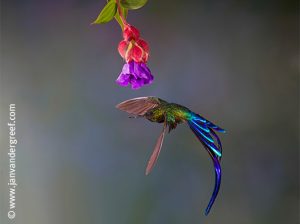 Photo: The male violet tailed sylph with his long tail and beautiful colour
The Cloud Forest needs you:
it's in grave danger from logging, mining and farming
it's home to an incredible variety of animals – jaguars, spectacled bears and many rare birds
the pace and scale of destruction is edging species towards extinction