First shoots of the Green Economy in Daintree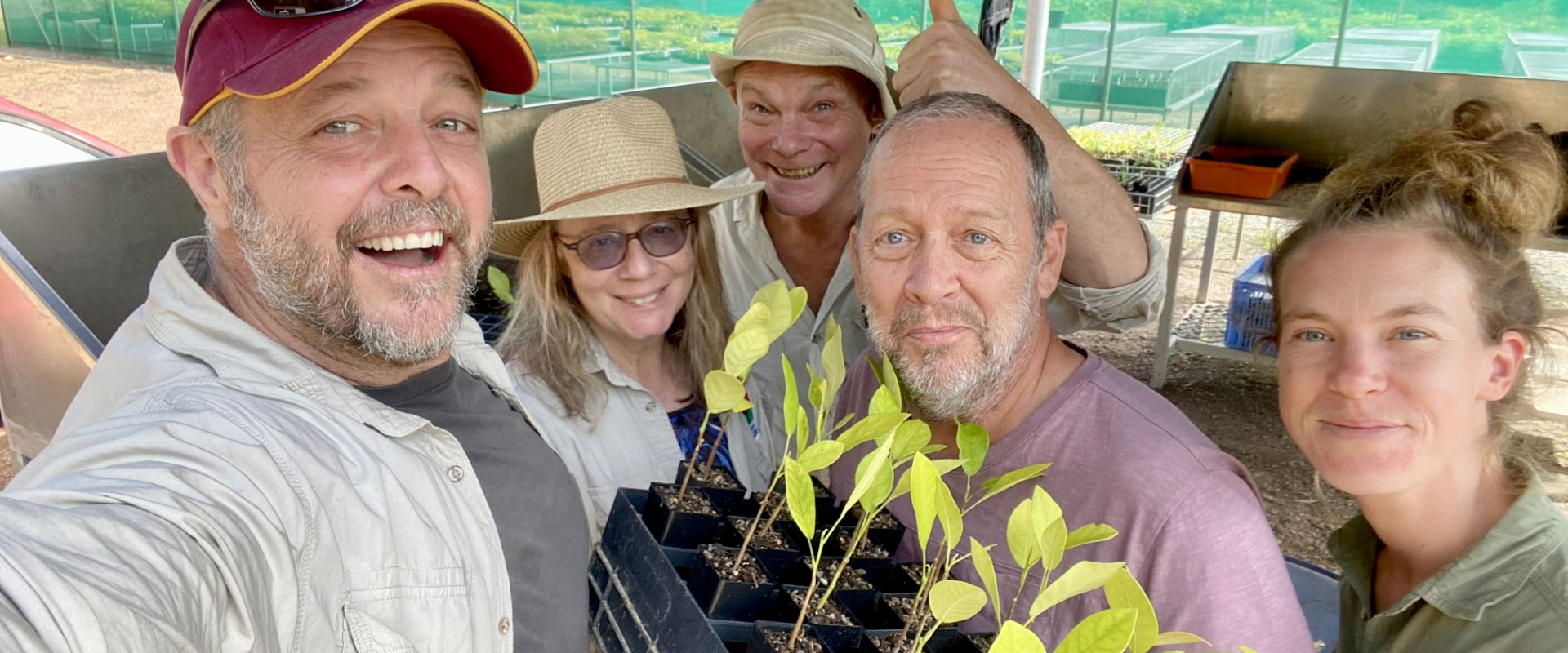 Dave Pinson (centre) of Daintree Life collects the first trays of rainforest plants from Rainforest Rescue's native nursery in Cow Bay. Our CEO Branden, Chair Rachel, Nursery Hand Rob and Nursery Manager Marine were there to capture the moment!
Rainforest Rescue celebrates providing the first trees from its native nursery to their first partner in restoration, Daintree Life.
The timing is notable. As the sun set in Darwin on SER2023, the Society for Ecological Restoration's 10th World Conference on Ecological Restoration, attendees reached consensus on a global Call to Action:  
"The need for ecological restoration has never been more evident or imperative… We must seize the opportunity of the UN Decade on Ecosystem Restoration to reconnect people and nature and deliver restoration on a global scale to ensure a healthy, livable planet for current and future generations." 
Meanwhile, at Rainforest Rescue's new native nursery in Cow Bay, we handed over the first of many trays of rainforest plants to Daintree Life, our first partner in ecological restoration. 
Proof that the 'Action' part of SER's Call to Action is happening, right now, in the Daintree region. It's thrilling to be a part of the movement.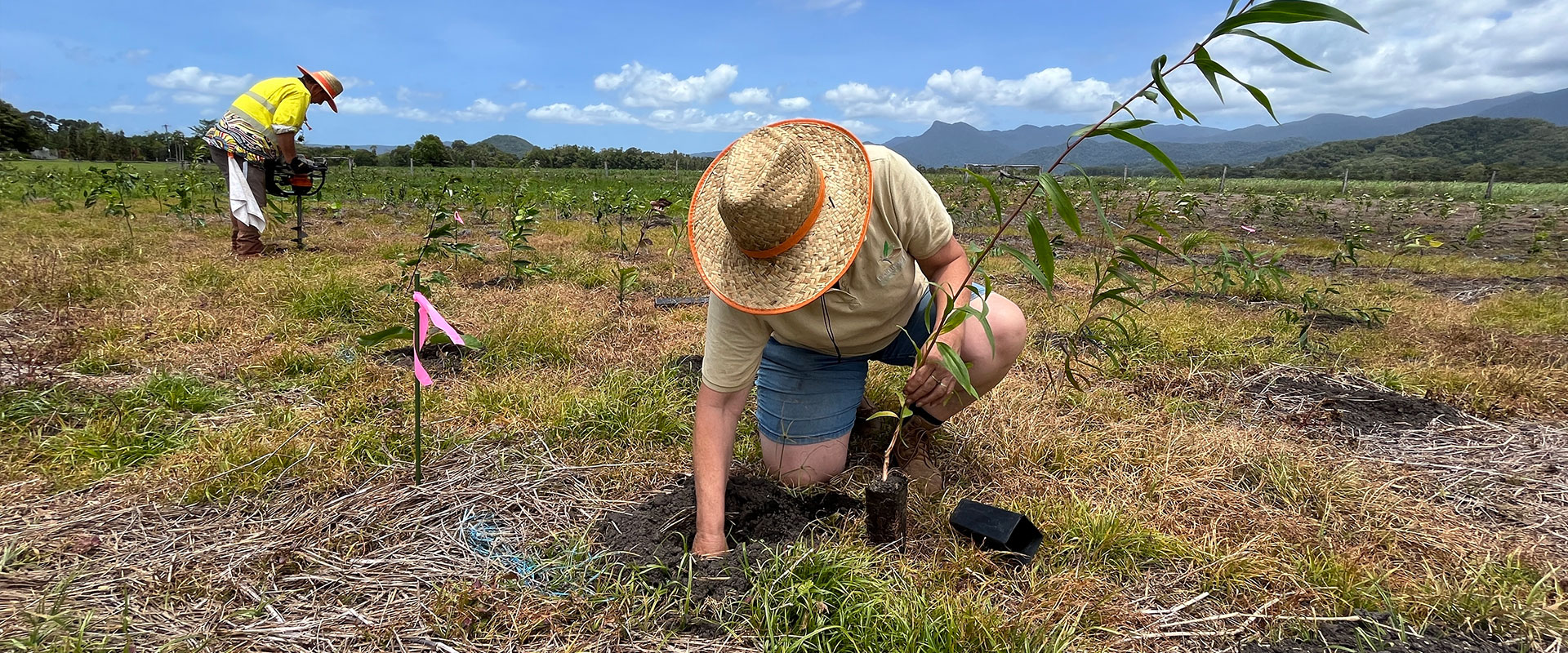 Dave and Connie Pinson from Daintree Life, tree planting at the Bells Road habitat restoration site. Hundreds of rainforest plants from the Rainforest Rescue native nursery are already in the ground following a community tree planting, with several thousand more earmarked for planting in the first phase of the restoration.
Supporting local ecological restoration projects
Conservation group Daintree Life was founded by Connie and Dave Pinson, with the aim of planting half a million trees by 2030 to aid restoration efforts in the Daintree and further afield. Long-standing conservationists through their animal rehabilitation work, Connie and Dave realised that it was "fruitless trying to return animals to the wild if there was no wild to return them to." 
Daintree Life's partnership in tree production with Rainforest Rescue is a means to restore lowland rainforest habitat at their project site, near Newell Beach in Far North Queensland. The Bells Road project will see farmland that was cleared for sugar cane and cattle grazing being restored to pre-clearance ecosystems. It's a large, sprawling site at the southern end of the Daintree rainforest, where mangroves and seasonal freshwater creeks and lagoons intermingle with a mix of melaleuca (paperbark) and corymbia (bloodwood) forest.  
To assist with the biodiversity of the different habitats, Rainforest Rescue will provide almost 100 species of plants, to ensure a strategic mixture of pioneer and slow-growing vegetation. As ever, quick canopy closure is crucial to minimise the effects of non-native weeds and to support the ongoing management of the land as nature restores its original patterns and cycles of growth. 
Over the next 5 years, Rainforest Rescue are supplying Daintree Life with over 30,000 trees, with 6,200 plants in the first year alone. Visiting the Newell property, it's evident that the planting phases will follow a seasonal creek as the natural drainage topography leads towards the coast. The reforestation will provide water run-off filtration through improved soil structure, in addition to connecting existing melaleuca tracts to create a wildife corridor. 
"Eventually we will see forest species, such as fruit doves and ground-dwelling mammals, moving through this area once again. They aren't here because this is open country right now, which exposes them to predation," Dave explained.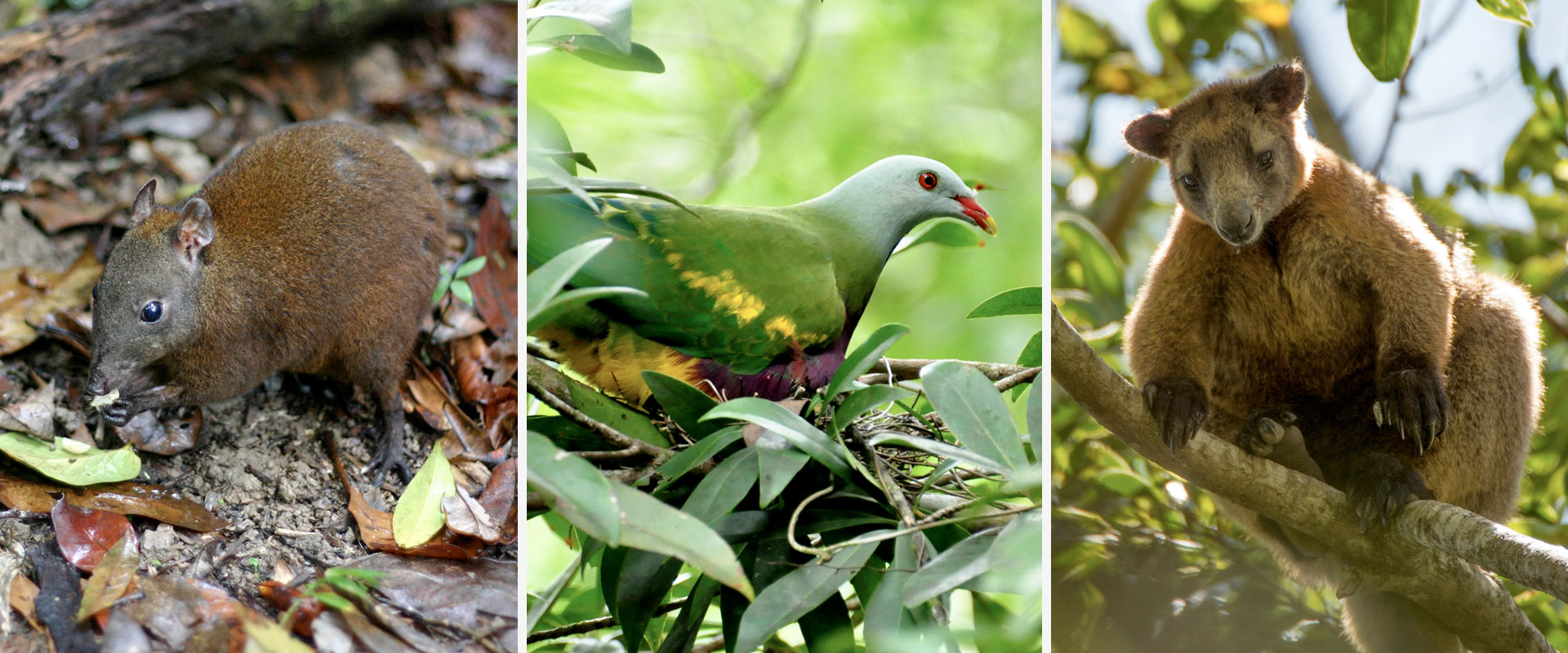 Restoration of lowland rainforest habitat such as that at Bells Road provides opportunities for species like Musky Rat Kangaroo, Wompoo Fruit Dove and Bennett's Tree Kangaroo which rely on dense vegetation for food and safety to potentially increase their range using wildlife corridors.
Encouraging localised biodiversity to combat climate change
Asked why Daintree Life chose to work with Rainforest Rescue to supply the plant species, Connie and David are insistent on several benefits: 
"We have a long-standing working relationship with Rainforest Rescue, so they are a trusted source of plants and information to us. At a practical level, our organisation does not have the capacity to grow and maintain trees in a nursery at the scale we require, so we focus our energy on restoration work.  

Rainforest Rescue can grow at scale, which also provides flexibility and convenience. If we're in urgent need, say for a plot pilot, we know the nursery will have a supply of plants. Not only that, but we can plan for the long-term, especially for species that take a long time to germinate and grow into seedlings." 
Capacity for volume is just one dimension of the relationship, as Dave points out: "We look to the nursery team for guidance. As Daintree locals, they understand the ecology we're working to restore and the current state of the soil and climactic conditions. Marine (Rainforest Rescue's nursery manager) is fantastic. We get expertise at an intricate level of biodiversity which means we're putting supporter funds to the best use. There are dozens of species going back into the ground, providing the best possible chance of ecosystem restoration." 
Encouraging biodiversity is key. Startling findings from further afield suggest that monoculture tree plantings deliver negligible benefits. Working towards richly diverse forest and adjacent habitats means choosing to start with a biodiverse base, as Connie concludes: "Every tree counts."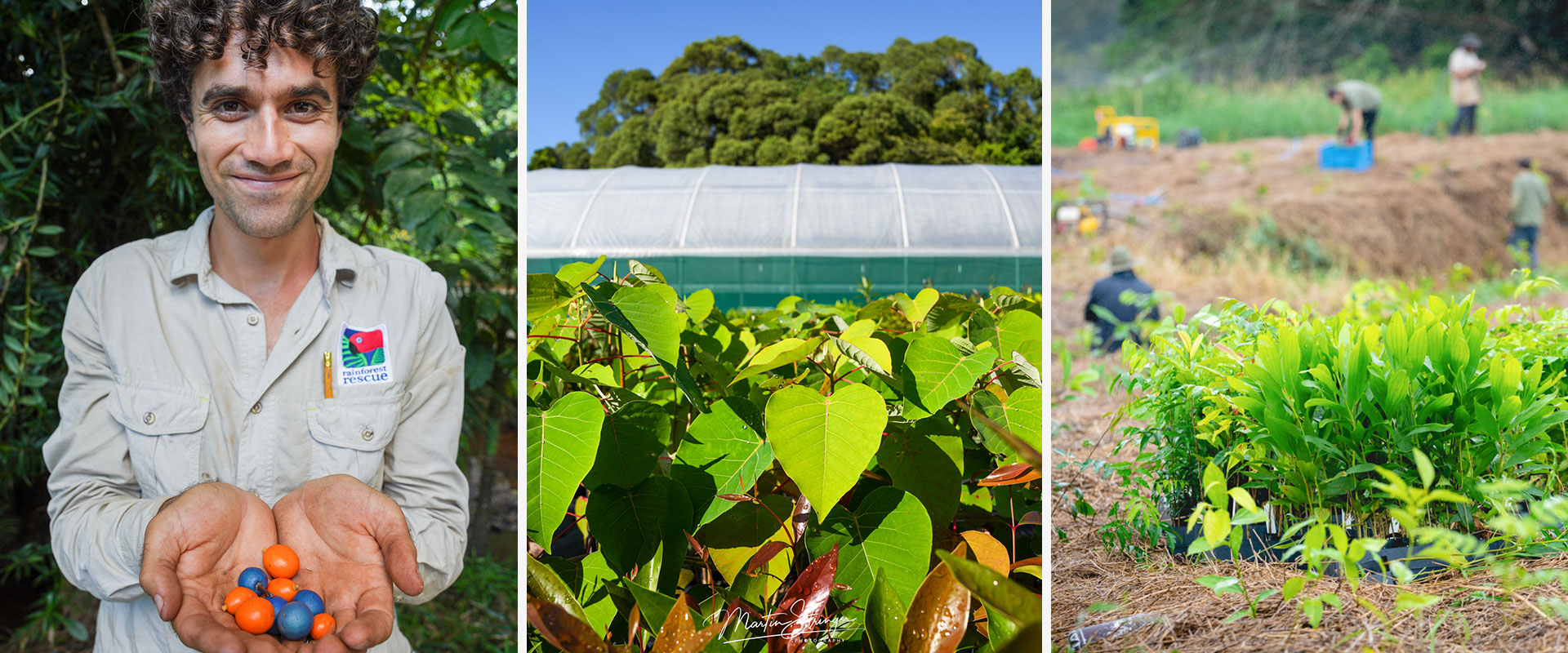 From seed to stock – Rainforest Rescue's team collects, propagates and provides rainforest plants to increase tree availability and encourage restoration within the Wet Tropics region. 
Nurturing a regional 'green economy'
Our new native nursery in Cow Bay is the largest in the region and is Rainforest Rescue's biggest infrastructure project. It's primary purpose is to enable rainforest restoration, by both increasing tree availability as well as promoting restoration as a viable business in the region.  
A key strategic tenet of Rainforest Rescue's upscaling of our resourcing and capacity in the Daintree region is to support other restoration projects. Our Nursery team is well-established locally and an active part of the Daintree community, so it's only natural that conservation organisations like Daintree Life can look to us to provide a reliable, high-quality source of native rainforest plants. 
With local restoration partnerships through the Wet Tropics Restoration Alliance, Rainforest Rescue is spearheading a common-interest approach to restoration. Where like-minded organisations have their own resources to plant and protect, we can provide the plants for them to restore. This transactional relationship is what has been labelled as a 'green economy.'
The concept of a green or restoration economy is nothing new, however it continues to gain traction as a sustainable means to facilitate trade and investment in regional areas, such as the Daintree in Far North Queensland.  
We fully expect that this economy will grow further as Australia's journey towards Net Zero gathers momentum. It is the UN Decade of Restoration, after all. With programs such as the Land Restoration Fund, Reef Credit Scheme and the Nature Repair Market Bill in progress, now is the time for restoration projects to happen. The impending arrival of Cassowary Credits, a pioneering biodiversity credit scheme which is set to launch in 2024, could have a dramatic impact on the future for land managers within Far North Queensland, as Bronwyn Robertson from Terrain NRM points out: 
"Biodiversity credit markets are in their early stages. There is huge potential – for landholders, for companies and other businesses to drive nature repair, and for greater investment in habitat restoration across the Wet Tropics region." 
As those in Daintree, Darwin and beyond know, rainforest restoration and conservation is climate action. #TreesAreTheAnswer 
Becoming a Rainforest Rescue Native Nursery restoration partner
If you or your organisation has an interest in our Native Nursery providing rainforest plants for restoration projects in Far North Queensland, please get in touch.  
Our native nursery team can consult with you on the most appropriate species to restore rainforest habitat, before a process of seed collecting, propagation and hardening off. It can take up to 6-8 months for trees to be ready for planting, depending on species and availability.  
We are keen to support those wanting to Plant a Rainforest! Contact us today about ordering Wet Tropics trees for your restoration project. 
Everything you have read about, including the incredibly exciting potential of the green economy in the Daintree region, has been made possible through the generous support of our donors and partners. Thank you. 
---
Want more good Rainforest news in your life?
Subscribe to our eNews  | Follow us on Instagram  |  Like us on Facebook  | Subscribe to our YouTube channel
Help Protect Rainforests Forever
Donate to Protect Rainforests Forever  |  Become a Rainforest Guardian for as little as $2 a month  |  Partnership Options