Critter Corner – Boyd's Forest Dragon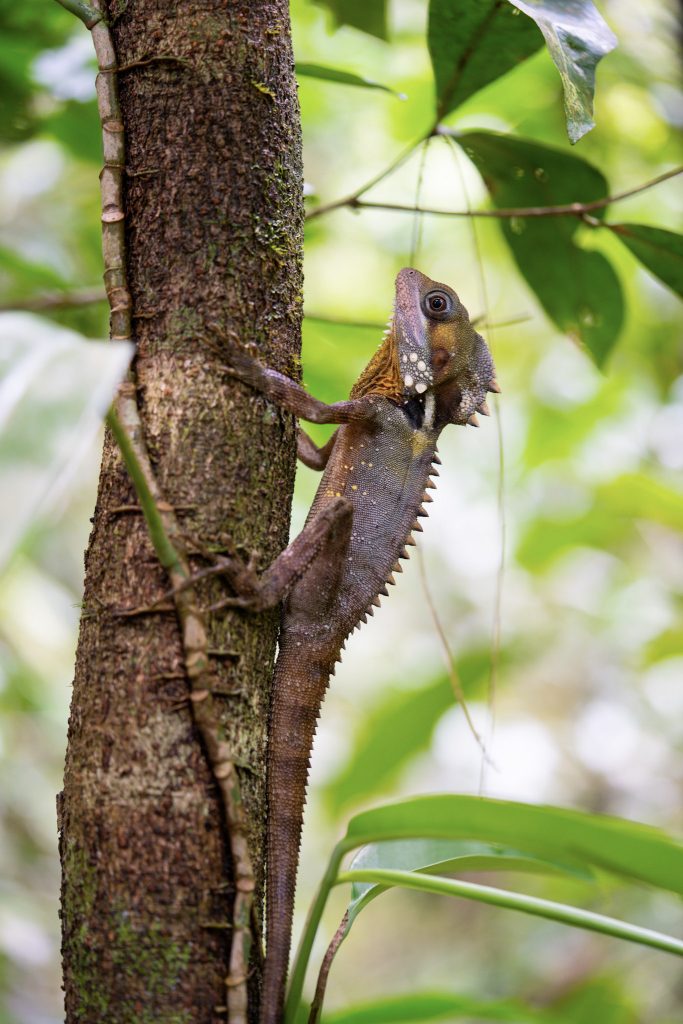 #CritterCorner – Did you know that dragons still exist in Australia?
(Spoiler Alert: They're not the flying, fire breathing type that we've all read about in stories… but they're still incredible.)
Introducing Boyd's forest dragon (Lophosaurus boydii, formerly Hypsilurus boydii).
This beautiful rainforest reptile is endemic to the Wet Tropics of North Queensland, and likely arrived from Southeast Asia when a land bridge to New Guinea existed during an ice age (roughly 20,000 years ago).
To learn more about the origins of Gondwana and Southeast Asian rainforests, click here to watch a video featuring Dr. Robert Kooyman, Evolutionary Ecologist and Biologist. Through this video presentation, take a large journey through deep time up to the present.
Of the two rainforest dragons in Australia, Boyd's forest dragon is the biggest with a body length of approx. 15cm and a tail twice the length of that! They have spiky protrusions, large cheek scales and a yellow dewlap.
Active mainly through the day, you might find one hanging out on a tree trunk (head up, tail down), however herpetologists have occasionally observed them sleeping in a horizontal position on branches as well.
If you approach, they'll more than likely slowly creep around to the other side of the tree in hopes you don't notice them moving. They rely heavily on camouflage for protection from predators.
Known predators of Boyd's forest dragon include grey goshawks and feral pigs. Slaty-grey snakes (Stegonotus cucullatus) have also been known to eat their eggs.
Boyd's forest dragon diet consists mainly of earthworms and other invertebrates, they also enjoy some fruit and vertebrates occasionally.
Fun Facts:
Lophosaurus means "crested lizard" – from the Greek lophos for "crest" and saurus for "lizard".
Unlike most other lizards, Boyd's forest dragons do not bask in the sun, instead they let their body temperature fluctuate with air temperature – thermoconforming rather than thermoregulating (the one possible exception to this general rule is pregnant females).
Boyd's forest dragon is currently listed as Least Concern on the IUCN Redlist and their population is considered stable.
Information sourced from Wet Tropics Management Authority and Atlas of Living Australia
Some contents or functionalities here are not available due to your cookie preferences!
This happens because the functionality/content marked as "Google Youtube" uses cookies that you choosed to keep disabled. In order to view this content or use this functionality, please enable cookies: click here to open your cookie preferences.
---
Want more good Rainforest news in your life?
Subscribe to our eNews  | Follow us on Instagram  |  Like us on Facebook  | Subscribe to our YouTube channel
Help Protect Rainforests Forever
Donate to Protect Rainforests Forever  |  Become a Rainforest Guardian  |  Partnership Options