At Risk of Development – So We Acted Fast!
On Thursday 19 June 2014 we signed the contract of purchase for Lot 13 Forest Creek Road – one of the three properties we are currently trying to protect forever in the Daintree Lowland Rainforest – this property was highly sought after and at risk of development – so we acted fast.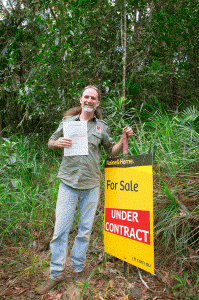 The real estate agent managing Lot 13 warned us many potential buyers had been viewing the property and showing an active interest.
It's a highly desirable development block that was being heavily marketed because of easy access, flat land and the fact that it's a wildlife corridor!  Saving it was an absolute priority!
We just could not let someone buy that pristine rainforest and risk it being developed.
We acted immediately and showed faith in our supporters that you will understand the urgency and chip-in to help save this piece of wilderness!
The purchase of Lot 13 Forest Creek Road will be a major win – its superb intact and vibrant rainforest provides the 'connectivity' we've been waiting for.
It connects our growing number of Forest Creek properties with the nearby Daintree National Park Wet Tropics World Heritage Area.
We have gone out on a limb to protect this rainforest (that is how significant and special we know it is) – now we need you to urgently donate to secure the future of this remarkable ecosystem.
Thank you for your commitment to Protecting Rainforests Forever.