A windfall of Nature Refuges
When Rainforest Rescue commits to Forever Protection, we mean it. And protecting Daintree Habitat is the best thing we can do! Creating a nature refuge is the highest level of protection afforded under the laws of Australia. Imagine the significance of creating a windfall of 11 nature refuges with the stroke of a pen (or two)!
CEO Branden Barber and Board Chair Madeleine Faught met to put pen to paper
THE EARTH NEEDS HALF
Of course, putting aside land for nature is nothing new. The first national park was in Mongolia in 1778. Yellowstone in the US and Banff in Canada were created over a century later.
In the decades since, prominent ecologists and scientists around the world, including biologist E.O. Wilson, have stated "the earth needs half" … suggesting that nature must have priority of at least 50 percent of every eco-system in the world. This is based on what these forests create – free of charge – fresh air to breathe, great beauty, biodiversity, and the capacity within Nature to regenerate all our natural systems. We approve.
Today the rights of nature are advancing rapidly across the world, with countries such as Bhutan, Brazil, Costa Rica, Belize, New Zealand, Ecuador, Spain, France, Germany, Austria, and Norway having designated enormous tracts of land as nature refuges and wildlife sanctuaries.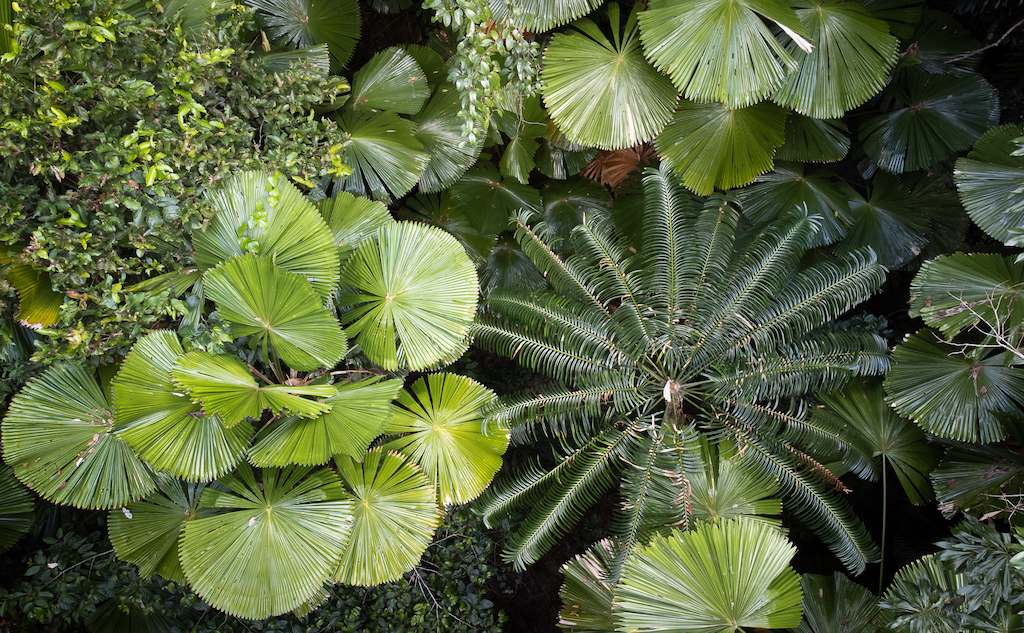 View of Lot 41 Cape Tribulation Road, credit John Benfer
CELEBRATING A WINDFALL OF PROTECTIONS
In Australia, for the last 23 years, Rainforest Rescue has been working to boost the percentage of land protected with the creation of 20 nature refuges across 40 properties. We accomplished this through agreements with the Minister for the Environment to conserve the significant natural and cultural values of privately managed land.
This is one of the strongest ways a landholder can demonstrate a commitment to environmental stewardship and to ensure that their good land management practices are continued into the future, even if the property changes hands.
The journey has been long and difficult, with departmental capacities and 'red tape' getting in the way … providers changing … it's been more than a demanding process. But this year we are celebrating a windfall of protections!
In early December, Rainforest Rescue added 11 nature refuges to our portfolio of rescued properties with the stroke of a pen. CEO Branden Barber and Board Chair Madeleine Faught, met to put pen to paper and make it official.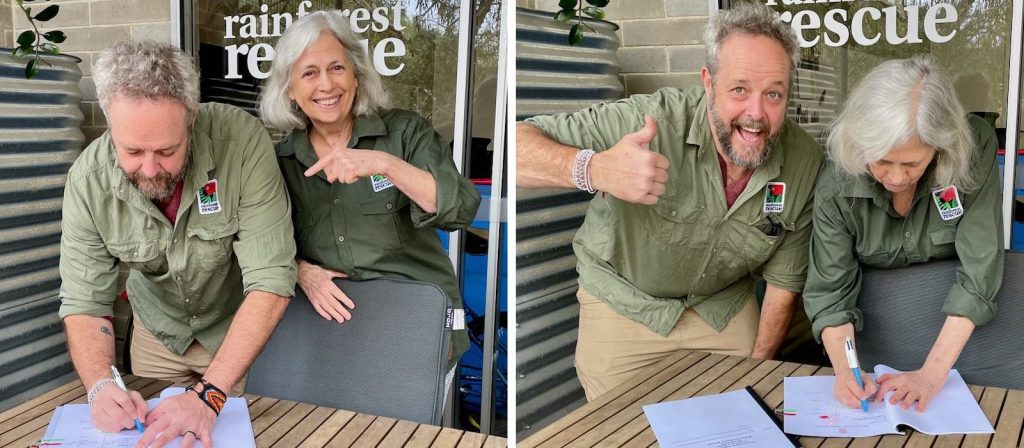 "THERE ARE A THOUSAND WAYS TO KISS THE GROUND" – Rumi
All of these refuges will be part of the Cape Kimberley Wildlife Corridor and will increase the size of the Milky Pine Refuge, now comprising 14 properties that are all "bulletproof" protected as nature refuges. These are self-perpetuating ecosystems working collaboratively … from under the ground with the mycorrhizal fungal networks, through the leaf litter and ground level, through to the various heights of the different species … ultimately all through the ecosystem up to its closed canopy.
For landholders and those that have invested significantly in their natural capital and sustainable land management practices, a nature refuge offers a powerful living legacy as a testament to their commitment and investment.
For Rainforest Rescue, it is essential, and it's always been our promise to you.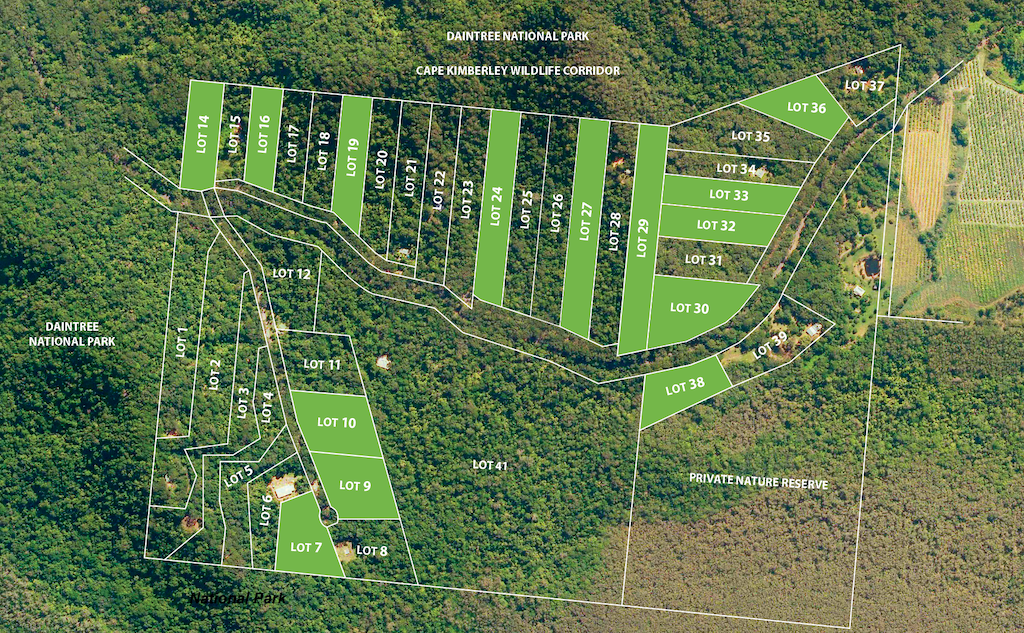 Cape Kimberley 14 properties protected as nature refuges
Creating a nature refuge is key to our ability to deliver on our promise, that protected purchased properties are protected forever. Each nature refuge is an opportunity to demonstrate the path towards re-establishing a healthy, sustainable relationship between humans and the ecosystems of which we are a part. We are, each of us, the guardians of these remarkable rainforests—the more we are educated about the intrinsic values of rainforests, the more we will understand 'why' it is so important to protect them, for ourselves, and for generations to come …
For the rainforests.
---
Want more good Rainforest news in your life?
Subscribe to our eNews  | Follow us on Instagram  |  Like us on Facebook  | Subscribe to our YouTube channel
Help Protect Rainforests Forever
Donate to Protect Rainforests Forever  |  Become a Rainforest Guardian for as little as $2 a month  |  Partnership Options