2023 Annual Community Tree Planting Day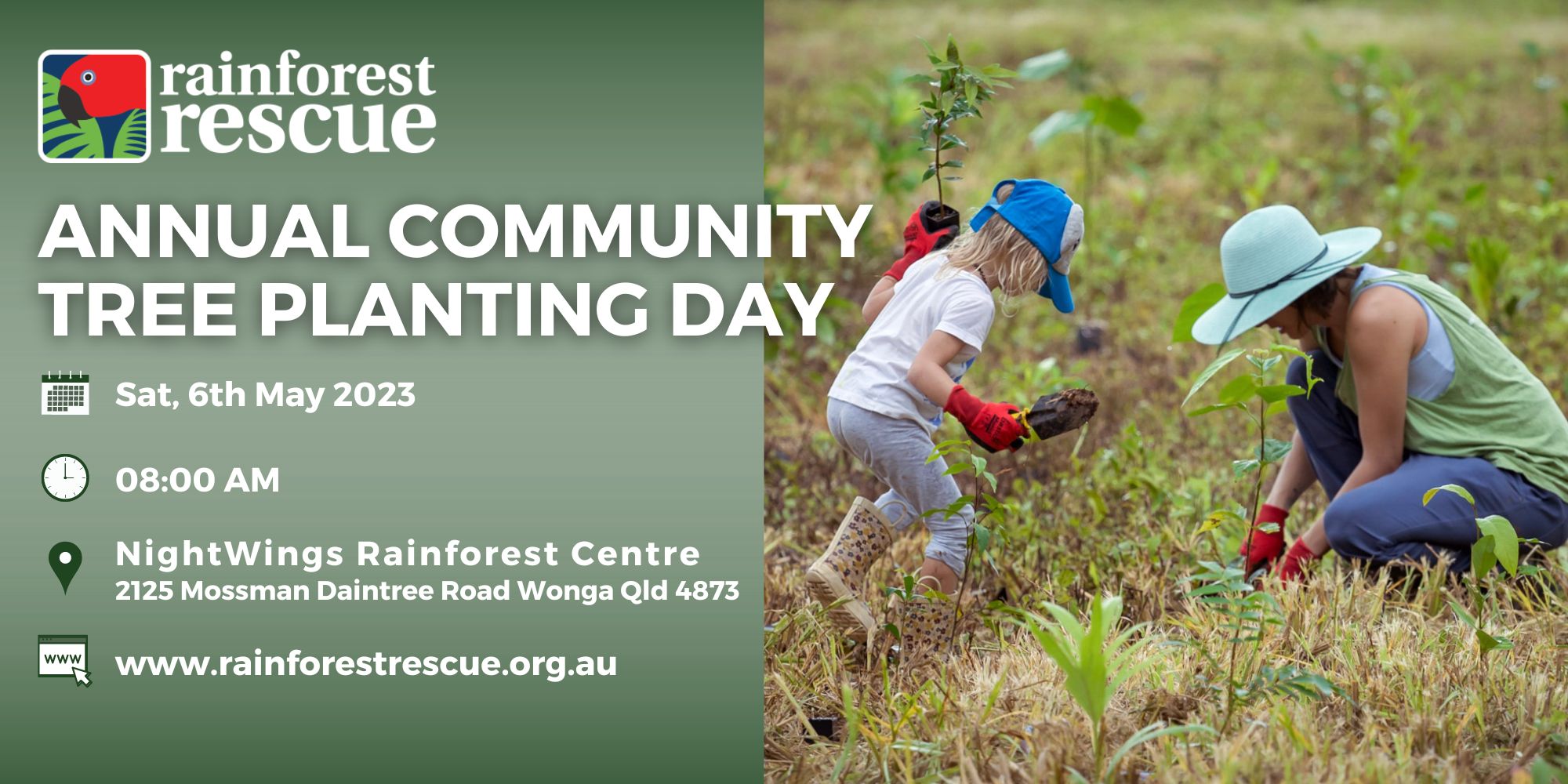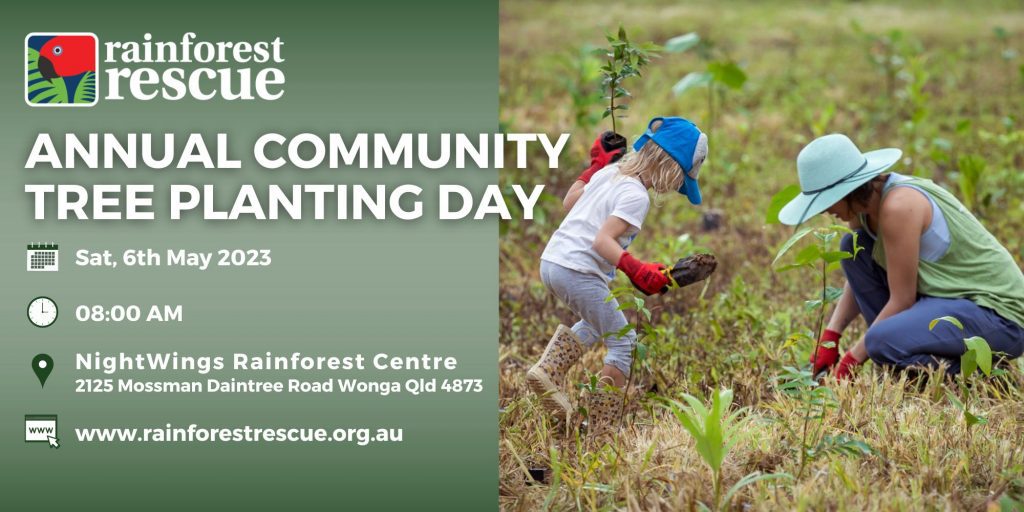 Rainforest Rescue's 2023 Annual Community Tree Planting Day is scheduled for Saturday 06 May 2023 and you're invited!
When: Saturday 06 May 2023 – please ensure you arrive by 8:00 am
Where: We'll start with the tree planting at NightWings Rainforest Centre (2125 Mossman Daintree Road, Wonga, Qld), then we'll head over to the New Native Nursery (1506 Cape Tribulation Rd, Cow Bay QLD 4873 – the old Cow Bay Airstrip site).
What to bring: A water bottle (we will provide a water refill station), sturdy closed-toed boots/shoes, sun-safe attire (e.g., hat & sunscreen), and a willingness to get your hands dirty. Locals are encouraged to bring ferry cards and camping chairs or picnic rugs.
RR will provide: First aid kit, healthy snacks for morning tea, hand sanitiser, gloves and small trowels (locals are welcome to bring their own if they are new or clean), seedlings, pre-dug holes, light lunch at the New Native Nursery, two great locations, and our friendly team.
Overview: The event will commence at 8:00 am, so we will be finished planting before noon (before it gets too hot). After a morning of planting trees to restore rainforest and connectivity, you're invited to join us as we convoy to the site of our New Native Nursery for a light lunch. We will have some ferry tickets available but we ask that locals bring their Ferry Cards.
Health and Safety: As always, the health and safety of our staff, supporters, and the communities in which we work are of utmost importance to us. We ask that all attendees register for a free ticket via Humanitix. Please ensure you dress appropriately for the event (e.g., sun-safe clothing, hat, sturdy closed-toed boots/shoes). Don't forget to bring your water bottle and stay hydrated throughout the day. If you are feeling unwell or have recently been unwell please do not attend the planting. We thank you for considering the health and safety of others.
Register for your free ticket today!
Form above not loading? Click here to visit the Event page on Humanitix.
Throwback to 2022
Check out the video from our 2022 Annual Community Tree Planting Day below, just in case you need some inspiration, or want an idea of what to expect.

Some contents or functionalities here are not available due to your cookie preferences!
This happens because the functionality/content marked as "Google Youtube" uses cookies that you choosed to keep disabled. In order to view this content or use this functionality, please enable cookies: click here to open your cookie preferences.
Useful Links
Please find below some useful links that may assist you in booking flights, accommodation, rental vehicles & activities/venues. We've listed our Partners, and some local businesses we'd recommend. Make the most of your time in this most amazing of rainforests!
Questions?
Get in touch – submit a contact form or send us an email.
We're so looking forward to putting trees back on the land with you. After all, #TreesAreTheAnswer
See you in the Daintree!
---
Want more good Rainforest news in your life?
Subscribe to our eNews  | Follow us on Instagram  |  Like us on Facebook  | Subscribe to our YouTube channel
Help Protect Rainforests Forever
Donate to Protect Rainforests Forever  |  Become a Rainforest Guardian for as little as $2 a month  |  Partnership Options