#NextGenRainforestRescuers, Amber & Penny, have been at it again!

#NextGenRainforestRescuers, Amber & Penny, have been at it again!
You may remember #NextGenRainforestRescuers, Amber & Penny, from our article back in March 2021 titled 'The Future is in Good Hands' which featured a few of our #NextGenRainforestRescuers.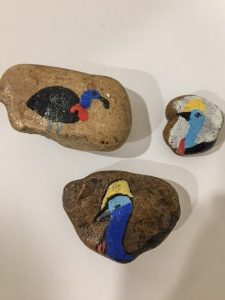 Or, you may remember them from our article back in May 2021, 'Amber and Penny – the story continues!', which we posted after the girls held a family fun day at their local park in collaboration with the local council. During this event, they unveiled a 'Little Library" – a community library for all to use that is beautifully painted, featuring the Southern Cassowary (designed and painted by local Aboriginal Artist Jardi Welch).
Amber & Penny have been at it again! These inspiring young ladies held another community event on 27 March 2022, with the support of their local council – the City of Port Adelaide Enfield. The girls organised & manned a cassowary awareness table which included colouring-in activities, a raffle (which resulted in their fourth donation to Rainforest Rescue), and cassowary rock art painting, which proved very popular!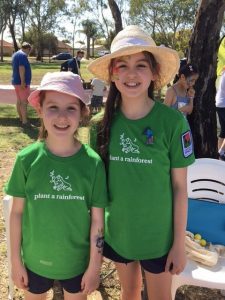 As you can see, Amber and Penny chose to represent Rainforest Rescue in their "Plant a Rainforest" t-shirts, spreading awareness about the importance of rainforests and the role cassowaries play in supporting these vital ecosystems.
Since then, Amber has also made a stop motion highlighting some of the threats that Cassowaries face – check it out below. She's also working on a website focused on educating people about Cassowaries in hopes she can assist with the protection of these beautiful birds & their rainforest home.
Stay tuned to see what amazing things these incredible eco-warriors get up to next.
Some contents or functionalities here are not available due to your cookie preferences!
This happens because the functionality/content marked as "Google Youtube" uses cookies that you choosed to keep disabled. In order to view this content or use this functionality, please enable cookies: click here to open your cookie preferences.
---
Want more good Rainforest news in your life?
Subscribe to our eNews  | Follow us on Instagram  |  Like us on Facebook  | Subscribe to our YouTube channel
Help Protect Rainforests Forever
Donate to Protect Rainforests Forever  |  Become a Rainforest Guardian for as little as $2 a month  |  Partnership Options