We Smashed It! 2023 Annual Community Tree Planting Day Recap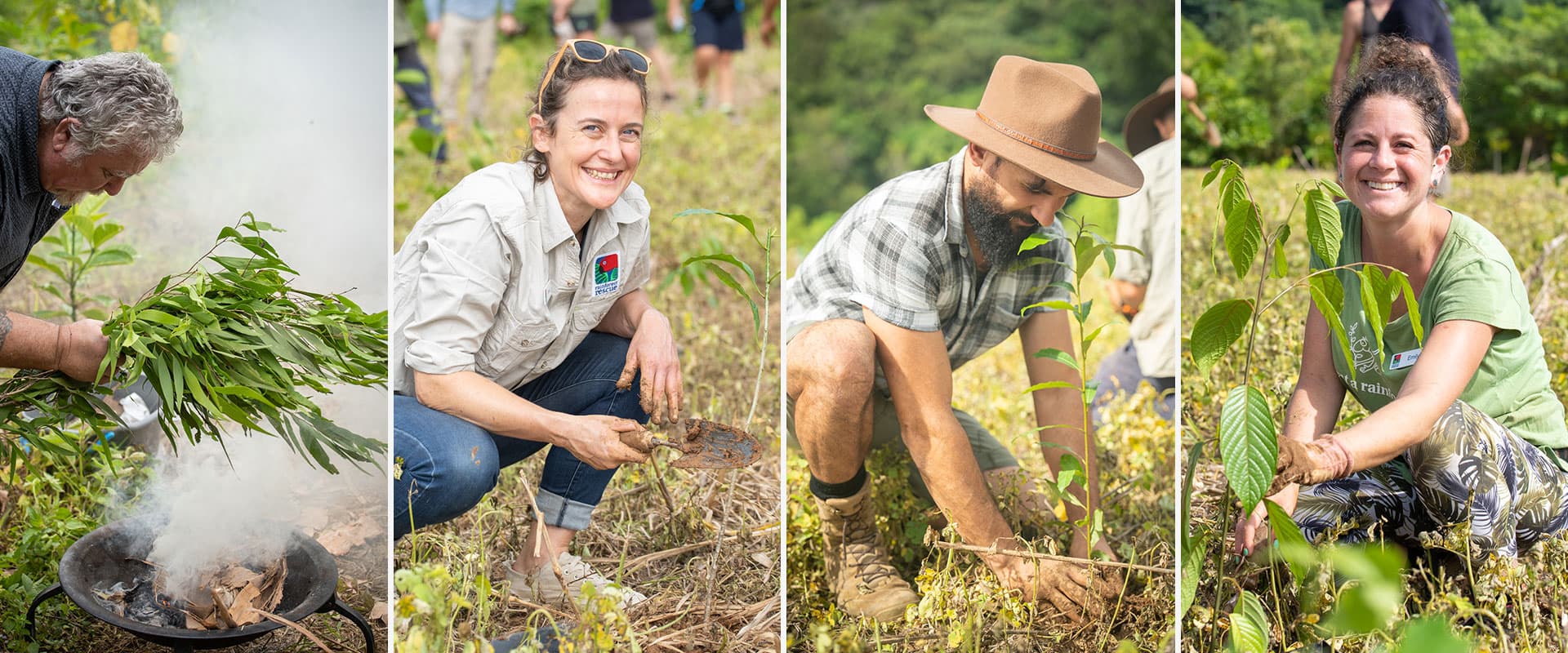 On May 6th 2023 we had our 8th Annual Tree Planting at NightWings, and together we smashed it!
This year, 141 individuals and Partners undertook the journey to NightWings Rainforest Centre – where we are transforming 15 hectares of old sugarcane fields back into thriving rainforest habitat.
Our 2023 event was the largest attendance we've ever had at a tree planting.
Together, we put a record breaking 3,300 trees from 90 different rainforest species into the ground, and all this in under one and a half hours.
(Full disclosure, all staff and board came together the day before to help prep the site to ensure a smooth planting. And smooth it was!)
We're so proud to be able to bring together so many people with a common mission to restore rainforest habitat back to its natural state. 
A big 'thank you' to those who attended.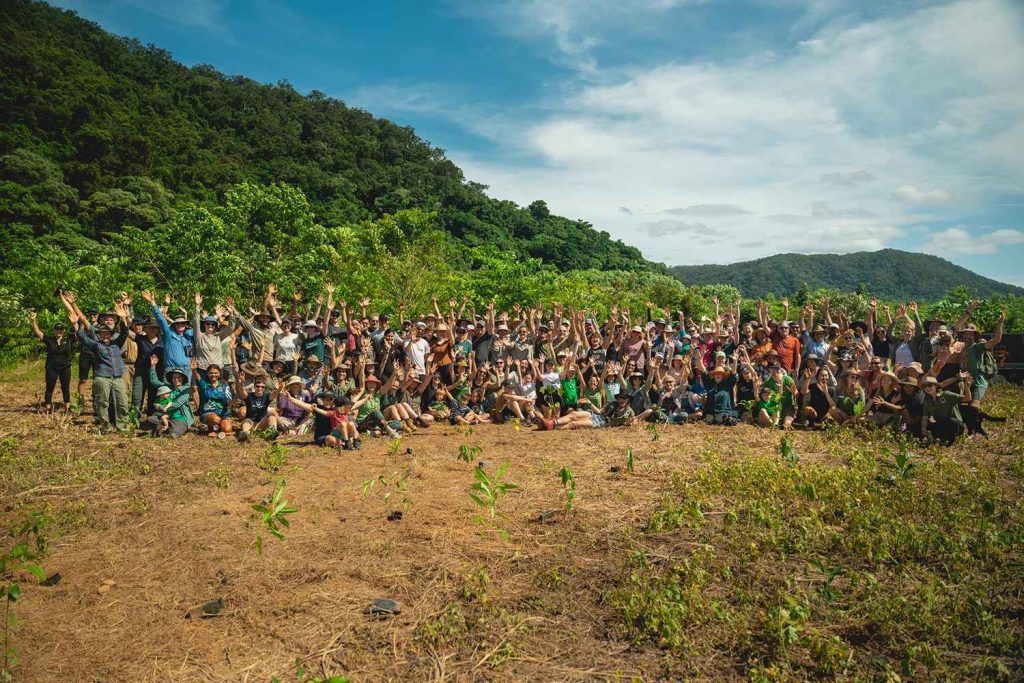 "Plant a Rainforest!" Attendees of the Rainforest Rescue 2023 Annual Community Tree Planting
For those of you who weren't able to make it we began the day with a smoking ceremony and Welcome to Country by Traditional Owner and Elder, Bennett Walker. A traditional smoking ceremony was then performed by John Hartley, followed by a round of thanks from members of the Rainforest Rescue team and NightWings owner, Annie Shoenberger.
Since the first planting in 2016, through the tireless support of individuals & volunteers, the steadfast commitment of Conservation Partners and Partners for Protection, and the dedicated efforts of our team on the ground, NightWings has been given the chance to re-establish itself as a rainforest.
After the ceremonial activities, we got down (Literally! On our hands and knees in the dirt) to planting and due to a record turnout, planted in record time.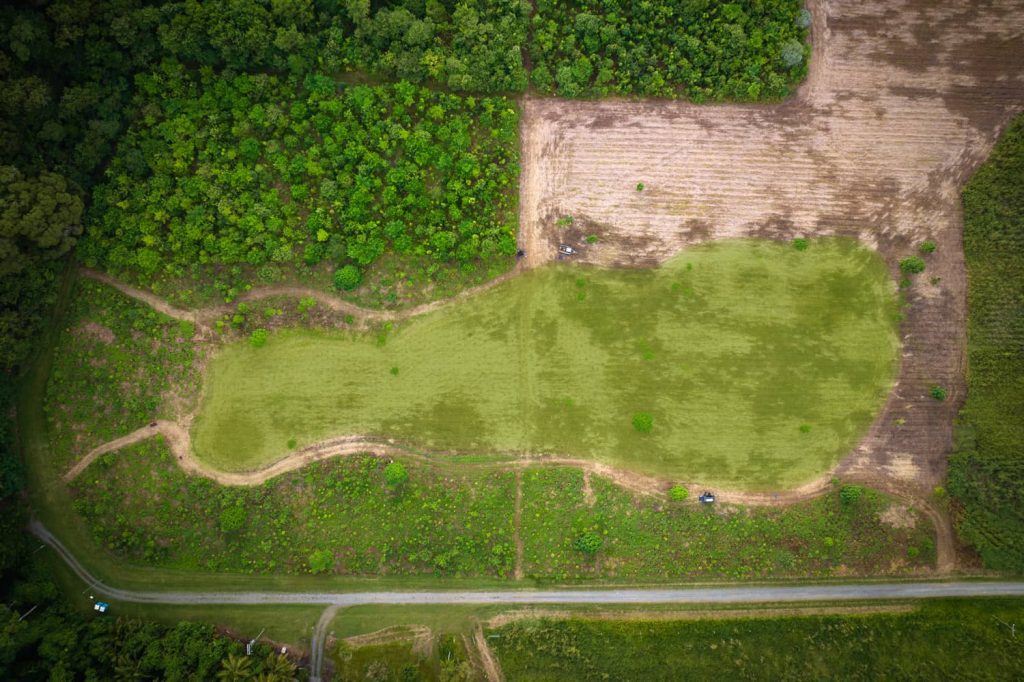 Nightwings Rainforest Centre viewed from the air. The green shaded area indicates the 2023 Annual Community Tree Planting coverage, connecting up previously replanted areas of land. Different stages of rainforest growth are evident by the relative heights of the vegetation.
What species did we plant during the Annual Community Tree Planting?
At this year's tree planting we exceeded our previous year's record for the number of species planted, with a total of 90 different species. 

Here are a few highlights that show the importance of enabling a rainforest ecosystem through species diversity:

Parasol Leaf tree (Macaranga tanarius) and Bleeding Heart (Homalanthus novoguineensis)
Pioneer species which are fast growing. They create a quick canopy closure, produce fruits quickly, create loads of leaf matter which reduce weeds and encourages ground habitat.
Pink Euodia (Melicope elleryana) and Blackboard tree (Alstonia scholaris)
Late secondary species with large stature. Their seeds are able to germinate in shade or in full sun, and persist in seedling banks until a canopy gap opens.
Queensland nutmeg (Myristica insipida) and Cairns pencil cedar (Palaquium galactoxylon)
Mature phase species which are long-lived and slow maturing. These plants are able to germinate in deep shade or in full sun, and can persist for many years as suppressed juveniles until a small canopy gap opens. 
These and many other plant species grow, seed and germinate at different rates, allowing the rainforest to develop in a multi-tiered way, similar to the natural environment's cycle over a period of years. With the growth of the rainforest we can see the reappearance of insect and other animal species, culminating in keystone species like the Cassowary moving back into the area.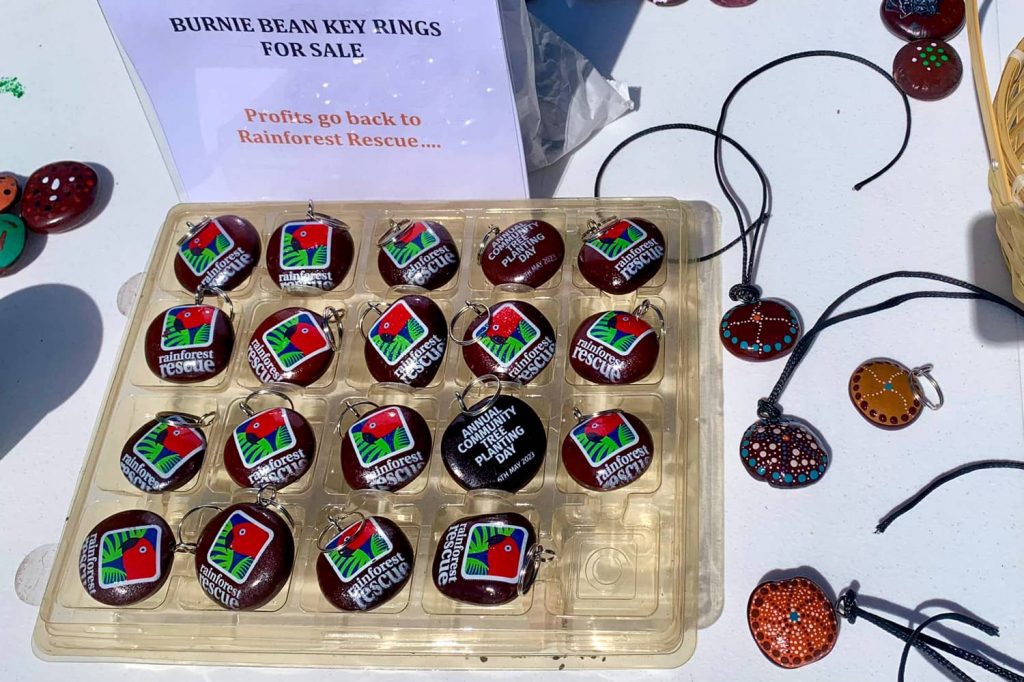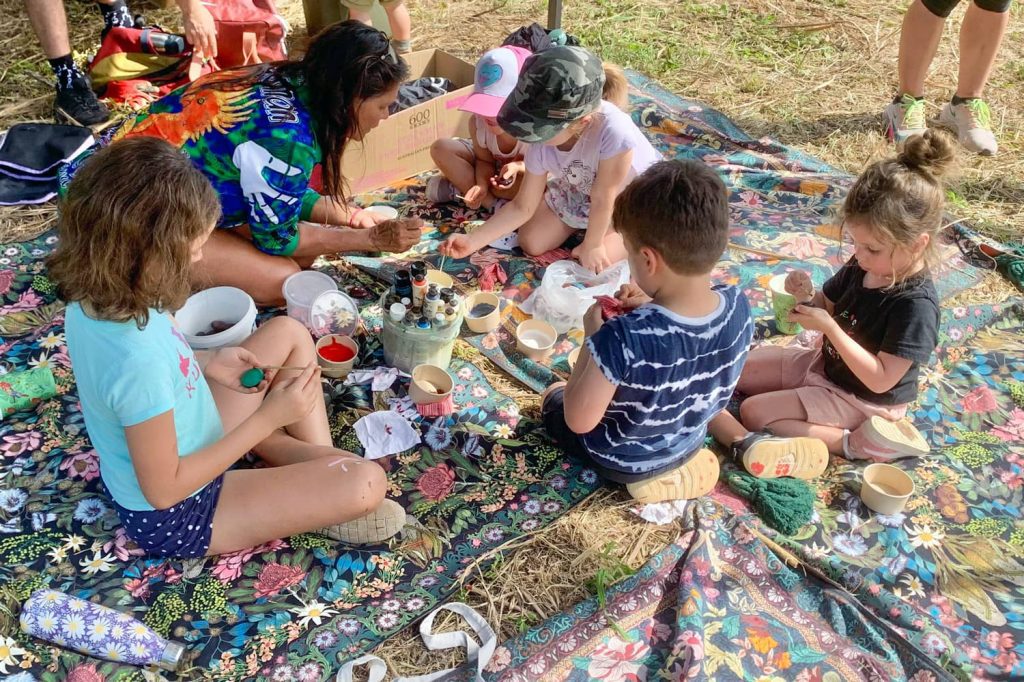 Burnie beans courtesy of Julaywarra Artist Sheryl J Burchill, who assisted our youngest Rescuers in their activities. Thanks to Wandering Folk for the loan rugs!
For our youngest Rescuers, Julaywarra Artist Sheryl J Burchill guided them in painting 'Burnie beans' with stunning patterns and designs. 
Burnie beans come from the Entada species, sometimes known as matchbox bean, and deposit kids palm-sized shiny seeds from huge pods throughout the Daintree region. They're easy to spot along tidelines and creek edges and are one of the many seed species our collectors gather for germination in our nursery.
Speaking of which…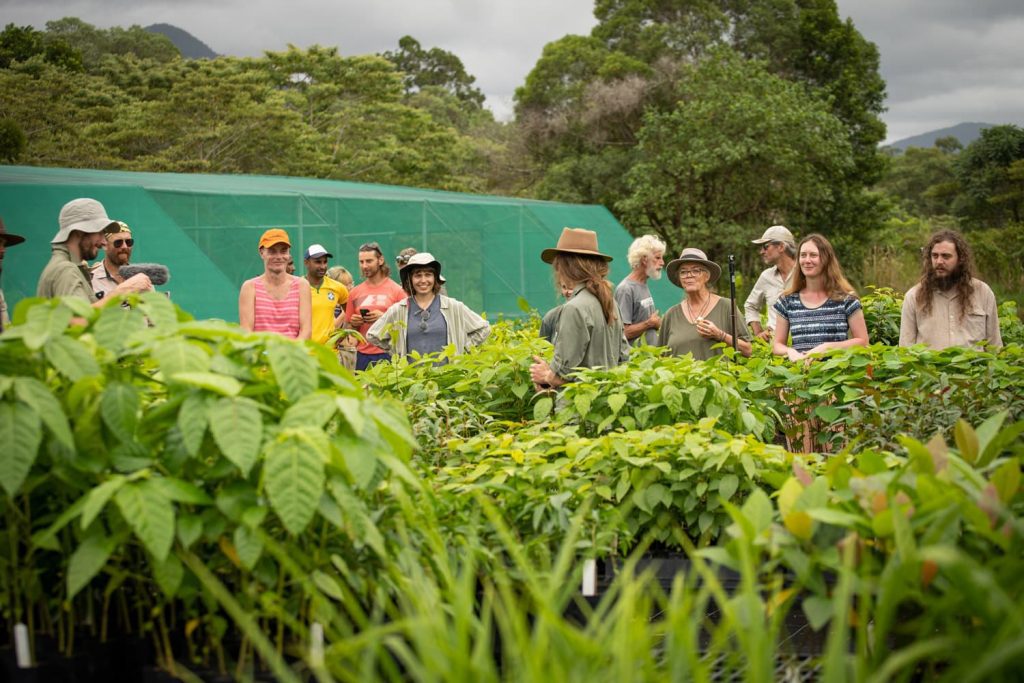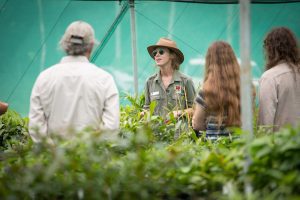 Marine Deliens, Nursery Manager, gives a behind-the-scenes tour of the new Rainforest Rescue Native Nursery near Cow Bay, Daintree.
After the planting, we all headed north of the Daintree River for a 'soft opening' and tour of the new Rainforest Rescue Native Nursery. 
Ecological Advisor and Nursery Project Manager, Allen Sheather, updated attendees on the nursery's progress, proudly announcing how it has finally attained 'complete plant cycle status'—producing trees from germination through to the pre-planting stage.
"At the moment we have 21,000 plants since moving here in January. It's a big step forward already, we came from a little bush nursery growing about 12,000 trees a year. We're going to be collecting a lot more seeds, so we will be adjusting the way in which we collect, minimising the pressure on the environment while still maintaining genetic diversity."

–Marine Deliens, Rainforest Rescue's Nursery Manager
The new Native Nursery will ultimately produce 150,000 trees per year! Through this we're aiming to enhance restoration with our partners in the region, providing trees at a sustainable rate, and supporting the emergent restoration economy.

Thanks again to those who could attend and the continuing support of those of you who couldn't on this occasion. 
"PLANT A RAINFOREST!!"
To hear over 140 voices in unison, calling out in the morning air across the Daintree lowlands, is a thrilling experience. 
Each year our mission resonates with more and more people. Our Annual Community Tree Planting is testament to the shared belief in something valuable to us all – healing the land and restoring the plants and animals of this most ancient of rainforests in Far North Queensland. 
We simply cannot do what we do without you; you make us possible and you make us successful. We are so much stronger together.

#TreesAreTheAnswer
Some contents or functionalities here are not available due to your cookie preferences!
This happens because the functionality/content marked as "Google Youtube" uses cookies that you choosed to keep disabled. In order to view this content or use this functionality, please enable cookies: click here to open your cookie preferences.
---
Want more good Rainforest news in your life?
Subscribe to our eNews  | Follow us on Instagram  |  Like us on Facebook  | Subscribe to our YouTube channel
Help Protect Rainforests Forever
Donate to Protect Rainforests Forever  |  Become a Rainforest Guardian for as little as $2 a month  |  Partnership Options