Please welcome Angela Mateo
Please welcome Angela Mateo to the Rainforest Rescue team. Angela is responsible for our ethical seed collection and in charge of seed propagation at our Daintree Native Plant Nursery.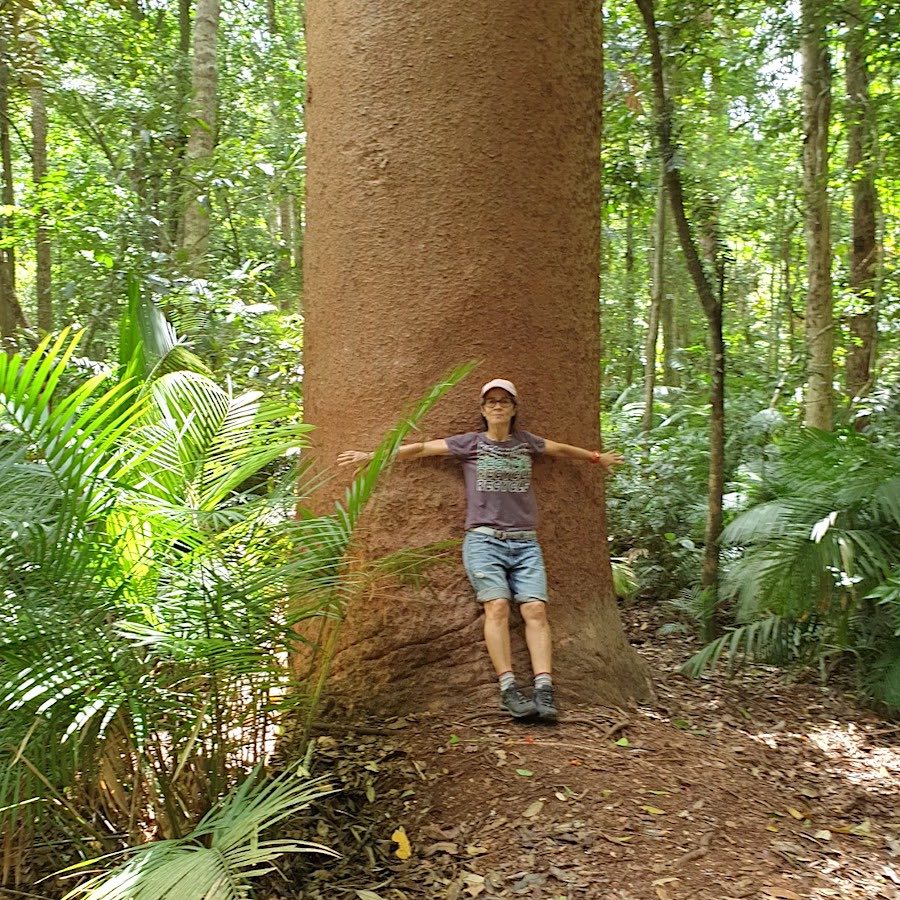 What brought you to Australia and where did you come from?
I'm originally from Barcelona, Spain. A long, long time ago, I took some time off to travel and learn English. I spent 6 months in Australia traveling through WA, NT and NSW. I guess I liked it because in less than 2 years I was back and I settled here.
What drew you to the Far North and the Daintree? 
I'd been living in Southeast Asia for a while with my partner and we always said that when it was time to return to Australia, we would look for a warm, humid, and mostly green environment where we could be as self-sufficient as possible. 
We arrived back in Sydney where we had previously lived but it didn't last long. We left, drove north until we found the place. And we did!
What brought you to Rainforest Rescue and how do you feel about the organisation?
I took part in the tree plating event organised by Rainforest Rescue in May 2021 and later that day, I had a chat with Marine about volunteering in the nursery. I'm a horticulturist, trained at the Royal Botanic Gardens in Sydney where I worked mainly with exotic (non native) plants—coming to this part of the world and seeing all the rainforest species has been (and still is) an amazing experience, though pretty challenging. 
Volunteering for RR has given me the opportunity to learn about the local plant life at the same time that I'm making a positive contribution to the environment.
What is it you find most interesting or compelling about the Daintree and our work here?
The Daintree is the largest rainforest in Australia and one of the oldest in the world. This alone makes everything here interesting: plants, animals and the small local communities of people living in the area. There is always something new to see, something new to learn about, something new to experience. It is a unique place, full of unknowns; and this is why we have to preserve it.
The Rainforest Rescue local nursery puts a lot of effort into growing plants for regenerating areas that have been badly degraded in the past. I like the fact that RR engages people from the community and hopefully this commitment will increase in the future.
What is your favourite aspect of working here as our seed collector?
Increasing my knowledge of tropical plant species, learning about the different ecosystems and interactions between living and non living things, knowing that my work will contribute to the conservation of our environment.
The careful planning associated with collecting seeds; observations and records of plant cycles is crucial to the job and it is something I'm also interested in. 
What are the greatest challenges you will face in your job?
I'm fairly new at the job, but I think one of the biggest challenges will be the weather conditions in which we sometimes need to work in: steamy days, hot days, rainy days. However, I'm quite accustomed to this climate already so I expect it won't be too bad.
Positive identification of trees for seed collecting might be another challenge. Many trees I've encountered here so far are quite different from the ones down south … and of course, in many instances the main identifying features are in the canopy well above my head. I'm becoming familiar with many of the tree species and certainly having support from Marine at the nursery is helping with it.
What is your passion?
I've always liked being outdoors and live as sustainably as possible, trying to have the least impact on the environment. I feel that living up here and working for Rainforest Rescue is allowing me to achieve the life I have always dreamt of.
What is your favourite tree and why? (Can you describe it?)
I wouldn't really like to choose one tree over another. I don't have a favourite as such, I do believe that every tree has its place and function in the ecosystem.
But if I had to choose one, it would be a fig. Ficus has to be one of the most important genera for a number of ecosystems, not too mention all of its other values.
---
Want more good Rainforest news in your life?
Subscribe to our eNews  | Follow us on Instagram  |  Like us on Facebook  | Subscribe to our YouTube channel
Help Protect Rainforests Forever
Donate to Protect Rainforests Forever  |  Become a Rainforest Guardian for as little as $2 a month  |  Partnership Options