2022 Annual Community Tree Planting Day Recap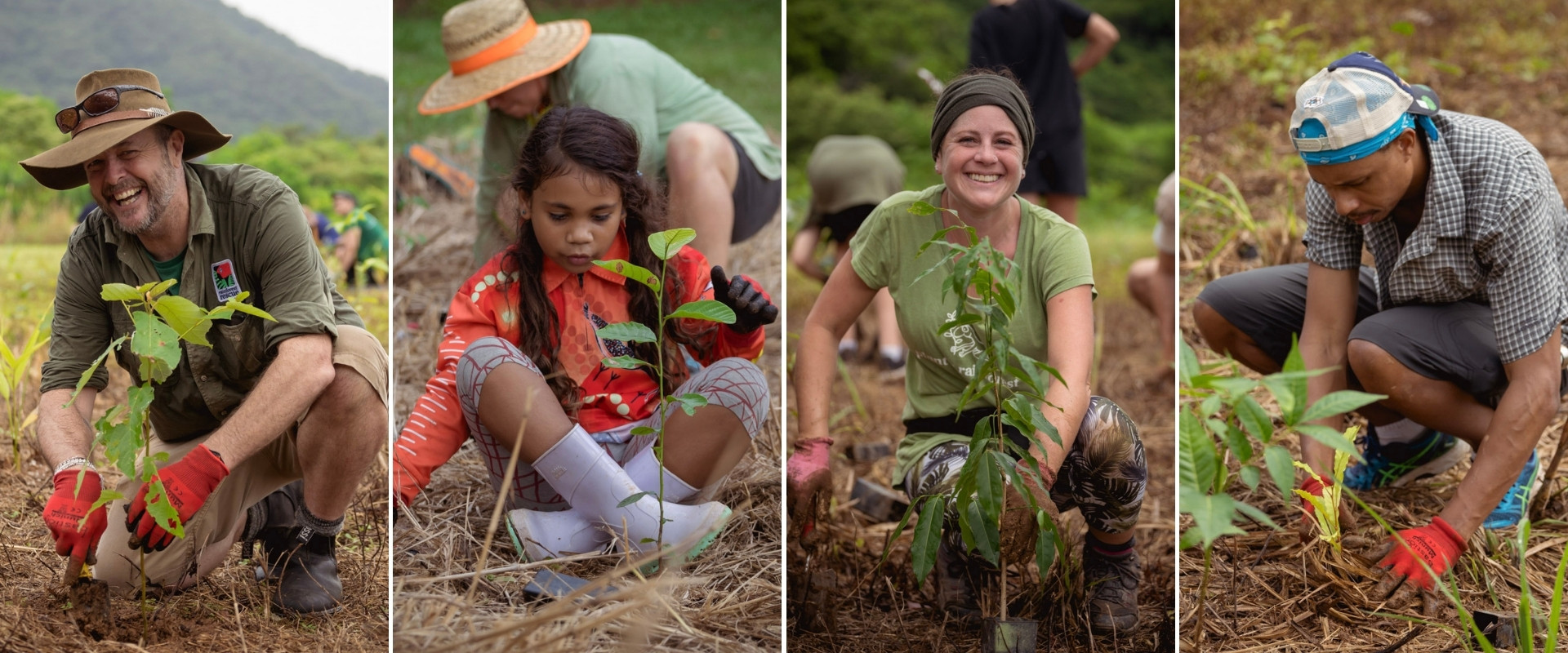 A recap of Rainforest Rescue's 2022 Annual Community Tree Planting Day
Our 2022 Tree Planting was held on 30 April at NightWings Rainforest Centre, a once decimated sugar cane field in the Daintree lowland, on Kuku Yalanji Country… and what a planting it was!
137 Rescuers from all walks of life came together to grow the Daintree and fight the effects of climate change.
In addition to passionate supporters, we were also joined by a wealth of Partners for Protection, Conservation Partners and Foundations, all putting trowel to dirt, to offer their hands and hearts in this great endeavour – with some having travelled from as far abroad as France & the UK to help us #PlantARainforest.
The morning began with some words from Branden Barber, our CEO, followed by Madeleine Faught, Chair of Rainforest Rescue.
Land Manager, Justin McMahon, then gave us an inspiring understanding of how the work we are doing at NightWings will connect two world heritage sites—the Daintree & Great Barrier Reef, providing a wildlife corridor for the many species of fauna that call the Daintree their home, including the Spectacled Flying Fox, the Southern Cassowary, and the Spotted-Tail Quoll, just to name a few.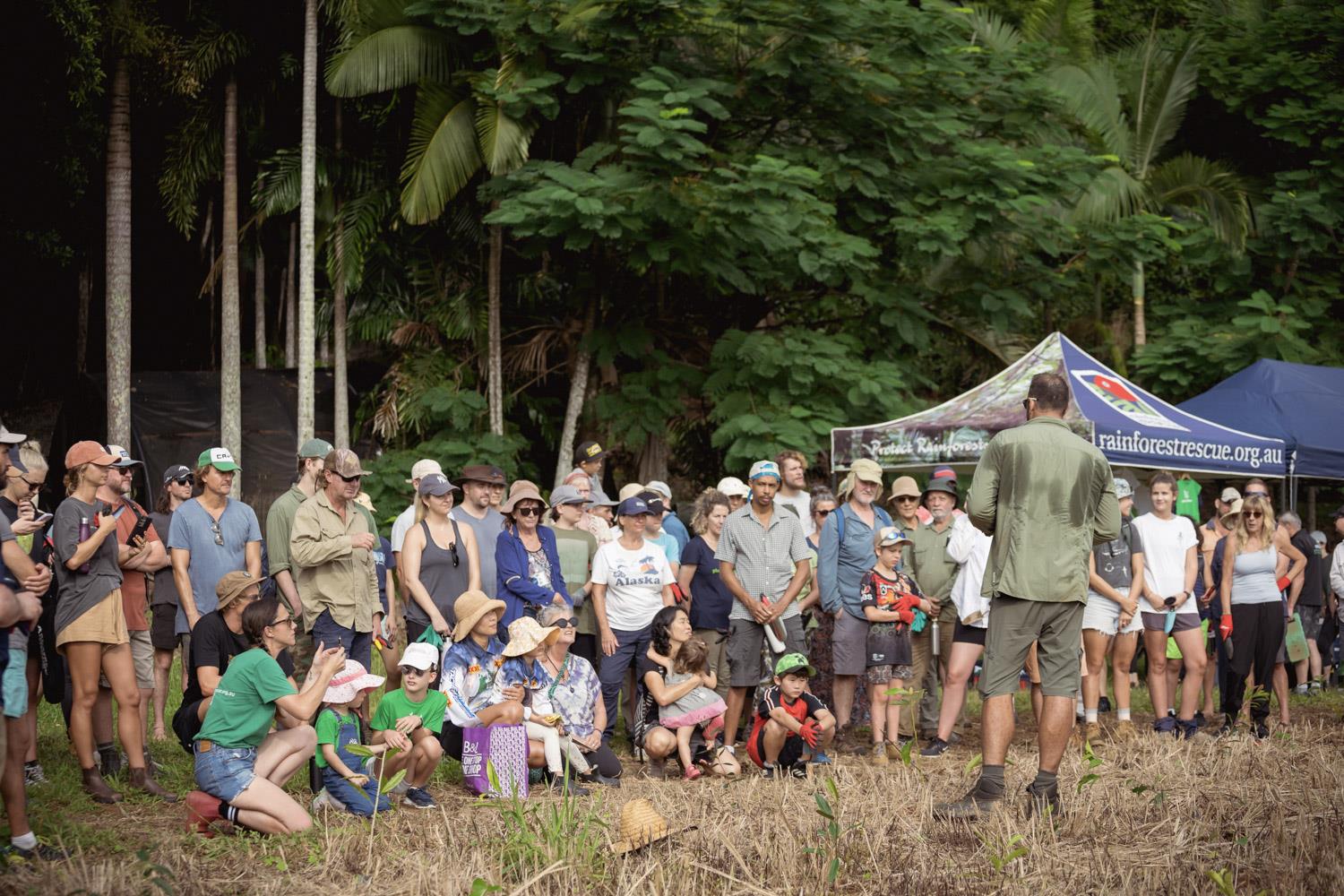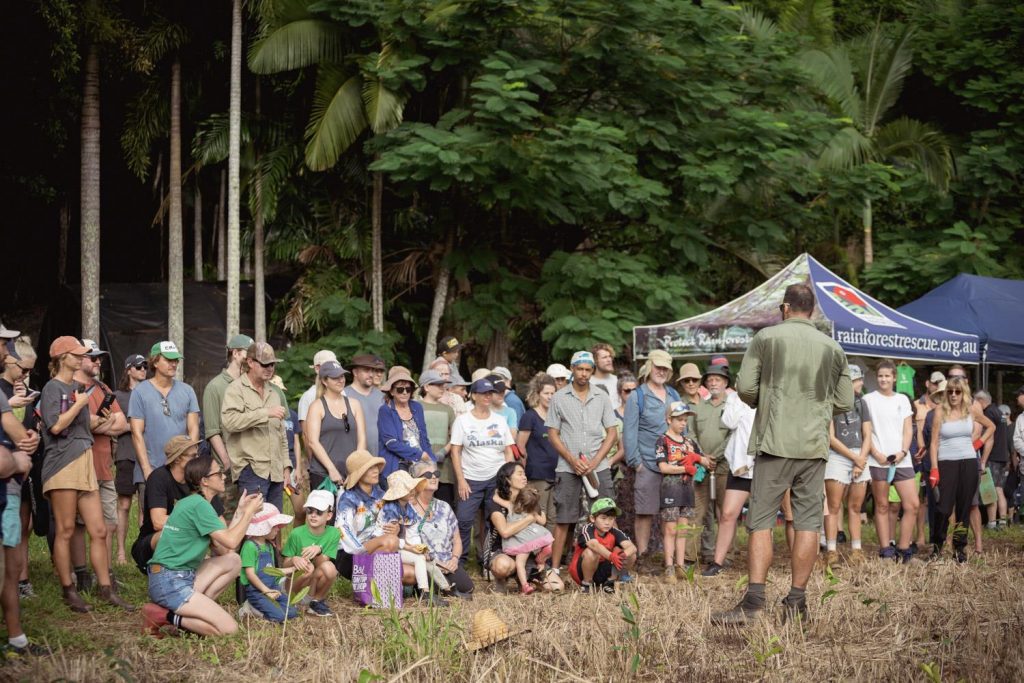 "Looking in the distance over there, just to get your bearings on the landscape, we've got Thornton's Peak (covered in rain & cloud as it should be), or Wundu, Alexander Range along the horizon there, we've got quite a lot of properties streaming down off the edge of the National Park – along the Alexander Range, up Forest Close and towards Cape Kimberley off to the sea end there – linking in with some amazing National Parks, down along the Daintree River. So, north of the river there's a lot of connectivity, this side of the river… we're getting it all happening again. When it comes to NightWings here, it's an amazing area – it's actually kind of perfect – for linking in the tops of the mountains out to the west on this side of the Daintree River so the Carbine Tablelands right through to the outer Great Barrier Reef. The only broken line is that road over there now that this tree line has been established through to our lowland forests and mangrove forests here along the coast. So, it's a really awesome spot where we're all about to leave a bit of a legacy of our own by getting a plant into the ground and helping life connect."

– Justin McMahon, Land Manager, Rainforest Rescue
Before donning our gloves and braving the heat, rain and mud, we gathered around to take part in a traditional Welcome to Country & smoking ceremony, in partnership with Jabalbina Aboriginal Corporation, performed by Traditional Owner, Rickie Burchill. The traditional smoking ceremony is significant on so many levels – it's important to us to recognize and honour Indigenous Australian culture and we are so grateful to have such support.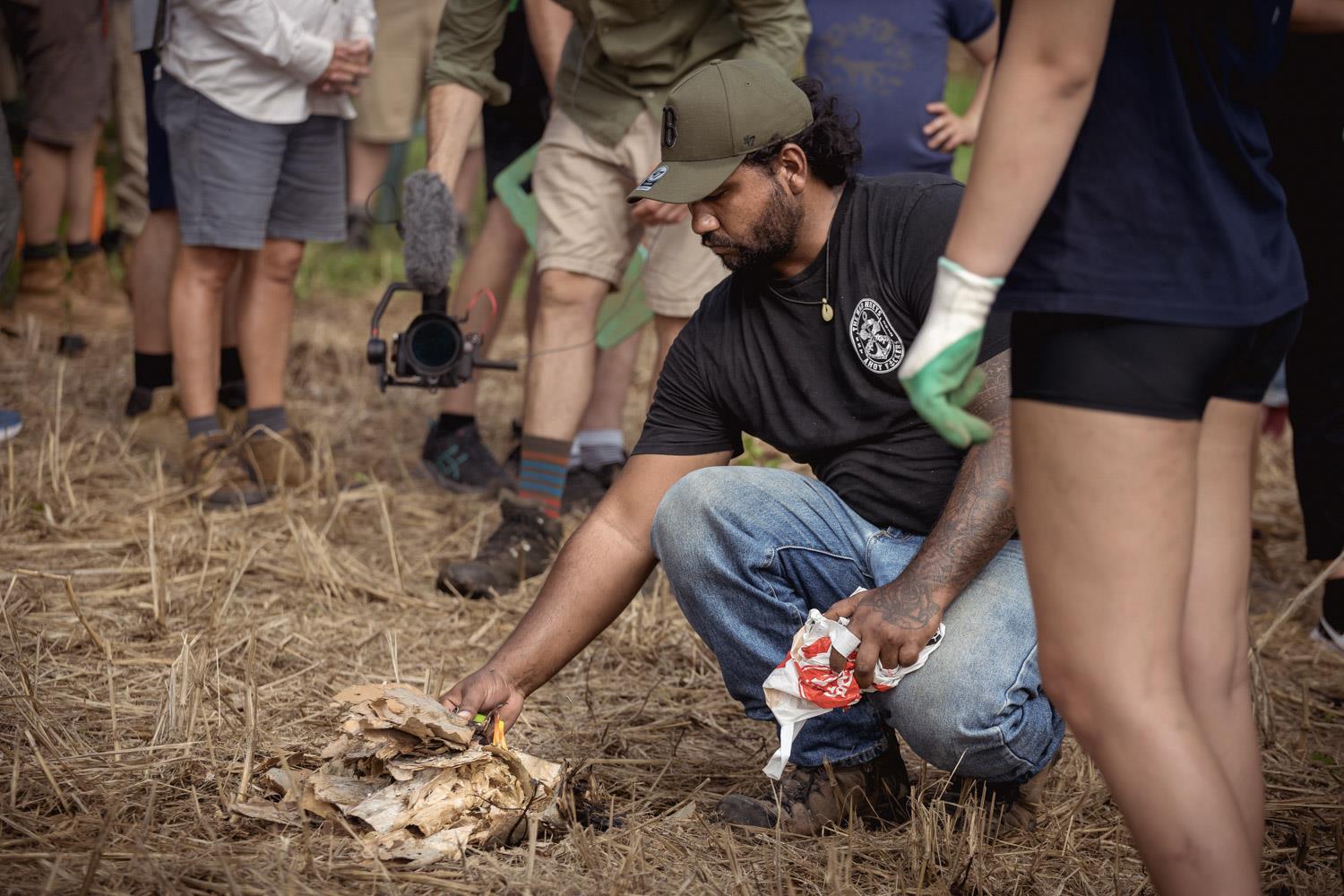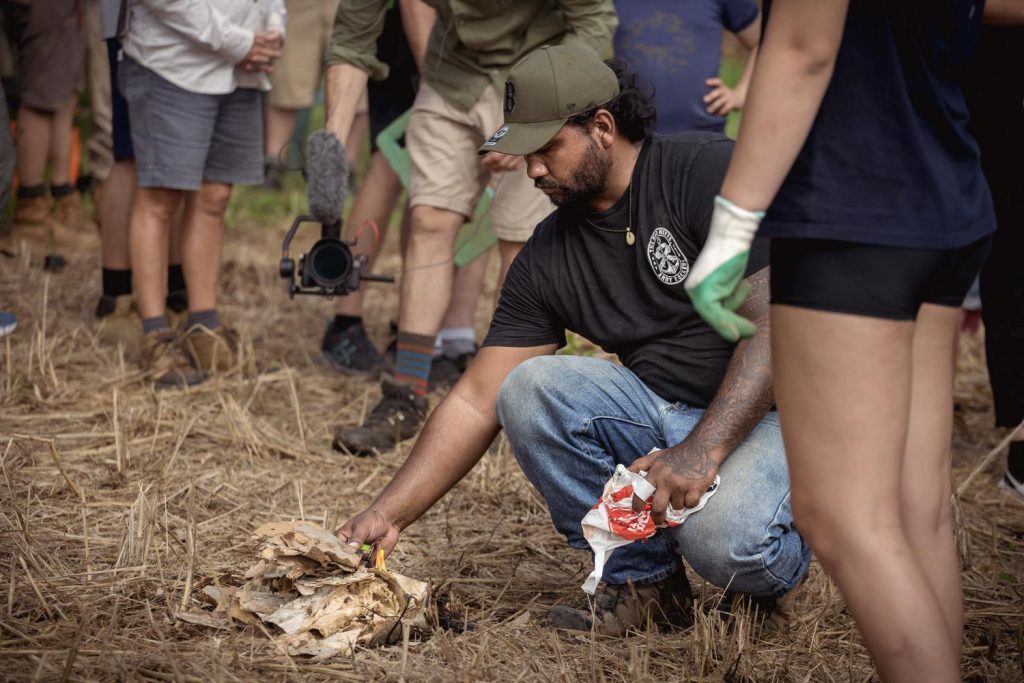 In record time (around one and a half hours) we put over 2,500 young trees in the ground – 85 different rainforest species in total!
Following the tree planting, we all headed North of the Daintree River to the recently approved site of the new Daintree Nursery to have lunch and to hear from our Ecological Advisor and New Nursery Project Manager, Allen Sheather, who gave us the history and the overview of the project.
The existing Nursery provides around 12,000 trees a year for planting whereas the new one – the Daintree's largest and most productive – will ultimately produce 150,000 trees per year! And it's through our partnerships with conservation partners like QTFN, Greenfleet, Terrain, WTMA and Jabalbina, that these trees will find their place in restoring the Daintree.
While not everyone stuck around for the group photo, we managed to capture most of the faces in the below shot – see below and click to open in a new tab. If you share the photo, don't forget to tag Rainforest Rescue & Martin Stringer, our Media Mogul.
The kids were determined to build the longest "pot snake", so that's what they did! In the background, you can see the tree line from the 2021 planting, as well as the 2019 planting (right-hand side), as well as the edge of the National Park (left-hand side). From little things, big things grow & this gives you an idea of how big the seedlings we planted on the weekend will be in one and three years' time.

Thank you to everyone who came along and lent a hand at our 2022 Tree Planting Day. We simply cannot do what we do without you; you make us possible, and you make us strong. We truly are stronger together, and together we can Protect Rainforests Forever.
Check out our socials for more photos from the event ( Facebook, Instagram & LinkedIn), and stay tuned to our YouTube for the video!
#TreesAreTheAnswer
---
Want more good Rainforest news in your life?
Subscribe to our eNews  | Follow us on Instagram  |  Like us on Facebook  | Subscribe to our YouTube channel
Help Protect Rainforests Forever
Donate to Protect Rainforests Forever  |  Become a Rainforest Guardian for as little as $2 a month  |  Partnership Options