Clearing the Way for Reforestation
Rainforest Restoration at Cassowary Conservation Reserve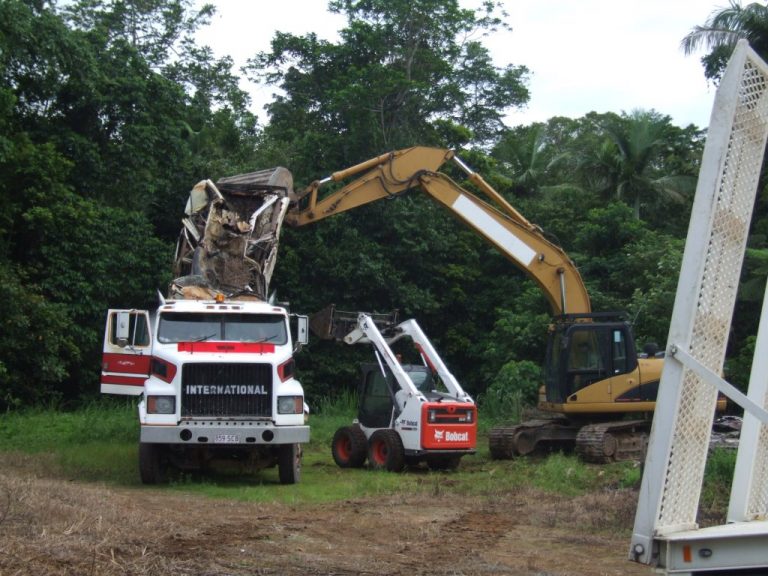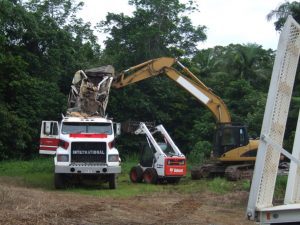 Rainforest restoration is underway at Cassowary Conservation Reserve (Lot 46 Cape Tribulation Road) under our Daintree Plant a Rainforest Project.
Rainforest Rescue's Land Manager, Joe Reichl, said the first trees planted about three years ago are growing vigorously and have created a forest canopy – the falling leaf litter creates a healthy ecosystem and dropped seeds have begun shooting.
An estimated 180 tonnes of rubbish (nine semi-trailer loads) was removed from the Reserve in the last month – including 13 car bodies, a shed, tank stand, a 24-foot boat trailer and various rotting caravans! An additional five tonnes was carted by hand so as not to disturb delicate plants Joe and his team of workers and volunteers have also destroyed all mature oil palm trees, he estimates there are still over 220 young oil palms left.
Baralba Corridor Nature Refuge
The Baralba Corridor Nature Refuge is formed by eight Rainforest Rescue properties in the Cow Bay area. This valuable wildlife corridor links two isolated areas of the Daintree National Park/World Heritage Area for the endangered southern cassowary. It also protects 3 vulnerable and 11 rare plants including the only known location of a previously thought extinct species of fern.
We purchased Lots 82 and 83 in Rosewood Road, Cow Bay thanks to donors' support. Since then we have been preparing for rainforest restoration at these properties. In preparation for the tree plantings, Joe and his team have been weeding and removing invasive plant species and clearing more than 40 tonnes of debris.