A Look Behind the Canopy Awards Grand Prize Winning Image
Rainforest Rescue's 2022 Canopy Awards not only showcased the diversity and splendour of the planet's rainforest but also introduced us to a great pool of talented conservation photographers – including Australian Matt Palmer, whose image of the Franklin-Gordon Wild Rivers National Park took out the Habitat Category and saw Matt announced as the Canopy Awards Grand Prize winner.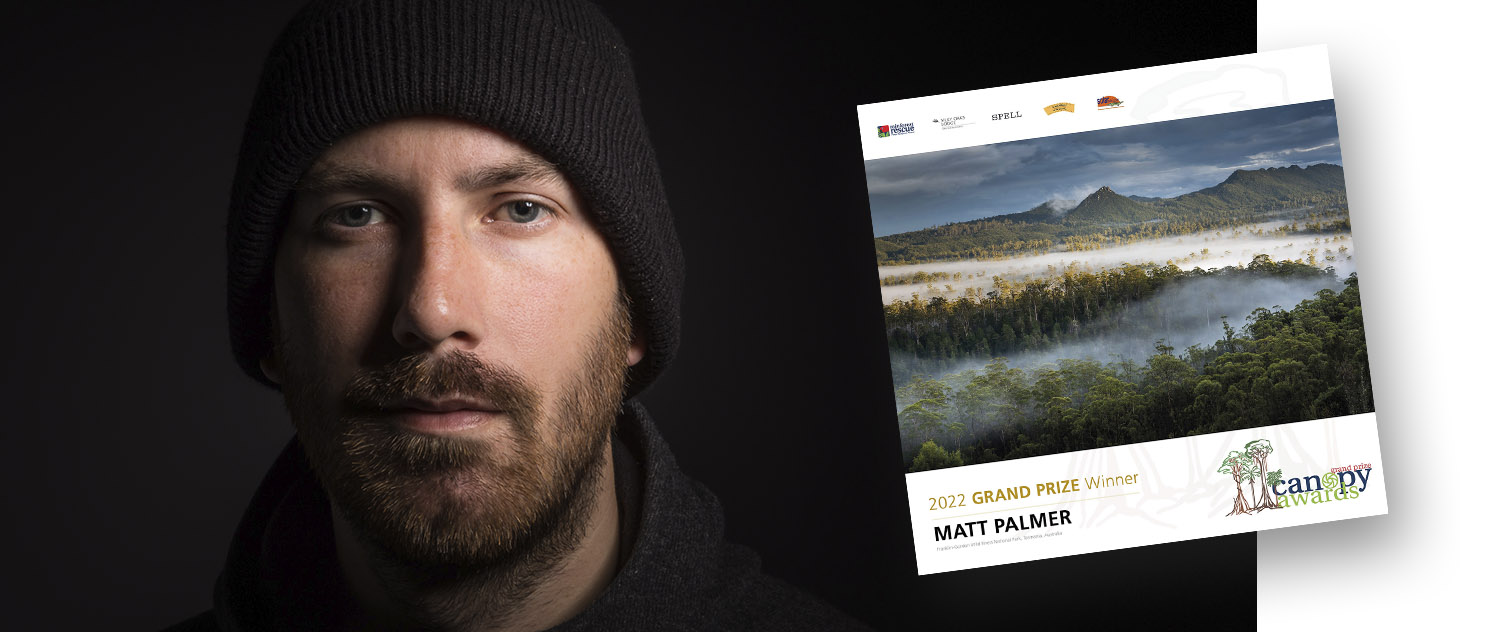 Awards convenor and Rainforest Rescue Ambassador Darren Jew began a Q+A session with Matt by asking him to describe his winning image:
The photograph taken near the Gordon River Road in South-West Tasmania depicts a wild forest and valley scene with fog that sweeps from the background to the foreground, isolating clusters of trees. Closer to the viewer, the sun is yet to make an impact, revealing gentle greens and the fog in shadow is taking on a subtle blue tone. Further from the viewer, the first light of the day illuminates pockets of old-growth trees, creating small punctuations of gold and yellow. Further back the scene is observed by a series of small mountain peaks almost completely covered in forest, standing above the fog in the valley below.
DJ: What took you to Tasmania on this occasion?
MP: I was fortunate enough to be living in Tasmania at the time this photograph was taken, and I would frequently take trips out to Strathgordon and along the Scott's Peak Road where there are so many stunning and wild vistas in every direction.
DJ: Can you describe the circumstances that led up to capturing the winning image?
MP: I had seen this viewpoint of the forests numerous times, and have even been lucky enough to observe this forest creating its own clouds in the past. It was a dream to see it in these beautiful foggy conditions, however, made possible with a very early start so that I could drive slowly enough to avoid Tasmania's prolific animal life on the roads. Areas within about 15 minutes drive from this place have been drastically affected by bush fires in 2019. Without the efforts of firefighters, it's possible that the scene I captured would have no longer been there – as many scenes in my project ASH depict.
DJ: What made you select this particular image as your Habitats category entry?
MP: I have always found the photograph to show a very pure kind of beauty but hadn't really put it out there in the public eye much in the past. I thought that this competition which celebrates the beauty and natural value of Australia's wild forests was a good opportunity to share this moment and place with the world. I had no preconception that it would be in the running for any prizes so that has been a thrilling surprise. But for me, it was ultimately about sharing an image that had a special feeling to it with others.
DJ: What do you consider the biggest challenge when trying to produce photographs of the rainforest?
MP: I think rainforest is by far one of the most difficult habitats to find photographic compositions in. In Australia, every tree has its own character and integrates with the life around it to form a harmonious forest. Photography, however, generally encourages us to look for clearly defined or understood points of interest that guide a viewer throughout the photograph in an intended way. Finding that simplicity in the chaos of a forest takes a huge amount of patience and skill, and I applaud those that excel at it.
DJ: When did you first pick up a camera, and what was it that inspired you to take up photography in the first place?
MP: The first time I seriously picked up a camera (not counting what we might call snapshots) was in my teens. I had only really been exposed to automatic cameras in the past and had the opportunity to use a DSLR with its manual controls for the first time. The opportunity to have real control over how the world around me could be perceived from the resulting photographs left me not only hooked but completely obsessed. While I never received a formal education in photography, I did read about it every day, took as many photographs, and created as many photoshoots as I could, and later I would meet other people who had centered photography in their lives – and it was from them that I learned so much. It was this guidance and almost absorption of talent from the amazing photographers and friends I have met in photography that have had a helping hand in everything achieved throughout my career.
DJ: What role do you think photography can play in conservation today?
MP: It's easy to turn a blind eye to things that we aren't seeing, whether that be the treatment of animals, refugees, or the protection and preservation of our rainforests. Photographers can highlight these issues and build connections with our wild places and important conservation issues. We have an incredible legacy to follow from those that came before us. In Australia, Peter Dombrovskis captured Morning Mist, Rock Island Bend in these very forests which helped save the Franklin River from damming. Without his important photograph, the everyday people and voters would not have had an icon with which to connect and understand. It's a bit more challenging today to draw attention to a photograph in a world of rampant distraction, but I believe it can still make a big difference.
DJ: Do you have any tips for aspiring rainforest photographers?
MP: My first piece of advice would be that aspiring photographers never need an excuse to photograph – just get out there. Photography is its own journey, its own reward, and you never need to wait to express yourself through photography. From a technical perspective, rainforest photography is a huge challenge, particularly in terms of finding compositions. I would stop and assess what is drawing you to photograph a particular scene. Once you work it out – whether it's the way fog is moving through branches or a piece of bark draping from a tree in rich red, aim to make your photograph as much about the subject that interests you as possible and try to reduce the addition of anything else that isn't supporting that subject.
DJ: Your Grand Prize win means you'll be off to shoot in the Daintree… have you photographed there before?
MP: I have sadly never traveled further north in Qld than the Sunshine Coast! Being able to photograph in the Daintree will be such an incredible experience and I am so looking forward to sharing it with my partner, landscape photographer Mieke Boynton. The entire experience sounds incredible and I thank all the sponsors and supporters of the competition that helped make it possible. I also want to thank the judging committee and Rainforest Rescue for the hard work they have put into running the competition and coming to a decision. I'm incredibly grateful to have the opportunity to walk in the footsteps of the Kuku Yalanji, and to have my photograph selected as a representation of the values of rainforest conservation.
A little more about Matt… 
With a passion for story-telling through photography, Matt has won awards internationally for landscape and reportage photographs and photo essays. His journey in photography has seen him explore many genres through photographing sick and injured children for a Children's hospital, acting as Creative Director for a national sporting team, and even photographing the world's biggest rock stars for various street press over 15 years. It was a trip to Norway and Iceland in 2012 that opened Matt's eyes to the possibilities of life outside of the suburbs, experiencing inspirational nature that would transform his focus in photography.
In 2019 a self-driven project about Tasmania's bush fires would help Matt win the coveted title of Australian Professional Photographer of the Year. Living in Tasmania for three years Matt also took the opportunity to perform pro bono work for Bonorong Wildlife Sanctuary, an organisation that provides urgent care and rescue for ill and injured native wildlife.
Now living in Victoria Matt is a dedicated full-time landscape photographer with his life-partner Mieke Boynton. They both run the Alpine Light Gallery in Bright, Victoria which aims to showcase the best of nature through photography and help connect visitors to the natural world.
You can learn more by visiting Matt's website or at @mattpalmerphoto on Instagram
HELPING MAKE THE CANOPY AWARDS POSSIBLE
Canopy Awards Sponsors – GRAND PRIZE
Silky Oaks Lodge (4-nights all-inclusive stay for 2 people); Spell ($3000 cash); Solar Whisper (Daintree River cruise); Walkabout Cultural Adventures (Daintree cultural experience)

Sponsoring the Four Categories and Special Prizes
f-stop Gear (latest camera backpack); Will and Bear ($500 cash)

People's Choice Prize Pool Contributors
Will and Bear; Patagonia; Magic of I; Naturally Driven; Wandering Folk
---
Want more good Rainforest news in your life?
Subscribe to our eNews  | Follow us on Instagram  |  Like us on Facebook  | Subscribe to our YouTube channel
Help Protect Rainforests Forever
Donate to Protect Rainforests Forever  |  Become a Rainforest Guardian for as little as $2 a month  |  Partnership Options