Extending the Reach of Save the Cassowary Internationally
We are excited that the Save the Cassowary campaign could soon be extending its reach globally. We recently met with Carrie Brooks, the Education Program Coordinator at the Birmingham Zoo in Alabama USA, to discuss opportunities for collaboration.
When Rainforest Rescue launched the Save the Cassowary campaign in March 2014 our goal was two-fold:
Increase awareness amongst the general community of the plight of the endangered southern cassowary and the daily risks they face from:
habitat clearing
dog attacks, and
car hits
Fundraise to minimise these risks by:
buying and protecting critical cassowary and rainforest habitats
planting cassowary food trees, and
running the Cassowary Rehabilitation Centre at Mission Beach in partnership with the Qld Dept of Environment and Heritage Protection
With the support of international zoos (that have cassowaries in their facilities), we will be able to spread our message even further.
Carrie takes the story up from here…
Bringing the Save the Cassowary Campaign to the United States: Part 1
"I am visiting Australia to learn more about Rainforest Rescue and the Save the Cassowary campaign.  Through a grant at the Birmingham Zoo, I am able to visit several campaign partners and have plans to bring this campaign to the United States beginning this spring and summer.  In my first week of Australia, I have met with Nikki Bodel and Monique Van Sluys and visited a pair of cassowaries at Taronga Zoo before continuing to Sydney Wildlife Zoo where I met Will Meikle and Benjamin Buchanan.
During my visit, I also met Princess the cassowary who happily plucked grapes from my palm during the zoo's Cassowary Encounter led by the keeper, Justine who coincidentally had helped at a tree planting in the Daintree last year.  At Currumbin Wildlife Sanctuary I was able to meet Clancy Hall and learn more about the two cassowaries as well as some of the other great work at the Sanctuary.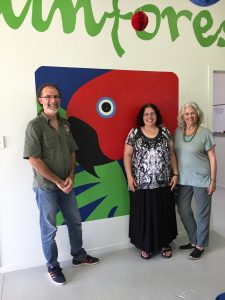 After my visits to the campaign partners, I travelled to the Rainforest Rescue headquarters to plan the Birmingham Zoo's actions in the campaign.  I was able to meet with the managing director, Grant Binns and board chair, Madeline Faught.
After speaking with them and learning more about Rainforest Rescue's history, mission and vision, I am even more eager to successfully bring this campaign to the United States.  In the upcoming days, I will be visiting campaign partners Australia Zoo and Cairns Tropical Zoo, as well as the Cassowary Rehabilitation Centre in Mission Beach and seeing firsthand the work of Rainforest Rescue in the Daintree Rainforest."
– Carrie from Birmingham Zoo
l-r Grant Binns, Managing Director Rainforest Rescue, Carrie Brooks, Education Program Coordinator, Birmingham Zoo, Alabama USA, and Madeleine Faught, Chair Rainforest Rescue